Stay Calm and Eat Pizza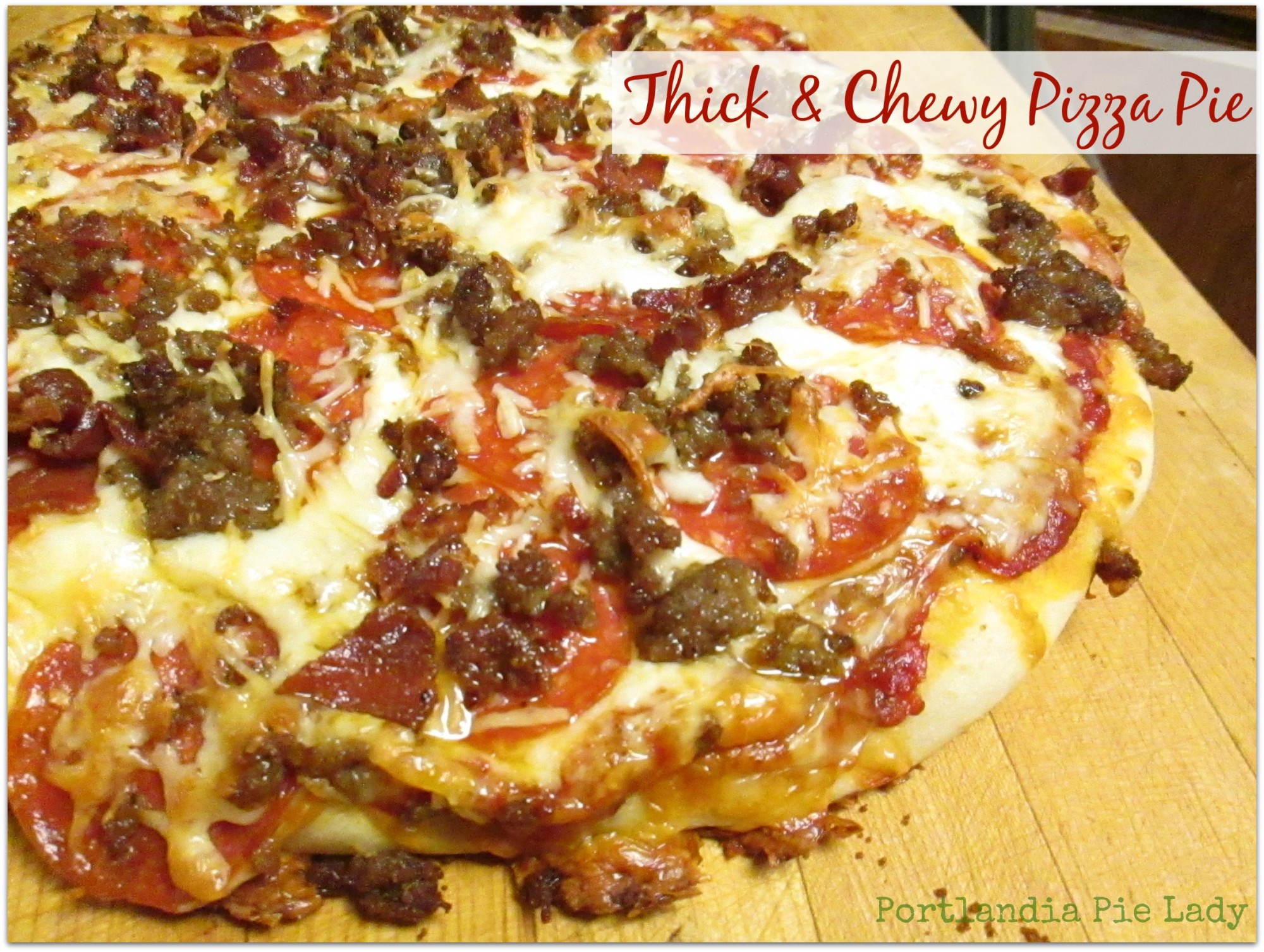 What a better way to celebrate NATIONAL PIZZA DAY (February 9th) than with homemade pizza pie you can make and devour today?  I agree, getting a thick primo crust right is the hardest part.  The second task is having really, really good (nearly mind-blowing) sauces.  You're going to have the best red sauce and the best white sauce in the Northwest, topped on the best crust you will ever make.  Above is Three Meat Trio with basil garlic red sauce!  Below is Roasted Chicken, Bacon, Onion on Garlic Alfredo white sauce!
If you have not tried my Polynesian Deep Dish with my Polynesian Sunrise Sauce, and you are looking to change your pizza pie game, check it out!
I have tried years and years of pizza crusts, cooking it different ways, tweaking dough recipes, experimenting with sauces, etc.  When I would announce to the family we were having homemade pizza for dinner it was not always met with the same excitement as when I was bringing home a pie from their favorite pizzeria, until now.
My family of test-kitchen-guinea-pigs can finally rest their weary minds; we now have fabulous pizza that does not take a rocket scientist to create and the weak sauces and mystery crust of the week is no more. Case solved and I am thrilled to share my findings with you.
To get that nice evenly baked crust without having to buy a pizza stone, I used a cast iron skillet.  I happen to have two (12-14inches), so I was able to make two different pizzas the same night.  We have a few smaller cast iron skillets too = personal pan pizza for those ultra picky eaters (they can create their own)!
Regardless of the size of your cast iron skillet, the temperature of the oven does not change, and baking time is about the same too (borrow a skillet if you need to, it makes that much of a difference in baking).
Cheese for each pizza: 3 to 4 large round slices provolone, about 1-1/2 cups mozzarella, 1/4 cup parmesan.
Toppings we used for Chicken Garlic Alfredo:  Leftover grilled chicken, bacon, red onions, sliced provolone, mozzarella, and parmesan.
Toppings we used for Basil Red Sauce Pizza: Pepperoni, Italian Sausage (about 1/2 lb.), Bacon (3 to 4 strips cooked, crumbled), sliced provolone, mozzarella, and parmesan.
Have a great PI (Pie) Day 2016!
Please click on Leave Comment below for any questions!
Thick & Chewy Pizza Pie w/white & red sauce
Author:
www.portlandiapielady.com
Ingredients
Pizza Dough:
1 Tablespoon Active Dry Yeast
1 1/2 Cups Warm Water
4 Cups Flour
2 Teaspoons Salt
5-6 Tablespoons Extra Virgin Olive Oil, Divided
Basil Red Sauce:
1 6 Ounce Can Tomato Paste
1 Cup Tomato Sauce
2 Teaspoons Basil
1 Teaspoon Oregano
1/4 Teaspoon Garlic Powder (or 1 Tablespoon Minced Garlic)
1/2 Teaspoon Salt
1/4 Teaspoon Pepper
Garlic Alfredo White Sauce
2 Tablespoons Butter
2 Tablespoons flour or cornstarch
1-1/2 teaspoons minced garlic
1/8 teaspoon Garlic Powder
1/4 cup parmesan cheese
1/2 teaspoon salt
1/4 teaspoon pepper
1 cup half & half
1/3 cup milk
Instructions
Pizza Dough Instructions:
Dissolve the yeast in the warm water in a medium bowl. Wait a few minutes for the mixture to start to foam up. This is proofing the yeast. (You can skip this step, but it's a great way to ensure your yeast is good.)
In mixer, with dough hook attached, mix flour and salt, and add the yeast mixture and 2 tablespoons of the olive oil. Knead dough with mixer for about 7-8 minutes.
Coat a large bowl with about 1 tablespoon olive oil. Form dough into bowl, turn once to coat, cover with tea towel and let rise until double in size, about 1-1/2 hours. Punch down dough and divide into two rounds, let rest about 20 to 30 minutes.
While the dough is resting, preheat the oven to 450 and prepare sauce and toppings.
Coat bottoms and sides of two 12 to 14-inch cast iron skillets with about 2 Tablespoons olive oil each (or baking sheet).
Stretch each section of dough into the pans, top with sauce of choice, cheese, meat, veggies, etc. I spread the sauce nearly to the edge and I let the cheese overflow on the edges too.
Bake in hot oven @ 450 for 20 minutes. Slide the pizza(s) onto a cutting board, cut and serve!
Basil Red Sauce:
Stir all ingredients together and you can use it straight way if you're in a hurry, or to mingle flavors better, heat all ingredients in small saucepan on medium-high until warmed, set aside or store refrigerator until ready to use. This is enough for two large pizzas plus some extra for dipping!
Makes 1-3/4 cups sauce.
Garlic Alfredo White Sauce:
Melt butter in pan, add flour (or other thickener) and garlic to make roux. Whisk in half & half and remaining ingredients. Heat while stirring until slightly thickened about 5 to 8 minutes.
Makes about 1-1/2 cups sauce.