Crustless is Crucial!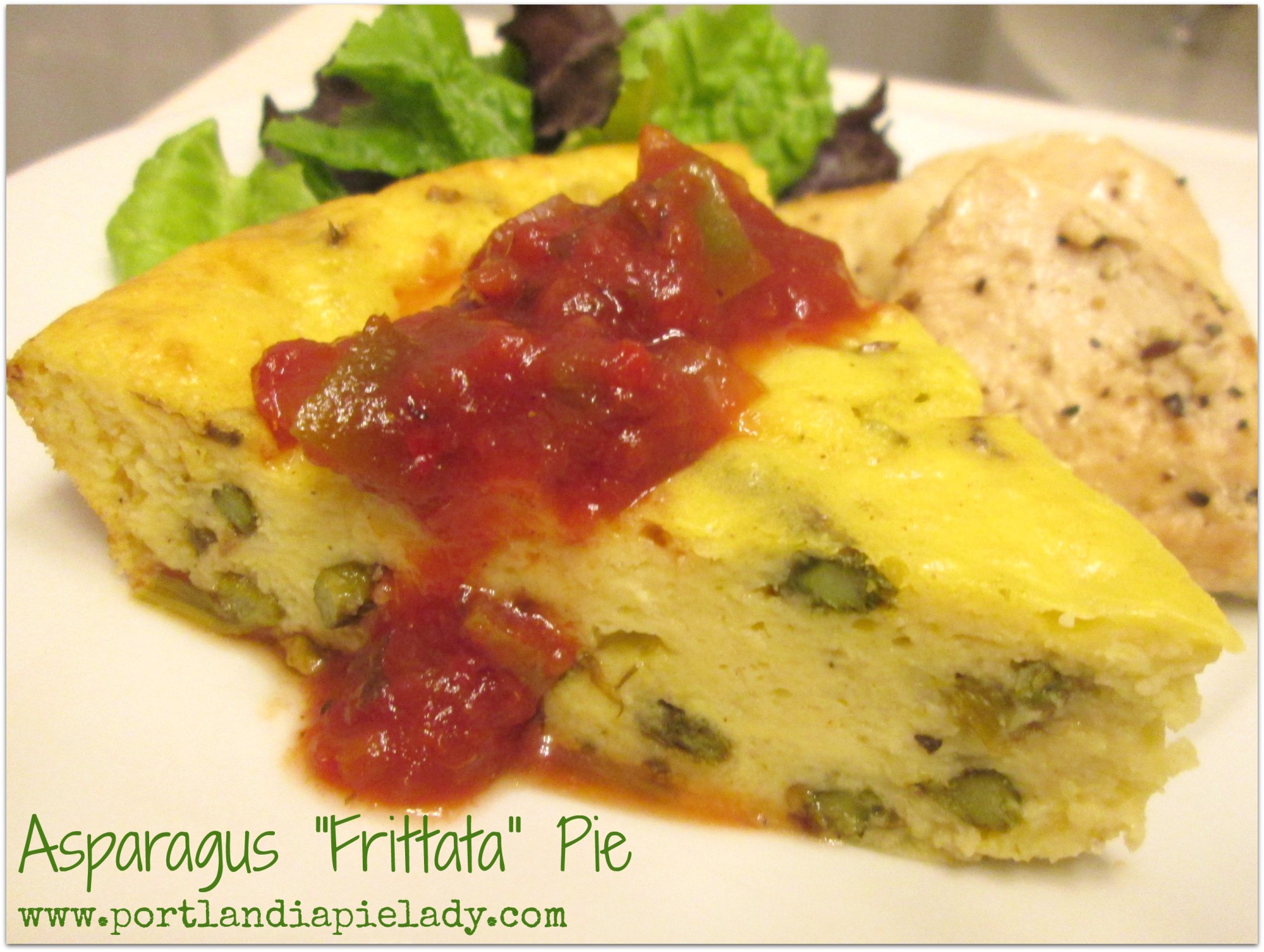 It was a fabulous Thanksgiving for 2015, but we need to get on the lighter side to cleanse our innards for upcoming Christmas festivities of food.  It's time for something without turkey, without gravy, without stuffing or potatoes, and without a crust!  (Yes, I said it, no crust; shudder.)
I had this pie for the very first time in Bedford, Texas (which is smack dab between Dallas/Fort Worth).  I LOVED it and it's super easy to make.  This is perfectly choreographed hybrid of a frittata & quiche, a denser firmer texture than quiche, with the lightness of a frittata.
If this crustless pie is too light for your main-dish event, grill up some chicken, garlic green beans, or a tossed green salad.
This is not meant as only a dinner pie, it's perfect to serve for breakfast, brunch, lunch, leftovers, etc. you get the picture.  It doesn't fall apart after it's sliced so it's great on-the-go.
Don't like asparagus?  Try other cooked greens: Broccoli, green beans, kale, brussel sprouts, or chopped spinach.  You could even use a medley if one veggie is too one-note for you (I vote medley)!
I did cook asparagus today and a long time ago I learned the hard way ONCE why you make sure and chop off the "woody" ends. It's better to go "too deep" in the cut than to try to save another half-inch, trust me.
Grilled veggies are more flavorful to me, but not everyone likes grilled veggies (seriously, I know people like that, boggles the mind).  Just steam your greens if that keeps everyone from getting "steamed" and willing to partake in the pie.  (I sauteed the asparagus in butter at medium-high heat to draw out the most flavor – see below.)
Puree the cottage cheese for a smoother texture in the pie (I have a mini food processor which is a cinch to clean up).
You can play around with some of the ingredients too: bacon, chopped ham, extra sauteed onions or mushrooms, chopped olives, sauteed peppers, double veggies, topped with chopped or sliced tomatoes before baking, or change up the cheese.  This is an excellent "template" recipe to design your "frittata" pie to your own taste and make it your own.  (Dang, now I want bacon.)
Asparagus "Frittata" Pie
Ingredients
8-10 ounces (about 1-1/2 cups chopped) roasted asparagus
2 Tablespoons Butter
3 Eggs
1 Cup Cottage Cheese (light or regular)
3/4 Cup Sour Cream (light or regular)
1/3 Cup Parmesan Cheese
1/4 Cup Flour or GF Flour (see under Crusts! category)
1/4 teaspoon baking powder
1/2 teaspoon Season Salt (any kind)
1/2 teaspoon Pepper (more or less to taste)
Instructions
Cut off woody ends/bottoms of asparagus. Chop into about 1-inch pieces or slightly smaller. Saute the asparagus in a skillet at medium-high heat until tender (5-7 minutes), remove from heat.
Beat the eggs by hand with a whisk until thoroughly blended, whisk cottage cheese, sour cream, cheese, flour, baking soda and seasonings. Fold in the cooked asparagus.
Coat a 9-inch pie plate with cooking spray and pour in the pie mixture.
Bake at 350 for 30 to 35 minutes until middle is set and knife comes out clean. Best served warm.