Nature's Candy!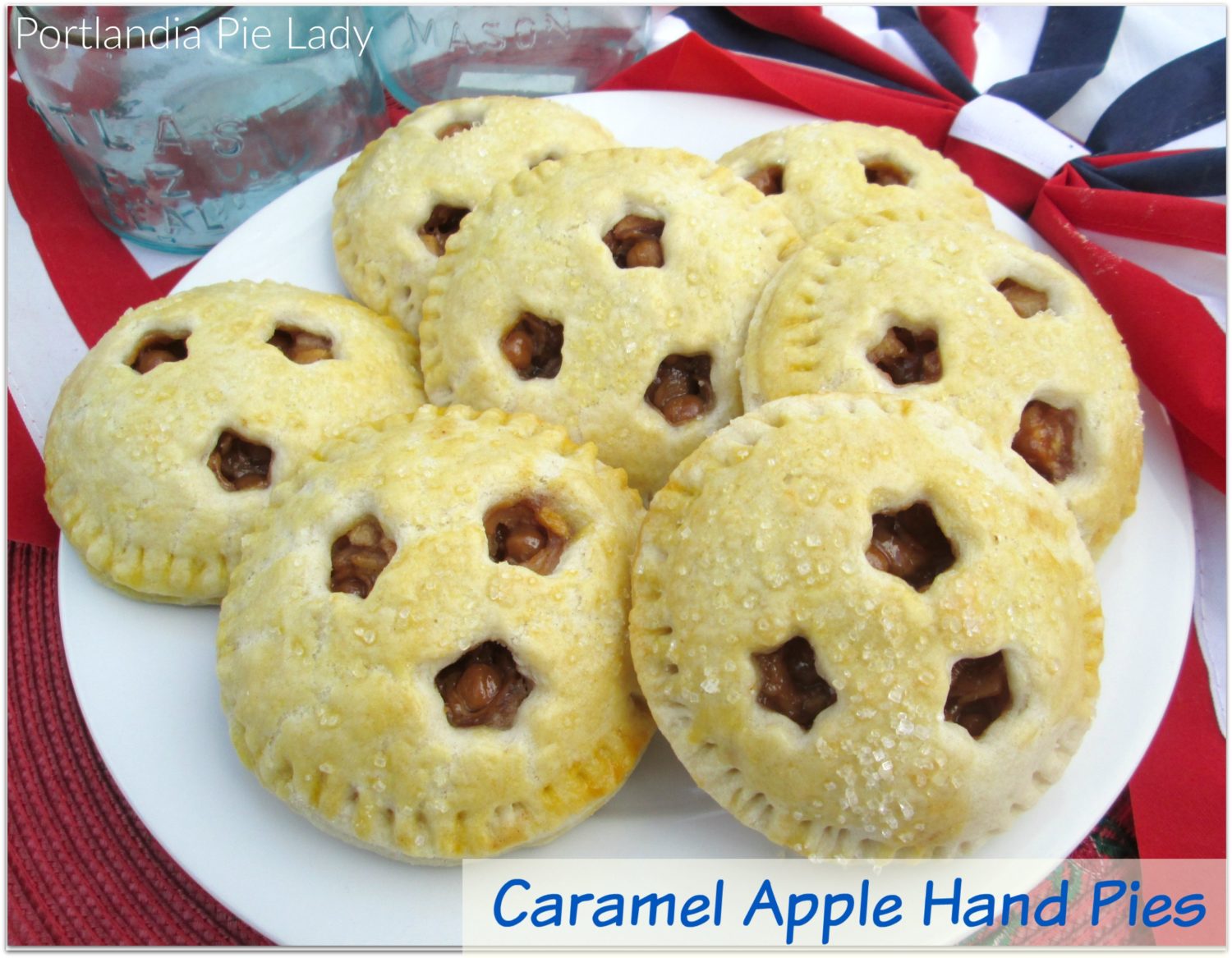 Caramel Apples are "nature's" candy and nature never tasted so good (this is not arguable point)!  We are taking nature to the next level with caramel apple hand pies; perfectly baked apple pie filling with melty caramel bits without getting lock-jaw around a hunk of that caramel apple, and no sticky face. The planets have aligned and placed you in hand pie caramel apple heaven.
To make this pie-making task even easier, we're creating these delectable caramel apple hand pies without making caramel sauce or unwrapping a single caramel!  It's simplified and simply delicious.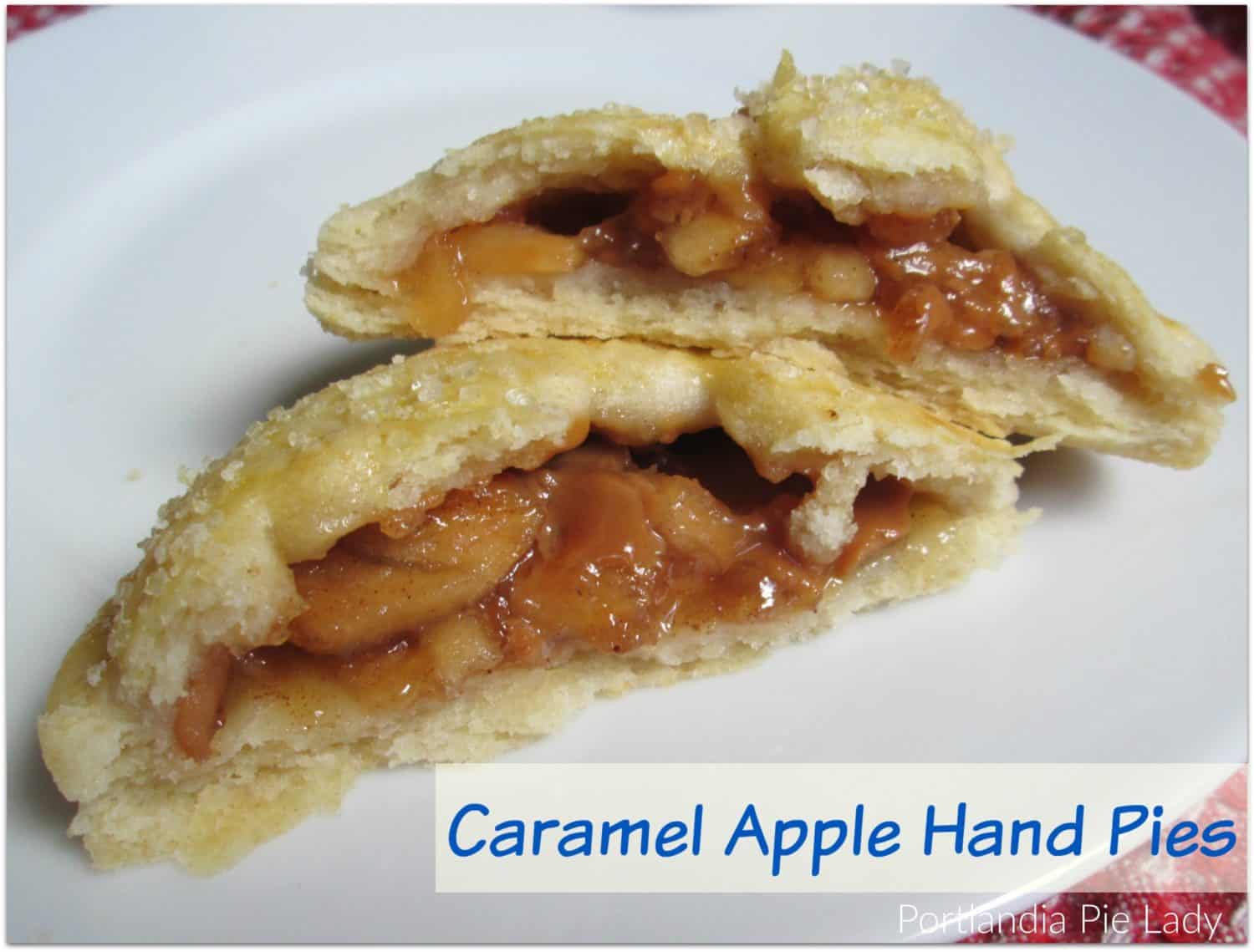 The crust is super flaky but does not crumble in your hands and the caramel bits don't goo all over your fingers.  I served these pies at a picnic and the kiddos were running around with water guns in one hand and hand pies in the other and I don't think a single crumb hit the ground. (The adults did get wet from those little water ninjas in training, Ellie, Jared & Darin!)
The apples in the pie filling are chopped to about 1/2-inch pieces (I use a peeler/slicer, then coarse chop, very fast and easy).  It's then stirred into the pie filling sauce, as per recipe below.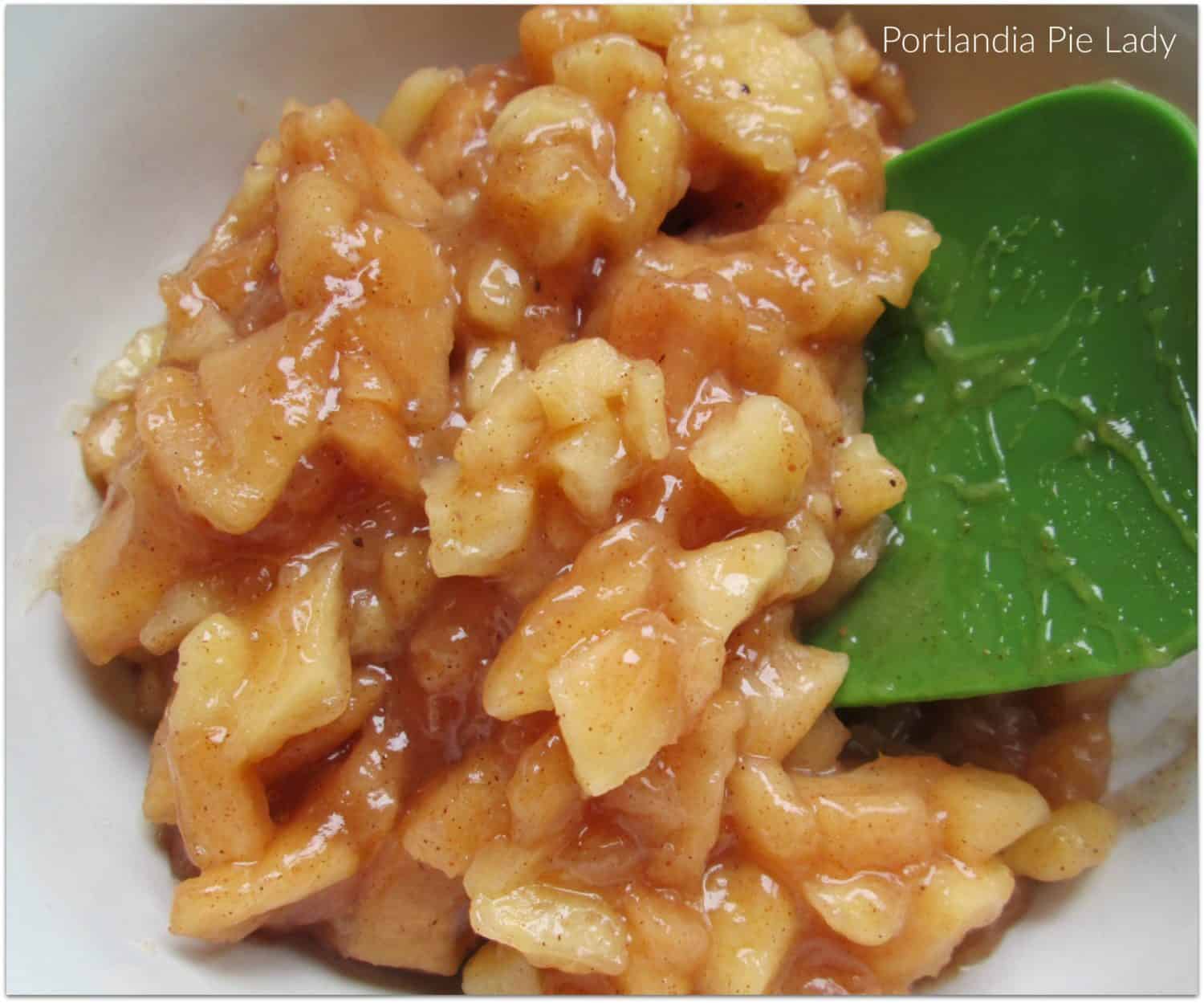 When assembling the pies, use a parchment or silicone lined baking sheet, use about 2 tablespoons of filling, 1 tablespoon of caramel bits.  Cut your shapes out of the top crust, wet bottom edge with water and gently stretch the top crust over the filling and press edges with fingers.  Use a fork to crimp.  To make these Gluten Free, click here to use my Gluten-Free Flour!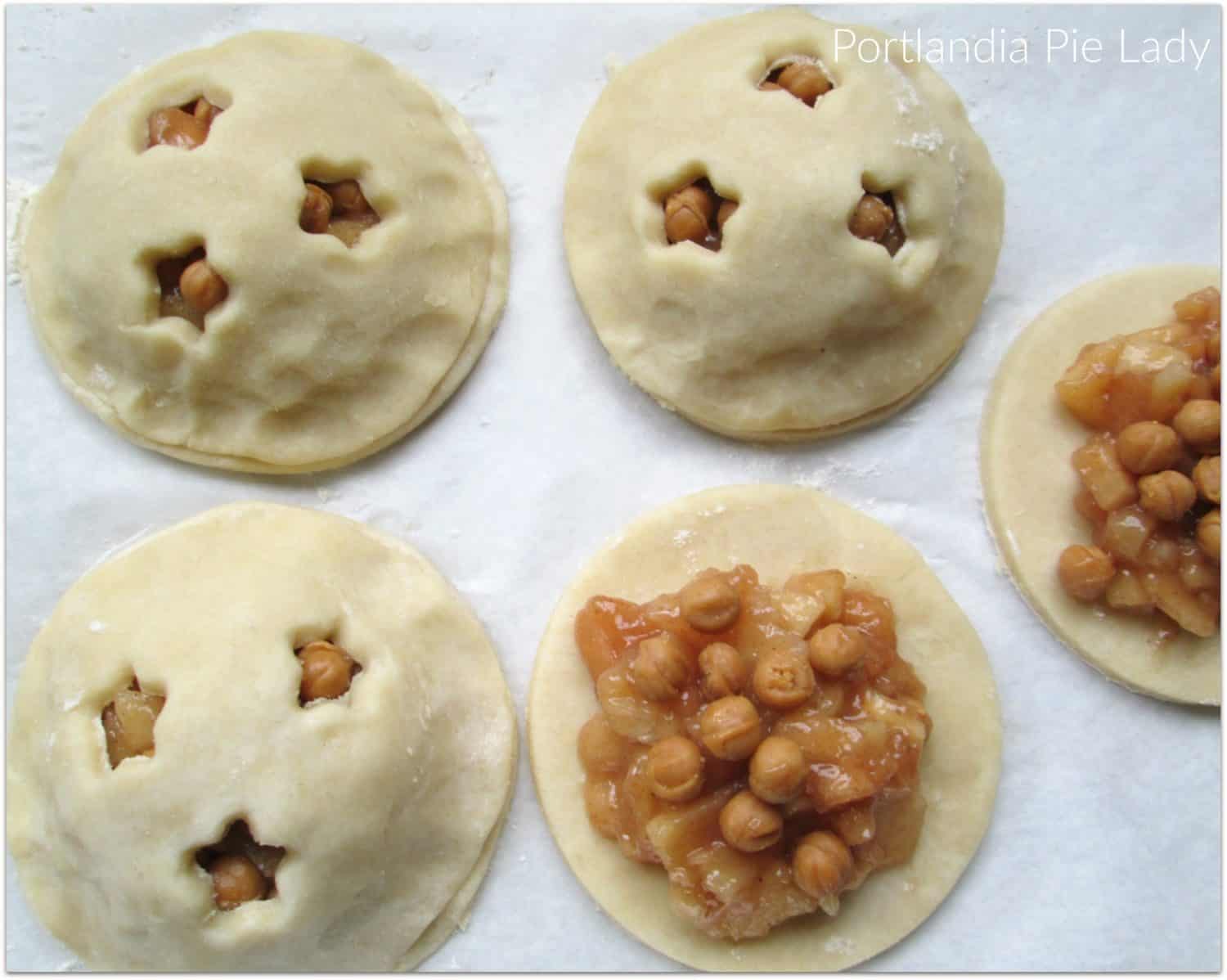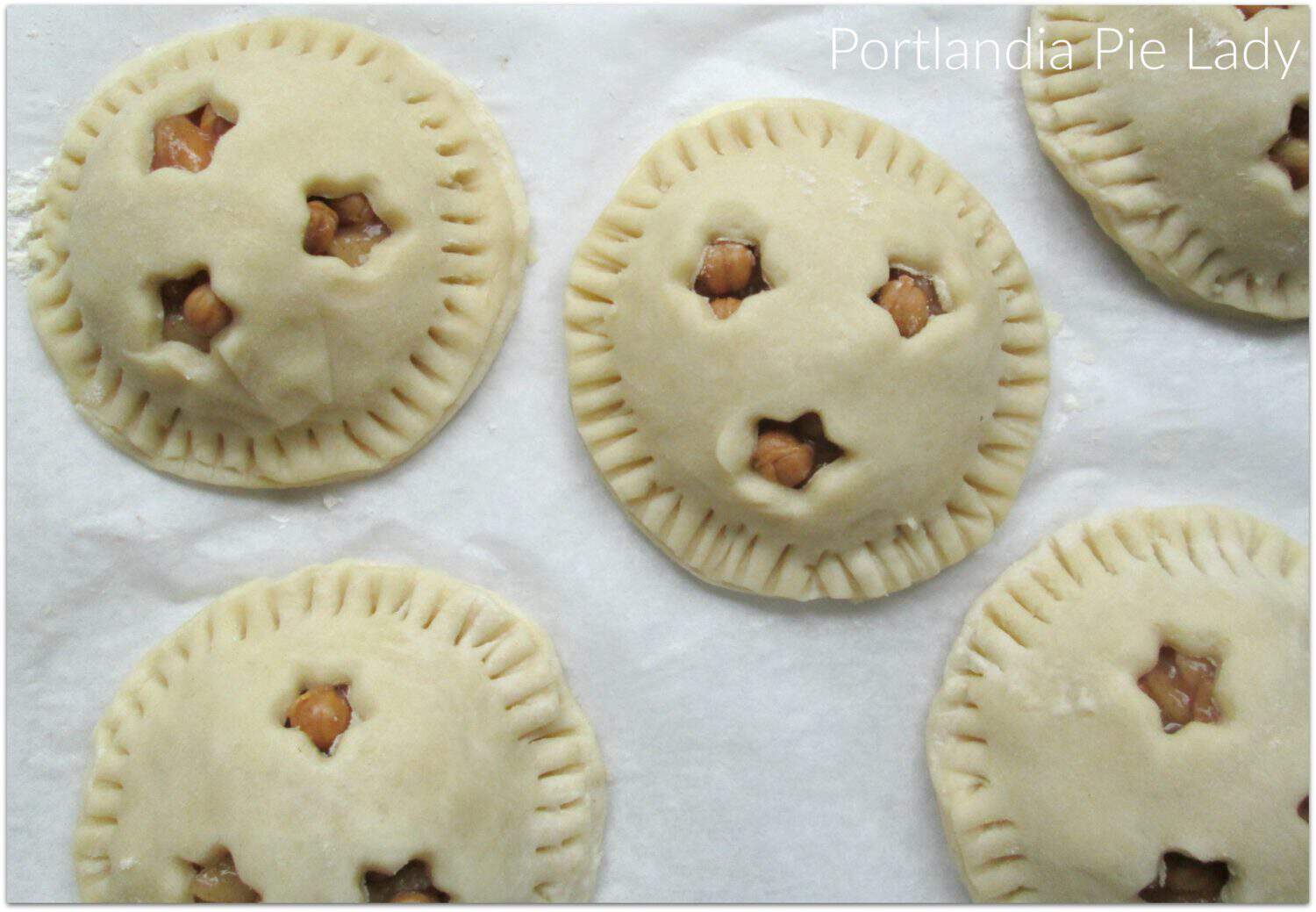 Brush the tops with egg wash, top with large granular sugar and bake! These are very patriotic, but you can use ANY shape to cut into your hand pies to cater to any holiday or event, or just keep them star-spangled and show your patriotism any time! You will definitely want to save the last hand pie for yourself!.
Caramel Apple Hand Pies
Author:
www.portlandiapielady.com
Ingredients
5 cups sliced tart apples (Gala, Northern Spy, Granny Smith, Orondo Rose)
3/4 cup sugar
1/4 cup food starch (Clear Jel®)** or 1/4 cup tapioca starch
1 teaspoon cinnamon
1/4 teaspoon nutmeg
3/4 cup apple cider
2 tablespoons lemon juice
dash salt
1 bag Kraft Caramel bits
1 egg + 1 Tablespoon water, beaten
1/4 cup large granular sugar
2 Recipes Grandma's Pie Crust Pastry (will make about 16 hand pies, 3-1/2 inch round)
Grandma's Pie Crust (double this)
2 Cups flour
1 teaspoon salt
1 Tablespoon sugar
1/8 tsp. baking powder
1/2 scant cup shortening
1 cube butter (room temp)
1/3 to 1/2 cup cold water
Cut in all dry ingredients just until crumbly. Add water all at once and mix just until forms a ball (do not kneed or over mix). Divide dough in half (this will be rather soft). Roll out one half on heavily floured counter top about 1 to 1-1/2 inches wider than pie plate, roll up on to rolling pin and unroll into pie plate (dough is too soft to pick up by hand). Repeat for the top crust.
Makes one 8 to 9-inch double crust
Instructions
Filling:
Peel & slice apples, place in large bowl of water with 4 tablespoons of vinegar or lemon juice (stops oxidation while preparing filling).
In a saucepan combine sugar, food starch, cinnamon, nutmeg, apple cider, lemon juice, and salt; cook and stir constantly over medium to high heat, until mixture begins to bubble and loses the opaque color and starts to turn translucent (it will look like melted caramel).
Drain apples, chop into 1/2-inch pieces and fold into hot filling, set aside.
**Clear Jel is a type of food starch similar to cornstarch, but it does not break down in heat.
Assembly:
Preheat oven to 375 degrees.
Heat Oven to 375.
Roll out the pie crust dough to slightly thicker than 1/8-inch (slightly thinner than you would for full pie crust), cutting 3 circles with a 3-1/2 inch cookie cutter for each hand pie. Place on parchment lined cookie sheet.
Spoon 2 tablespoons of filling on to each bottom crust. Top with 1 tablespoon caramel bits.
Cut out 3 stars (or other shapes) in each top crust.
Wet the bottom crust with water or egg wash around the edge.
Gently stretch the top crust over filling to edges of bottom, press firmly with finger tips to seal, then crimp with fork.
Brush tops with egg/water beaten mixture and sprinkle large granular sugar on top.
Bake on parchment-lined cookie sheet 25 minutes.