There is still time to add these delectable easy-to-make chocolate moon hand pies to your solar eclipse celebration that the entire world is fixated on. A friend of mine is calling it the solarpocolypse – and the thousands converging to the path of solar eclipse is seemingly as vast as the universe!
Regardless of where you will be taking in this breathtaking event, party food is a MUST.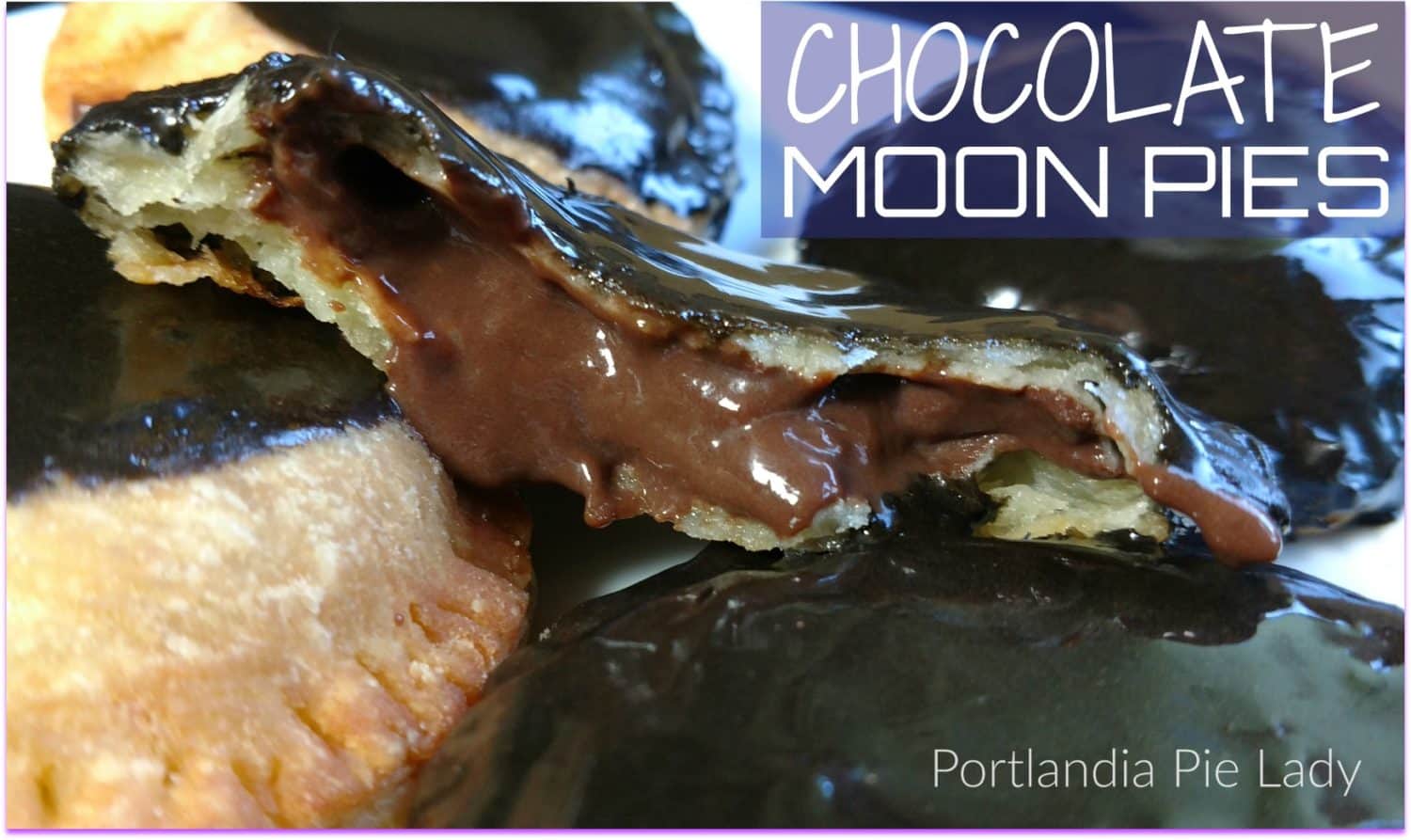 Here are the easy steps:  Make chocolate pudding.  Make pie dough.  Roll, cut, spoonful of pudding, bake or fried.  Icing glaze.  DONE!!!
For the pudding (right after this picture was taken) I put plastic wrap pressed right onto the surface and popped it in the fridge; this keeps a skin from forming which would just get in the way of scooping for the hand pies.
I used a 3-1/2-inch round cookie cutter (I didn't want the pies to be too big).  Left to right in picture below are the steps in making the hand pies.  In the right column I had gently pressed down the centers & crimped the edges with a fork before frying. (We tried baked and fried and my taste testers liked the fried version just a little better.)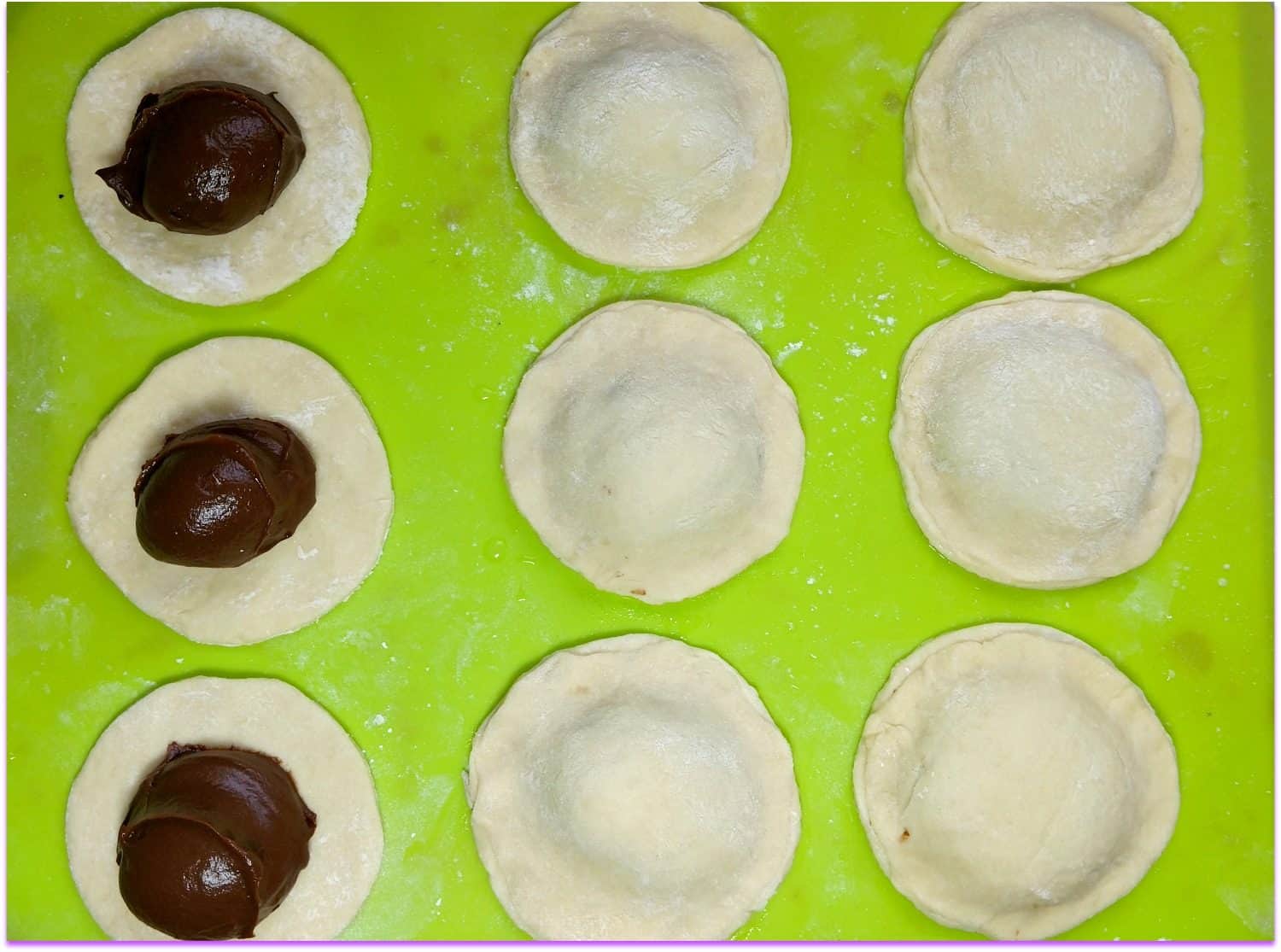 Once cooled from frying I made chocolate glaze and added a small amount of black food coloring, because it is going to be a total eclipse in parts of the world.  However, depending on where you are, I did some partial-eclipse pies too.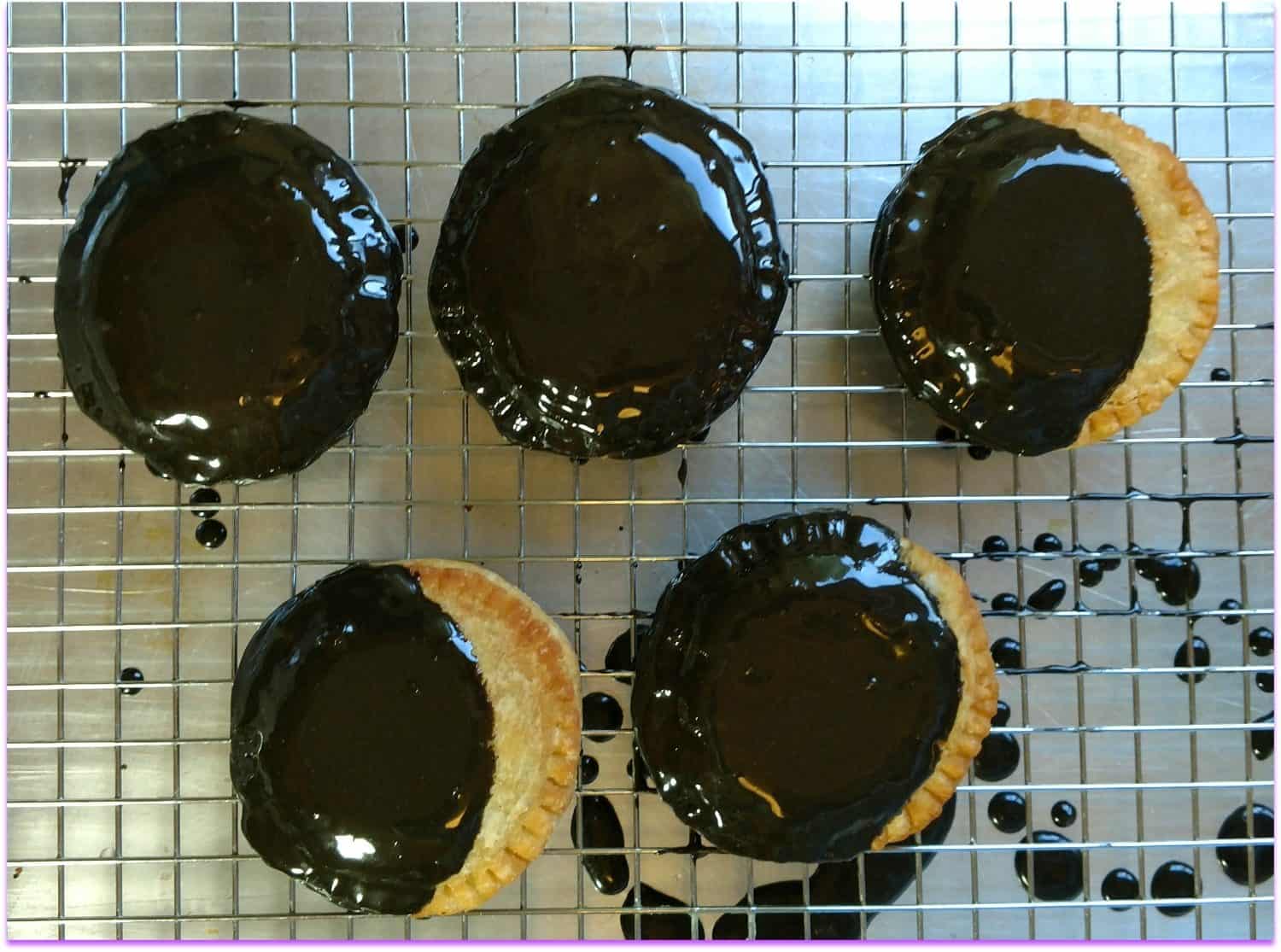 So, get your eclipse glasses out, find your favorite viewing location, and munch down on these hand pies!  Calories don't count during a solar eclipse FYI!!!
Don't forget to save the last hand pie for yourself!
Chocolate Moon Hand Pies
Author:
www.portlandiapielady.com
Ingredients
Chocolate Pudding
1/2 Cup dutch or dark cocoa powder
1-1/8 Cup sugar
1/3 Cup cornstarch
3/4 teaspoon salt
1-1/2 cups milk
1-1/2 cups half & half
2 tablespoons butter
1-1/2 tsp pure vanilla extract
1/4 cup chocolate chips (optional)
Fried Pie Crust
6 Cups Flour
6 tablespoons sugar
1/2 teaspoon baking powder
1 teaspoon salt
3/4 Cup shortening
2 Cups buttermilk (scant 2/3 cup)
3 egg beaten
Chocolate Glaze:
2 cups powder sugar
2/3 cups dutch cocoa powder
6 to 7 tablespoons milk
1 tsp vanilla
Instructions
Pudding Instructions:
In a medium saucepan, mix cocoa, sugar, cornstarch and salt, whisk well. Gradually add milk to dry ingredients in saucepan. Whisk until smooth and well blended. Cook over medium heat stirring constantly.
Bring mixture to a boil and boil for 1 minute, remove from heat.
Add butter, vanilla, and optional chocolate chis. Whisk until chocolate and butter is melted, pour into bowel and place plastic wrap pressed onto surface and refrigerate for 2 to 3 hours.
Fried Pie Dough Instructions:
Mix all dry ingredients and cut in the shortening. Beat the egg with the buttermilk and add in all at once. Stir just enough to form a ball. IF it feels like you are forcing it into a ball, you made need to add 1 tablespoon of water.
Assembly:
Roll out dough 1/8-inch thick, using a 3-1/2-inch cookie cutter cut out the circles. Place 2 to 3 tablespoons of cooled pudding, brush water around edge of bottom dough. Gently stretch top over bottom, press edges down with fingers and crimp with fork.
Fry for about 1-1/2 minutes on each side in hot oil. If you prefer to bake, brush tops with a beaten egg or milk & bake for 20-22 minutes at 425.
Drain on paper towel (or cool from oven). Mix all chocolate glaze ingredients together and dip in pies to glaze (Makes 20 - 24 hand pies)