Chocolate, Sprinkles and Bear Claws, Oh My!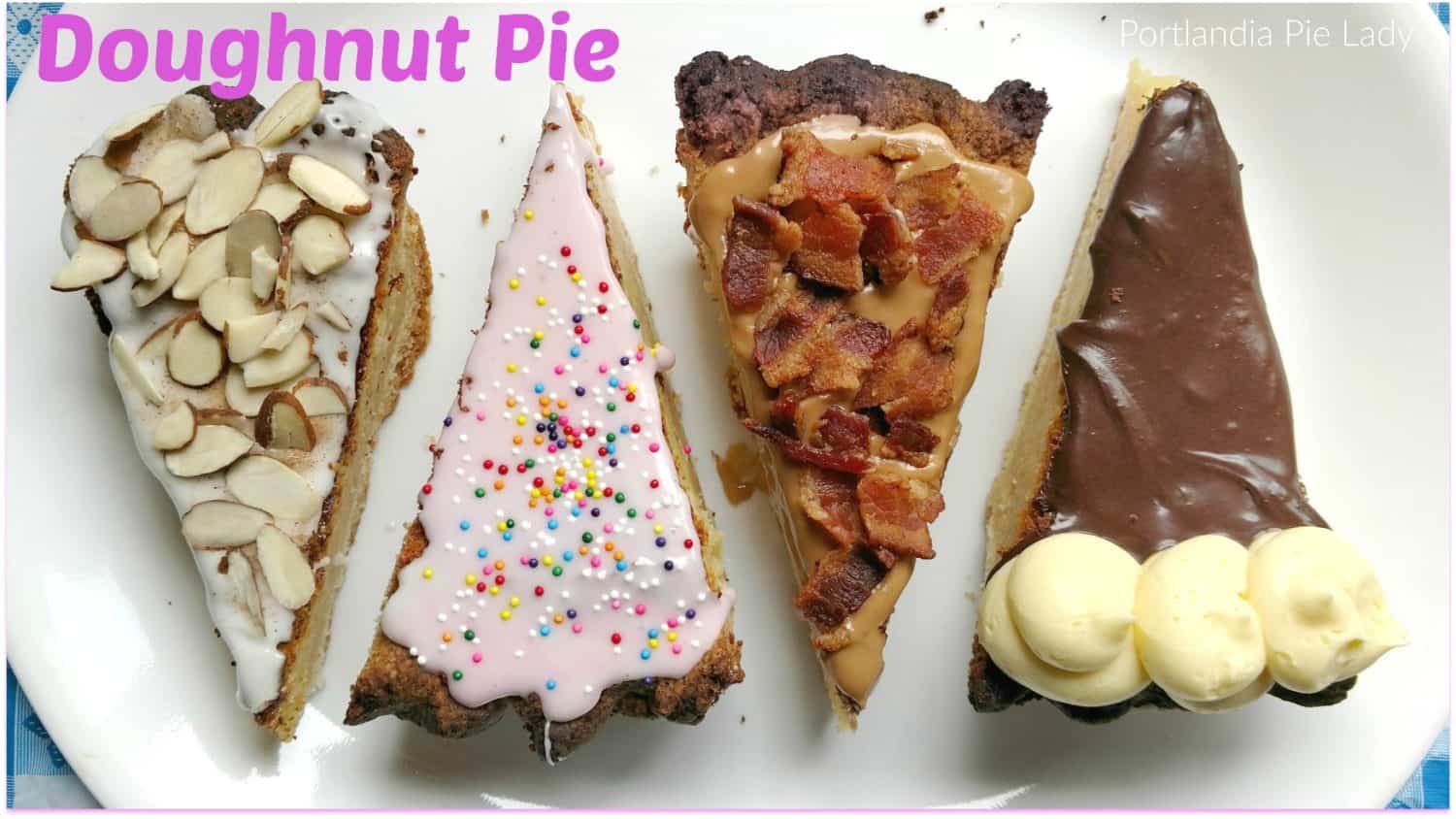 Sometimes we just need more ways to eat our sugary treats. We all have our favorite doughnut shop and favorite doughnuts; cream filled, maple bacon bars, bear claws, crullers, sprinkles, and now it comes to you as Doughnut Pie.  The filling will remind you of a cross between a cruller, a fresh soft cake doughnut, and custard.  However, there is not one speck of flour used in the filling; I know! Ah-mazing!  I did make the crust with good old white flour, but you can easily substitute my gluten-free pie crust recipe and now you have a gluten-free Doughnut Pie!
Below is a slice of Portland Cream – chocolate glaze with creamy pastry cream. I made a very quick and easy creamy custard that tastes liked you slaved hours, two ingredients (recipe is included at the end of the post).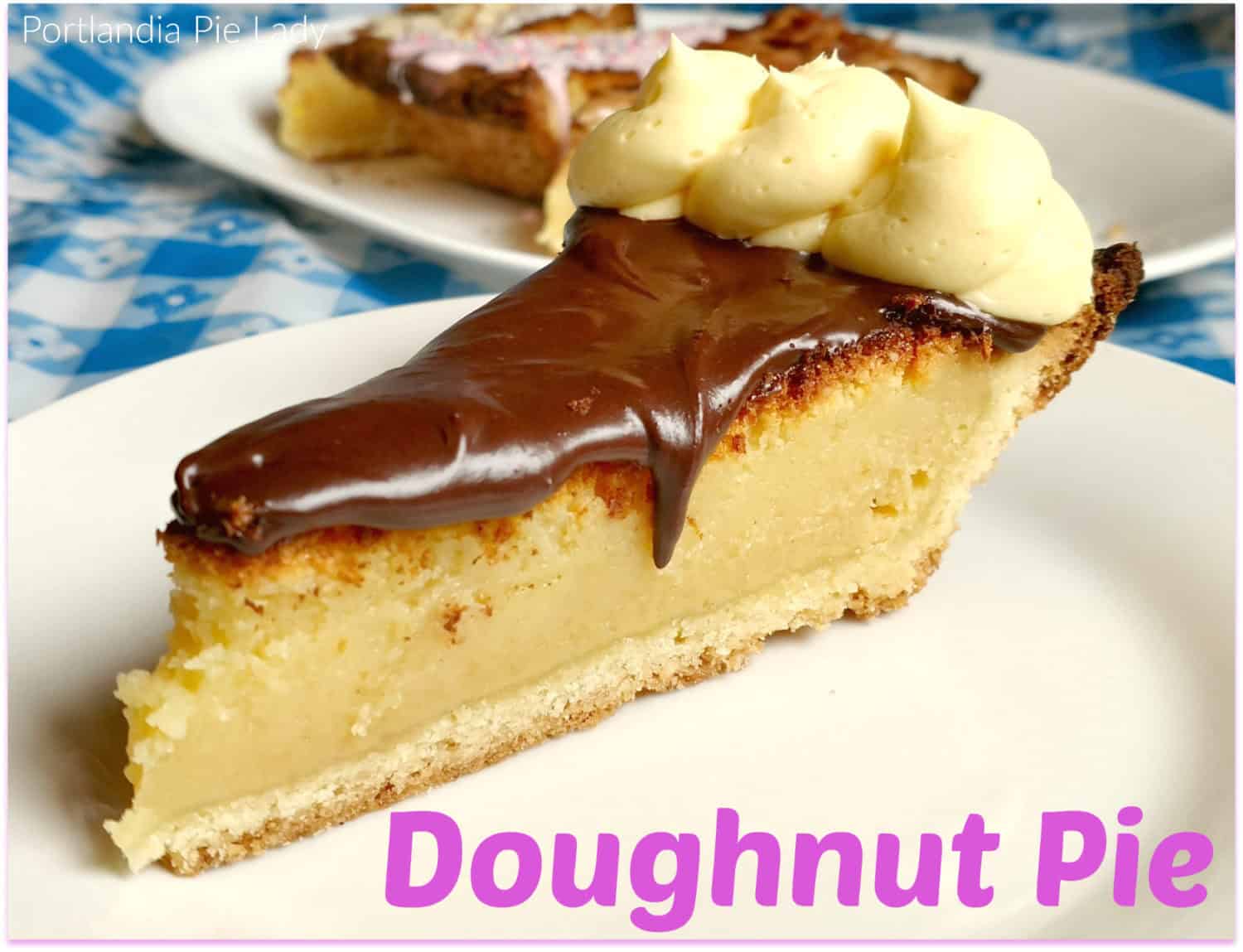 I sliced the baked pie into 12 slices, had all the toppings ready (chocolate glaze, pink glaze, maple icing, almonds, bacon, sprinkles, etc.) so everyone could "design" their favorite doughnut flavor.  My favorite is Maple Bacon (see below).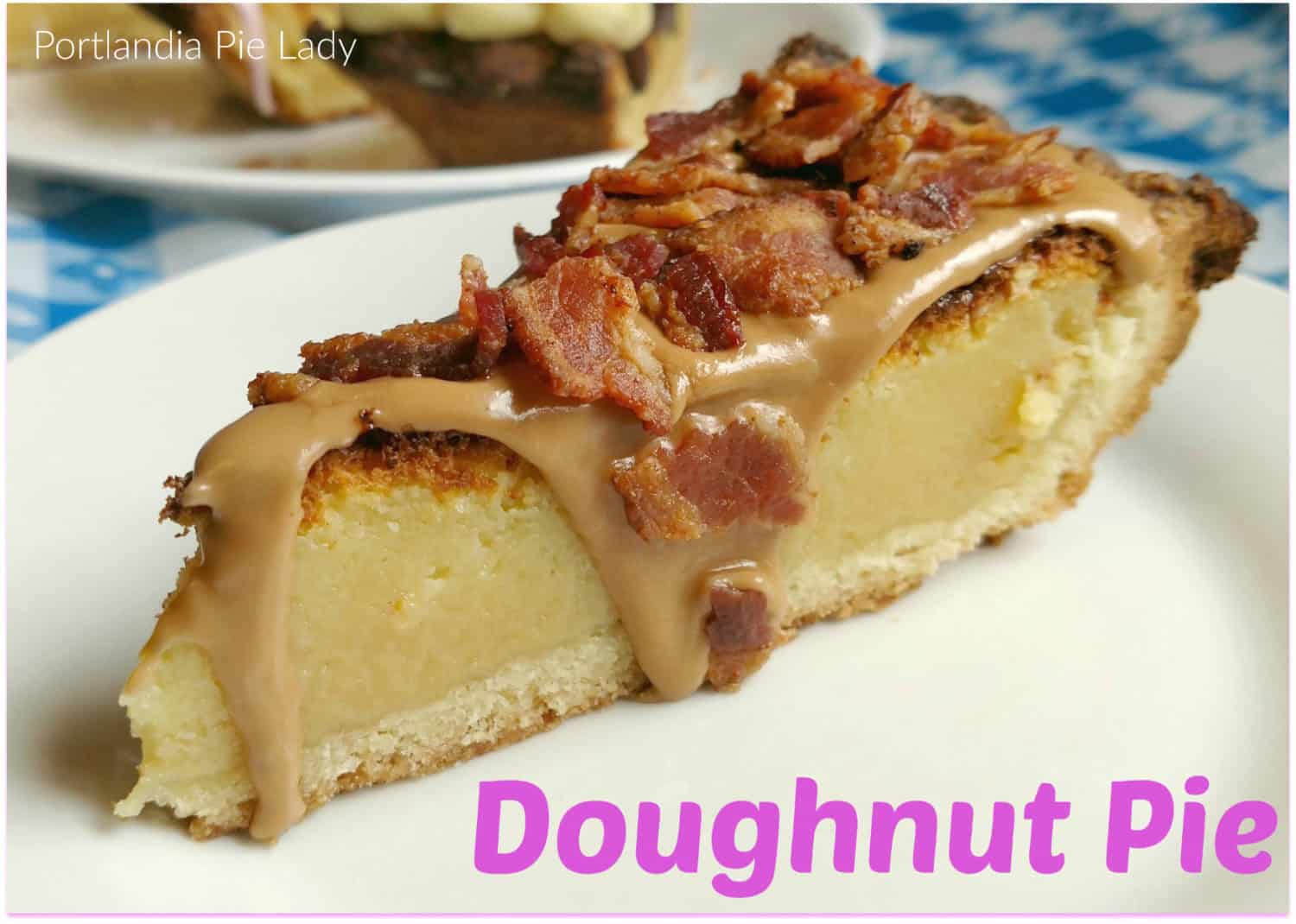 You can never go wrong with pink icing and sprinkles  and for those of you who like bear claws, flavor the icing glaze with almond extract, a pinch of cinnamon, and top with almonds.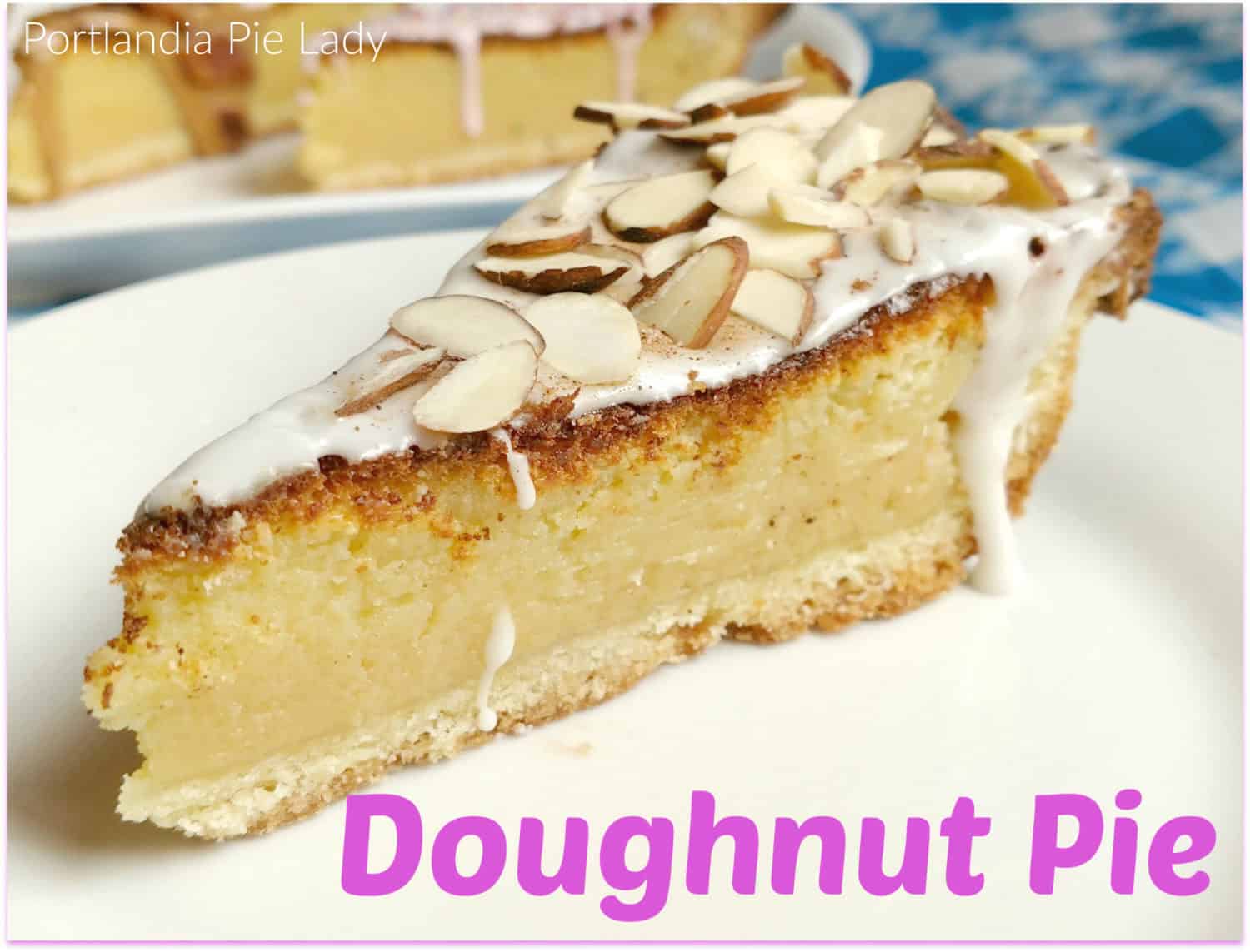 When your pie first comes out from the oven it will be raised and cracked, this is normal!  As it cools it will calm down and will be very tender to slice through with your fork as you devour your slice of pie.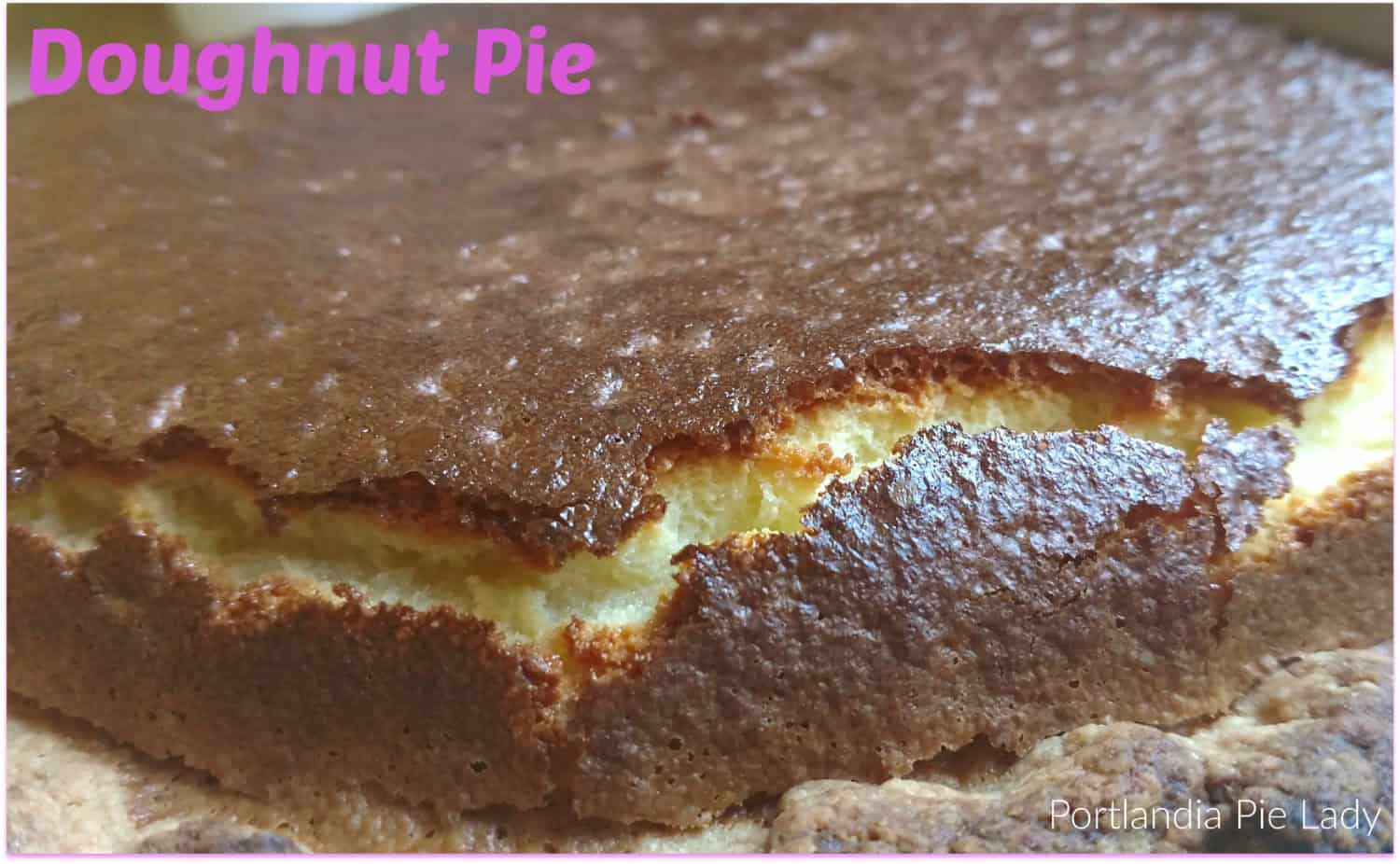 Doughnut Pie
Author:
www.portlandiapielady.com
Ingredients
Filling:
1-1/2 cups vanilla baking chips (about 8-ounces)
1/4 cup butter
1 13-ounce can sweetened condensed milk
1/2 cup almond flour (may substitute flaked coconut)
3 eggs, slightly beaten
2 teaspoons pure vanilla
1 prepared 9 to 10-inch butter crust unbaked pastry shell
Icing glaze(s) and doughnut toppings (sprinkles, almonds, custard, crumbled bacon)
Butter Crust Pastry:
1-1/2 cups Flour
1/2 teaspoon Baking Powder
1/4 cup Sugar
1-1/2 cubes Butter (6 ounces) - room temp
1/4 cup cold water
1 Egg Yolk
Glaze:
1 cup powder sugar
1-1/2 to 2 scant tablespoons milk
1/2 tsp vanilla extract
Chocolate Glaze:
1 cup powder sugar
1/2 cup unsweetened cocoa
2 tablespoons milk (add additional 1 teaspoon at a time until desired consistency)
1/2 teaspoon vanilla extract
Quick & Easy Pastry Cream
1-1/2 cups heavy whipping cream
1 small box vanilla instant pudding
(Beat with mixer until thickened and fluffy, about 5-7 minutes, depending on mixer)
Instructions
Preheat oven to 375.
Crust:
Mix dry ingredients together. Work in butter with large fork until crumbly, do not over mix.
Beat egg yolk with water, pour in all at once into dry mixture and stir JUST UNTIL it forms a dough ball.
Filling:
In a saucepan, melt vanilla baking chips and butter over medium heat; just until melted.
Remove from heat. Stir in sweetened condensed milk, almond flour, eggs, vanilla and sugar until blended.
Pour into unbaked pie shell.
Bake in oven for 45-50 minutes.
Variations:
Bear Claw: To pie filling add 1-1/2 teaspoons cinnamon and substitute almond extract for vanilla; top with icing glaze and slice almonds.
Portland Cream: Top with chocolate icing glaze & pipe pastry cream or whipped cream around edges of cooled pie.
Maple Bacon Bar: Top with maple flavored icing glaze and cooked crumbled bacon.
Chocolate: Top with chocolate icing glaze
Double Chocolate: In pie filling substitute chocolate chips for vanilla baking chips, top with chocolate icing glaze.