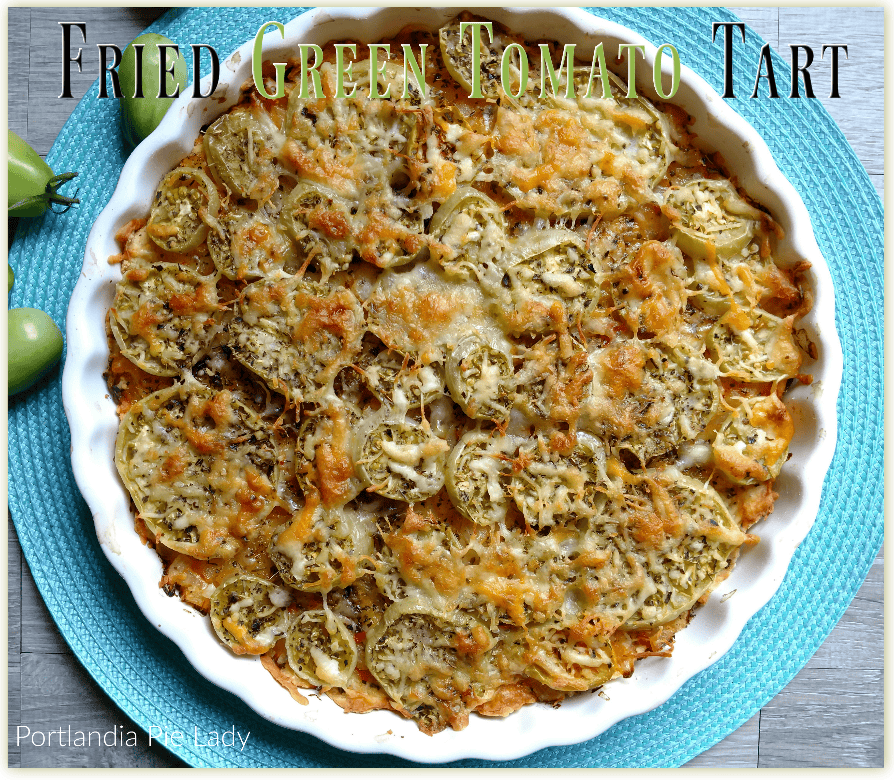 Fried Green Tomato Tart is a one-time-a-year happening thing here in the great Northwest and it will be another 365 days until the next round.
I neglected the garden so much the last few weeks of its life, all the while threatening to burn it to the ground, because I was done.  However, I found a few green tomatoes hanging on for dear life on the very last vines in the garden and I do LOVE fried green tomatoes.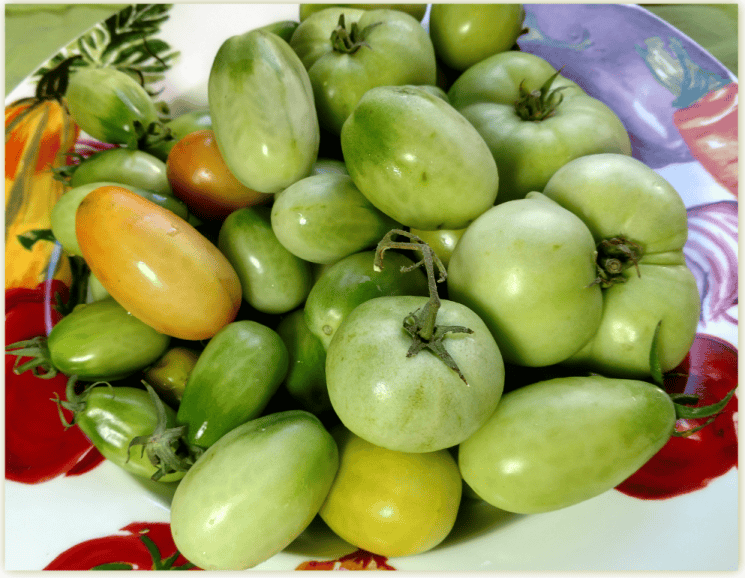 Fried Green Tomato Tart lets the oven do the "frying" with the smattering of cheeses on top, so you get the same unique tang of green tomatoes without the work of frying them up.
Green tomatoes have a tangy taste like none other; I don't even know what to compare them to.  You really just need to try it. They stay firm when baked (unlike a red ripe tomato) and if you close your eyes when you taste it you would have no idea it was related a tomato.  Cherry, Roma,or Beefsteak tomatoes; it doesn't matter, they all taste the same when green!
Another great way to enjoy green tomatoes is Polynesian Deep Dish with my zippy Sunrise Sauce.  I have enough green tomatoes to do both; who said it's not easy being green???
The crust is my Ultimate Corn Masa Crust (one of my favorite creations)!  It's not a thick crust but it holds up great and the combination with the green tomatoes is perfection.
I simply used garlic & basil with a little salt & pepper for seasonings, as they don't need much help with their flavor. I did add a minced hot pepper from the garden that had ripened to red; which is totally optional. I have had it both ways and I don't have a preference with or without, so go with what sounds good to you!  Trust the force.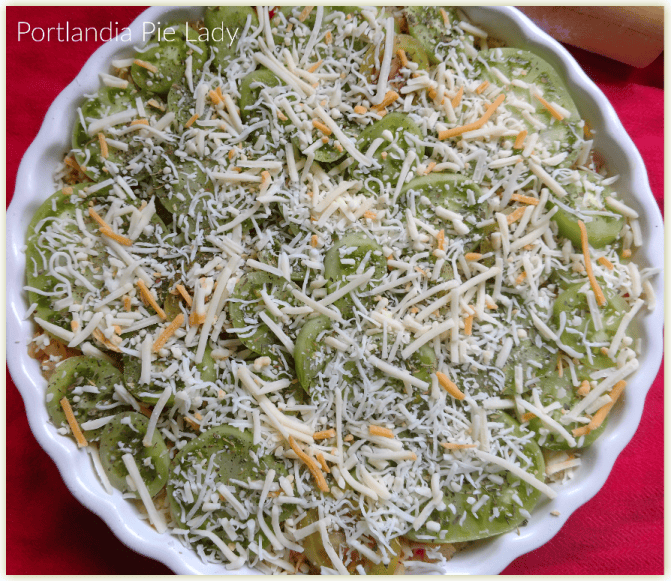 However, I do love me some dipping sauce and the marinara sauce was oh so very, very good.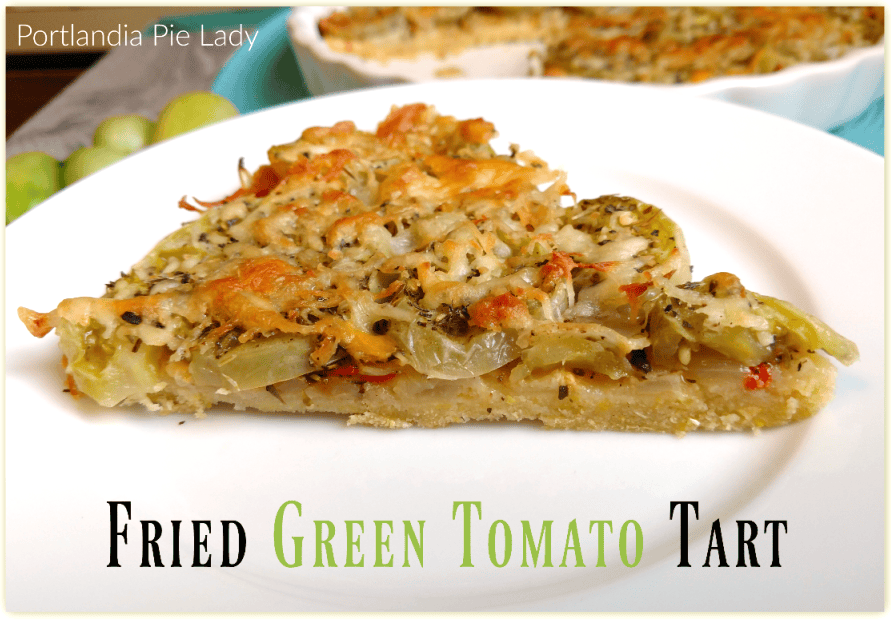 Don't forget to save the last slice for yourself; it's going be another year before green tomatoes come across your plate again!
Fried Green Tomato Tart
Author:
www.portlandiapielady.com
Ingredients
1 pound (about) sliced green tomatoes, sliced about 1/4 inch thick
1-1/2 cups cheese - any mix of smoked cheddar, jack, queso blanco, mozzarella, provolone, Gruyère
1 small onion, chopped (about 1 scant cup, or you can use less)
1 green chili pepper or 1 jalapeno, minced (optional, only use if you want some heat)
3 cloves garlic, minced
1 tablespoon olive oil
1/2 teaspoon salt
1/2 teaspoon pepper
1-1/2 teaspoons each thyme & basil
1 prepared 10-inch tart crust (Ultimate Corn Crust)
Ultimate Corn Crust
2 tablespoons corn meal
1/2 cup masa harina
1/2 cup flour
1/4 teaspoon salt
1/8 teaspoon baking powder
1/4 teaspoon sugar
1/3 cup butter-room temp
1/2 cup frozen corn (thawed)
1/3 cup cold water
Instructions
Preheat oven to 400 F.
Crust:
Mix dry ingredients to blend. Cut in butter until crumbly.
In blender or food processor pulse corn and water together for a few seconds, and stir into crumbled mixture that makes an easily pliable ball.
With extra masa (or flour) roll dough out to just under 10 inches, place in ceramic tart baking dish and press out to fill in edges keeping the dough fairly uniform in thickness.
Green Tomato Topping:
Lightly saute garlic, onions, and pepper(s) of choice in olive oil for 3 to 4 minutes, remove from heat.
Mix salt, pepper, thyme and basil together, set aside.
On prepared crust, sprinkle on 1 cup of cheese & scatter/spread the sauted onion mixture on top.
Sprinkle on half of seasoning mixture.
Layer on the sliced green tomatoes (it's okay if some overlap).
Sprinkle on remaining seasoning mixture and top with remaining 1/2 cup cheese.
Bake at 400 degrees for 35 to 40 minutes.
Serve warm alone or with marinara sauce.