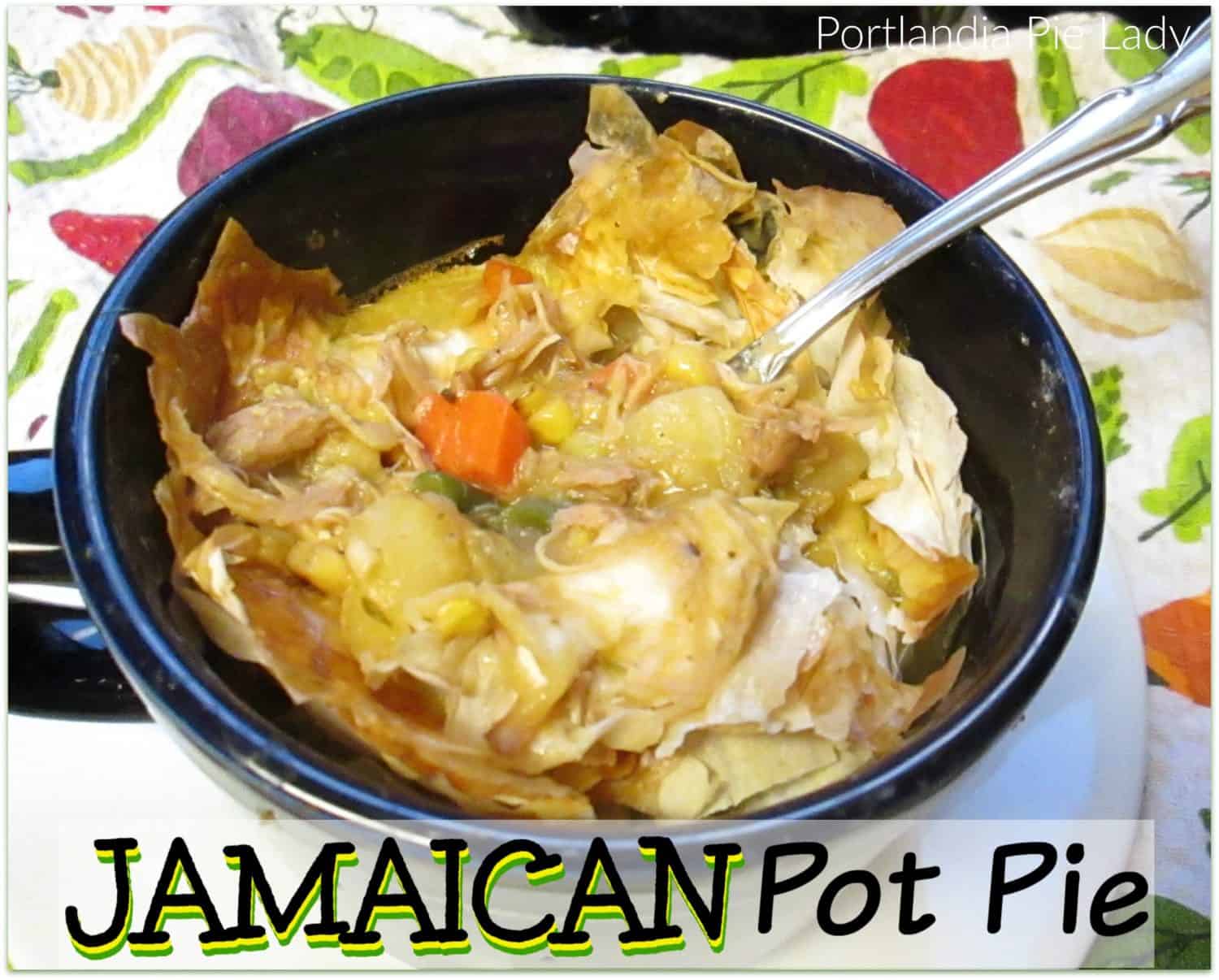 If you've got a fridge or freezer full of turkey (or chicken) leftovers from the holidays and you are needing a new twist on an old favorite, you've come to the right place; you're gonna love Jamaican Pot Pie.
I interrogated a friend of mine who is from Jamaica for some insight to make sure I was getting this right.  She said they don't really do pot pies in Jamaica but they do have a lot of stews.  So, I took a Jamaican twist with the ingredients, and met her half-way by only using a top crust made with phyllo dough.  The results?  A warm comforting medium spicy turkey pot pie with the flavors of a Jamaican kitchen. Wow, it was super good!!!
Here we go:
To bring out the flavor and firm up the texture of the corn, pan roasting them in the skillet with the onions is fast, easy, and it does make a difference in the taste. The corn will start to develop slightly charred bits when it is done.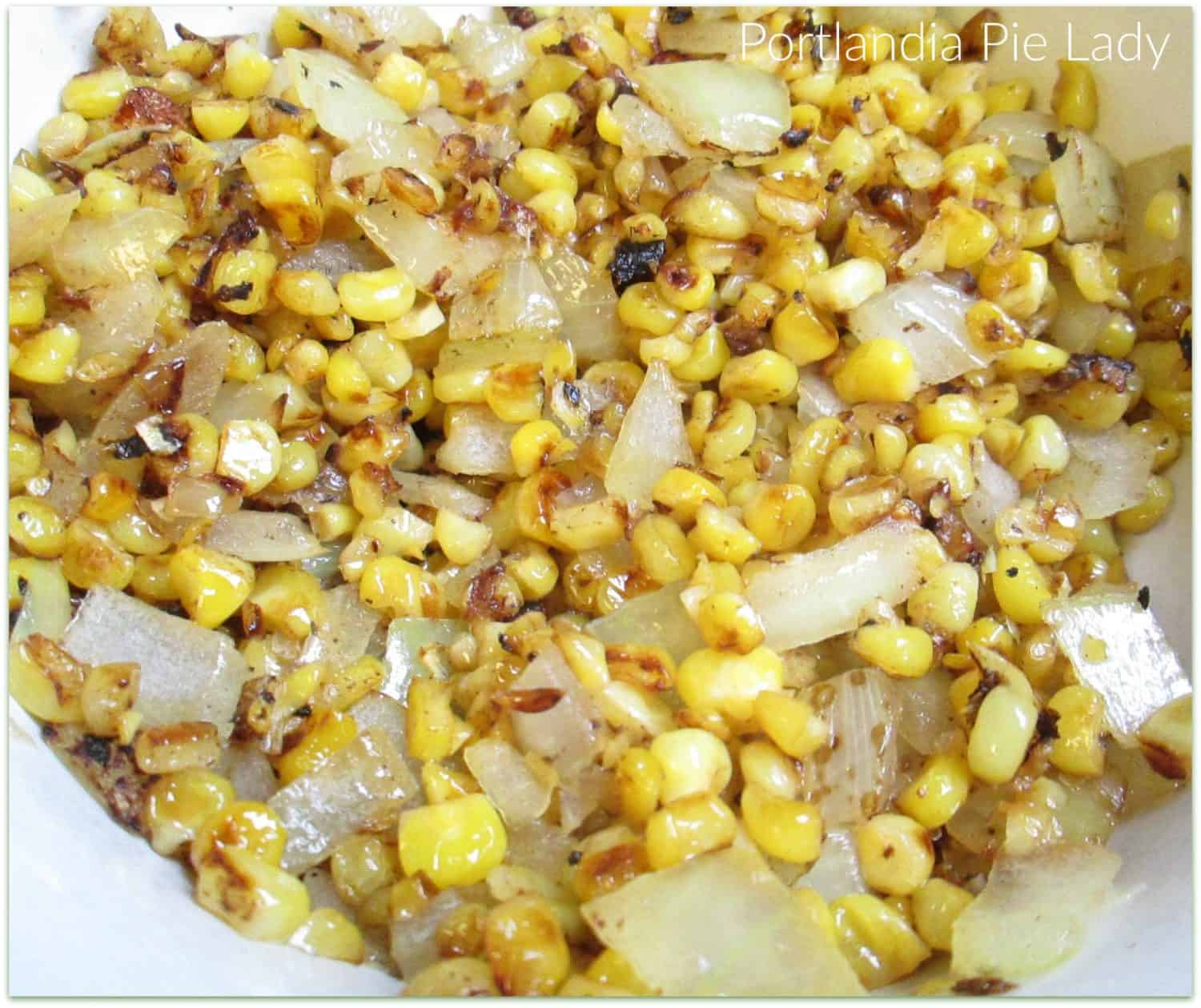 Once the rest of the veggies are finished cooked (with or without the scotch bonnet), stir in the turkey, and ladle into large single serving baking mugs. There is no need to coat the inside of the baking dishes with cooking spray or shortening either (yay).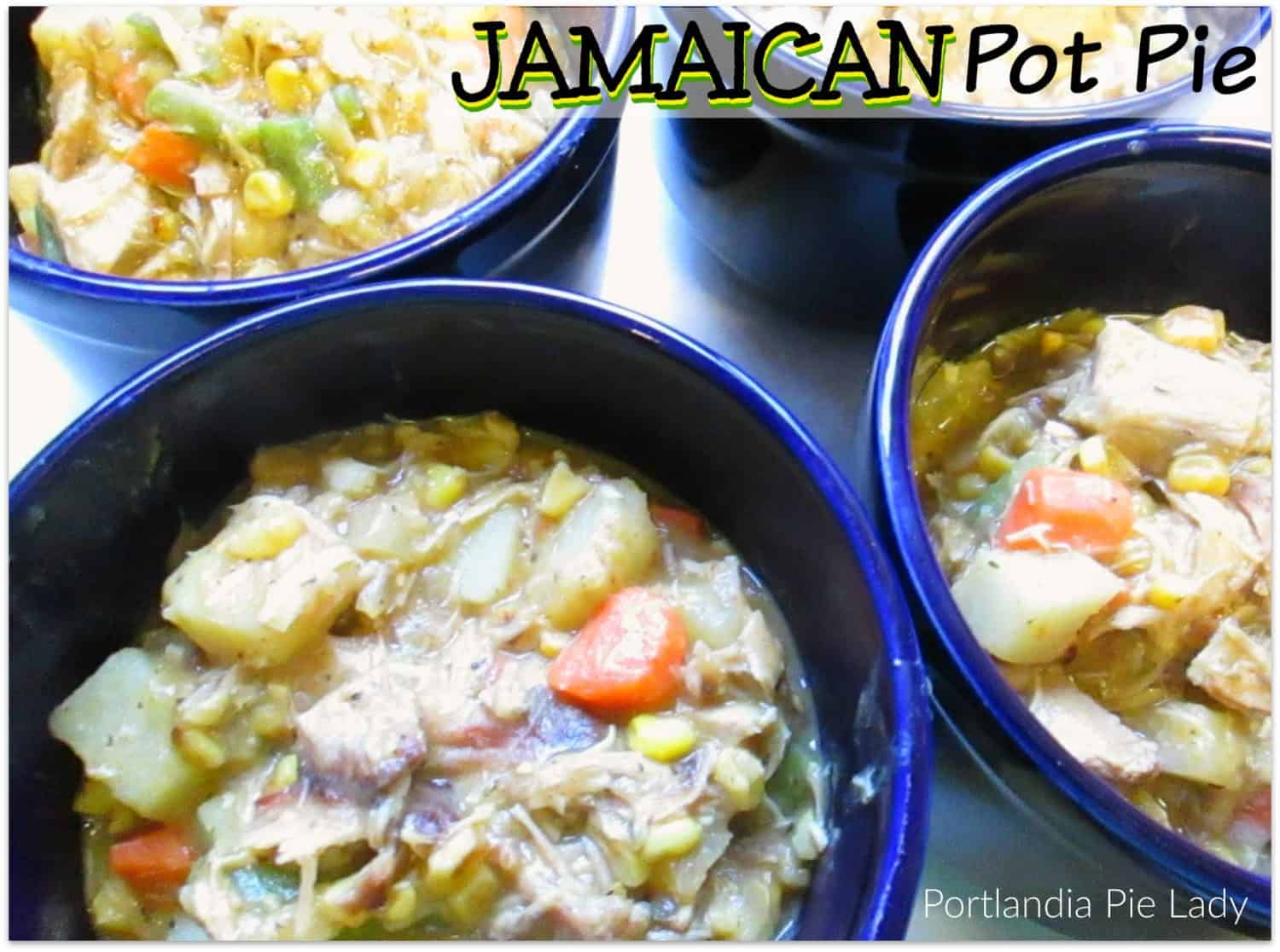 Take about 8 layers of phyllo dough and cut into squares or rectangles, and as you do an egg wash the dough will tuck in a bit into the baking dishes. Phyllo dough dries extremely fast and I try to cover the entire surface but something always gets missed.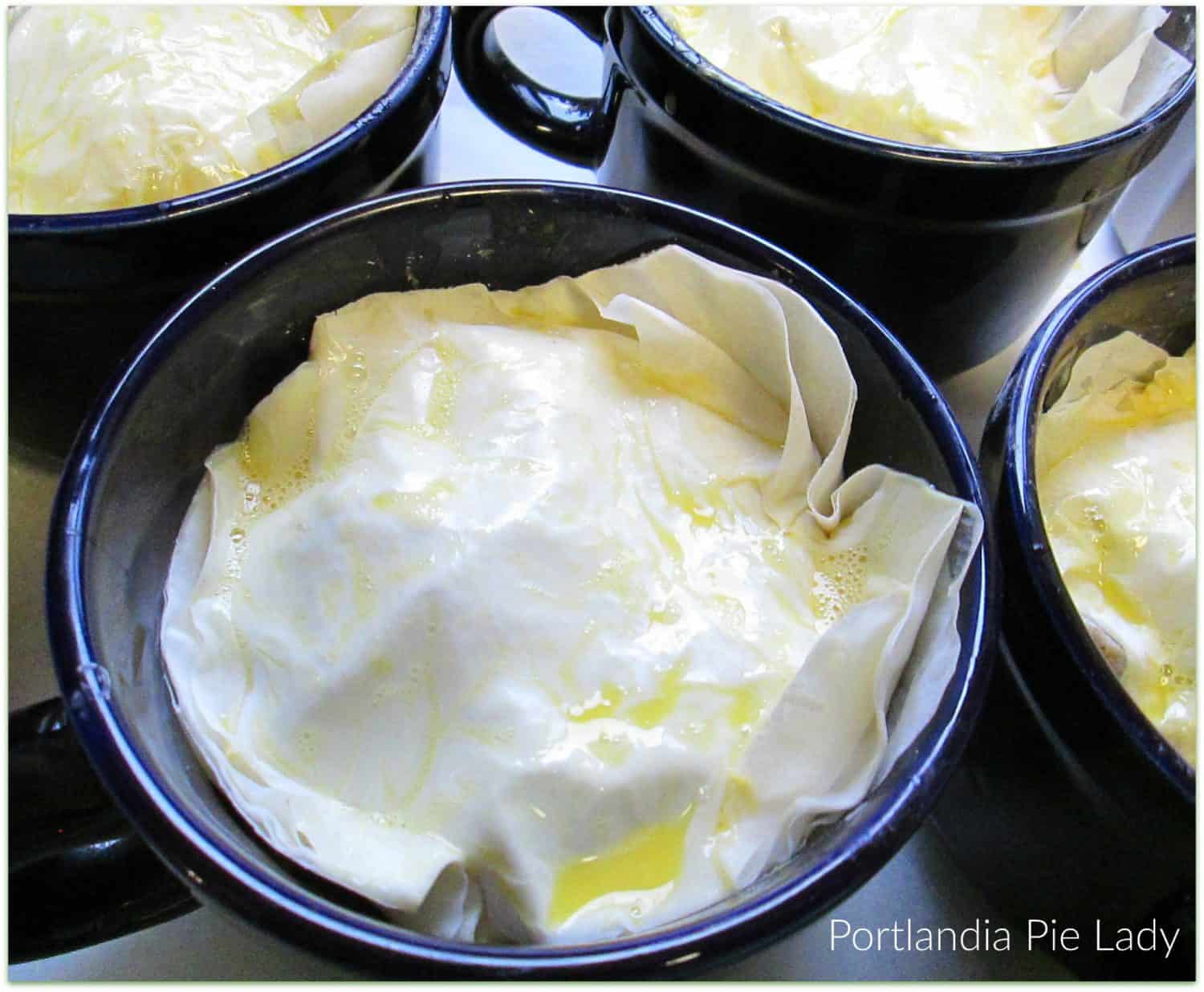 Here they are in all their golden brown baked glory with bubbling filling ready to be devoured.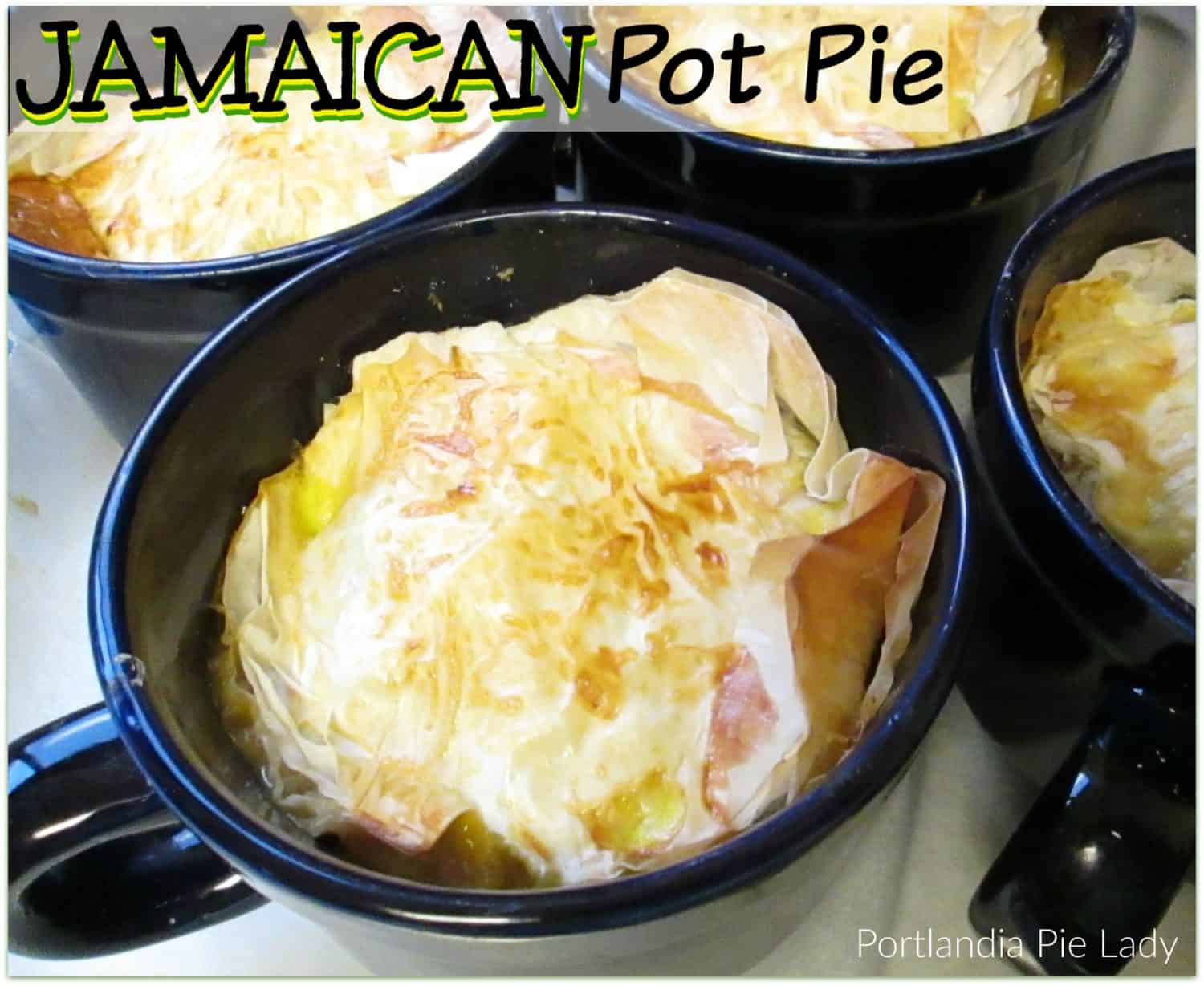 Jamaican Pot Pie
Author:
www.portlandiapielady.com
Cuisine:
Jamaican meets Americana
Ingredients
4 cups chicken stock or bone broth
2 tablespoons olive oil or butter
2 cups frozen or fresh corn
1/2 large onion, chopped
1 stalk celery, chopped fine
1/2 to 2/3 cup butternut or pumpkin squash, cooked and pureed
3 Carrots, diced
1 cup frozen green beans
2 medium potatoes, peeled and coarse chopped
1-1/2 teaspoons pepper
1 teaspoon salt
1/2 teaspoon cayenne
1 teaspoon thyme
1-inch piece fresh ginger, peeled and minced
1 scotch bonnet, leave whole, do not chop up (optional)
4 cups cooked cubed chicken or turkey
1/4 cup flour or cornstarch + 1/2 cup water or chicken broth
1/3 cup coconut milk
1 eggs +1 Tablespoon water (beaten)
8 slices phyllo dough, thawed
Instructions
In a skillet over medium-high heat, saute the corn and onions in the olive oil (or butter) until the corn starts to show bits of charred areas, about 6-7 minutes; set aside.
In a large 5 to 6 quart stock pan, add the chicken stock (or bone broth) and remaining vegetables. If you want this spicy, throw in the scotch bonnet whole. Bring to boiling and reduce heat to simmer, with lid slightly ajar to keep broth from cooking out. Simmer until all vegetables are tender (start by checking the carrots as they take the longest); about 15 to 20 minutes.
Remove the scotch bonnet and throw away. Once the vegetables are done, stir in the corn.
Mix the additional chicken broth and coconut milk wit the flour or cornstarch and blend until no lumps. Stir into vegetables while still simmering to slightly thicken.
Stir in the turkey or chicken.
This will make about 10 cups of filling. Ladle in five 20 ounce large baking ceramic baking dishes. Place the baking dishes on a cooking sheet.
Cut the phyllo dough into squares or rectangles slightly larger than baking dish. Brush with egg wash immediately.
Bake at 350 for 45 minutes. Filling will be bubbling and very hot.