Have you ever had a happy accident when the chaos of the kitchen took over and you completely bonked a recipe & you're thinking, great, time for the the garbage disposal dump. Then, at the very last moment before your creation gets sucked down into the abyss of the dark and dismal sewage pipes of the underworld; BAM! A light turns on!  You come up with an idea for a "fix" that just might save it all & the New and Improved Lemon Sour Cream Pie was born!
Not only did that dark moment turn into a light and super creamy lemon sour cream pie, it is by far superior than the one we had made and loved for years. I can only take credit for half of the creation of this lemony goodness; it was a combined effort with my daughter as she was helping me with a large last minute pie order.  The two of us bake very differently; therefore there is always the buzz of a chaotic atmosphere in the air when we're together (we seem to fight for the oxygen in the room), but this one time it turned out superb and we are both here to tell the tale.
Most Sour Cream Lemon Pies call for a pre-baked crust (referred to as blind-baked), which I always thought was kind of "off" with a cream filled pie, I was never really on board with that, so, I went with a graham cracker crust this time around.  All I can say is, wow, this lemon-zested beauty came to life. Don't take my word for it, try it!  The next time I make lemon sour cream I am going to use lemon coolers for the crust!
You can use store-bought ready made crust, but if you make your own, use a custard cup to tap in the corners, bottom, and sides for a nice firm even crust.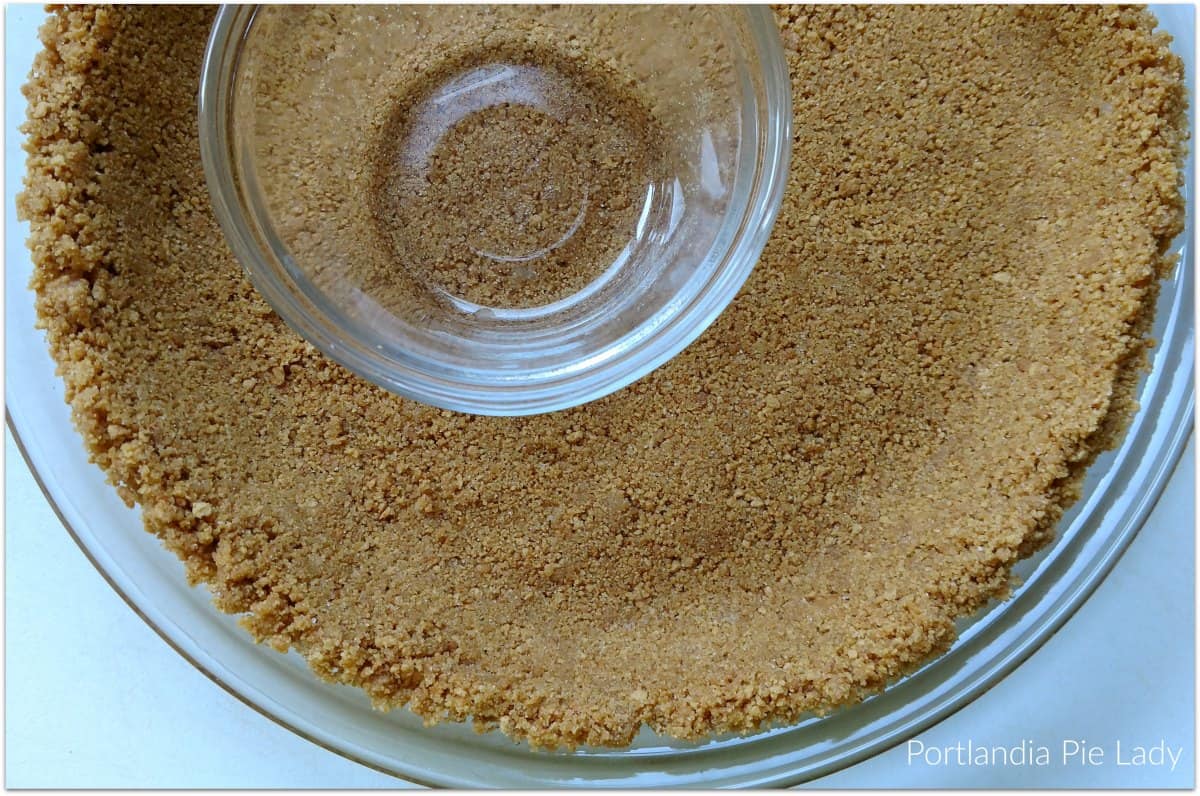 The sour cream and cream cheese is blended together first and then you get to whip in that luscious lemon filling.
Make sure and save the last slice for yourself! I had to guard mine as the hubby was eating it for breakfast too, nothing is safe in my fridge.

Lemon Sour Cream Pie
Author:
www.portlandiapielady.com
Ingredients
1 cup sugar
1/4 cup cornstarch
zest of 1 lemon
1/2 cup lemon juice
3 eggs, beaten (and poured through sieve)
3/4 cup milk
2 tablespoons butter, cubed
4 ounces cream cheese (half of one 8-ounce brick)
3/4 cup sour cream
1 prepared graham cracker crust
Topping:
1 cup heavy whipping cream
1/4 cup powdered sugar
Lemon curls or yellow nonpareils for garnish
Graham Crust (9-inch)
1-1/2 cups graham cracker crumbs
6-7 Tablespoons butter
1/4 cup sugar
Instructions
Crust:
Preheat oven to 350 F.
Mix graham cracker crumbs & sugar together, stir in melted butter until thoroughly mixed & press into pie plate, bake 5-7 minutes.
Cool completely before adding fillings.
Filling:
Combine sugar, cornstarch, lemon zest, lemon juice, eggs and milk in heavy saucepan. Cook and stir with a whisk over medium to medium-high heat until thickened, about 11 to 12 minutes.
Remove from heat and stir in cubed butter, stirring until it is melted. Pour lemon filling into a bowl and cover with plastic wrap pushed onto the surface to prevent a skin forming. Place in refrigerator until thoroughly cooled (about 2-3 hours).
With an electric mixer beat the cream cheese to ensure there are no lumps, beat in sour cream, and then add the cooled lemon filling, and whip together with mixer for a couple of minutes, and spread in prepared crust.
Pipe whipped cream around edges of pie.
Garnish with lemon curls & refrigerate until ready to serve.
Whipped Cream
Whip the powder sugar and heavy whipping cream with electric mixer on high until stiff beats form (about 7-8 minutes). Serve with cooled pie.