Hello Beautiful…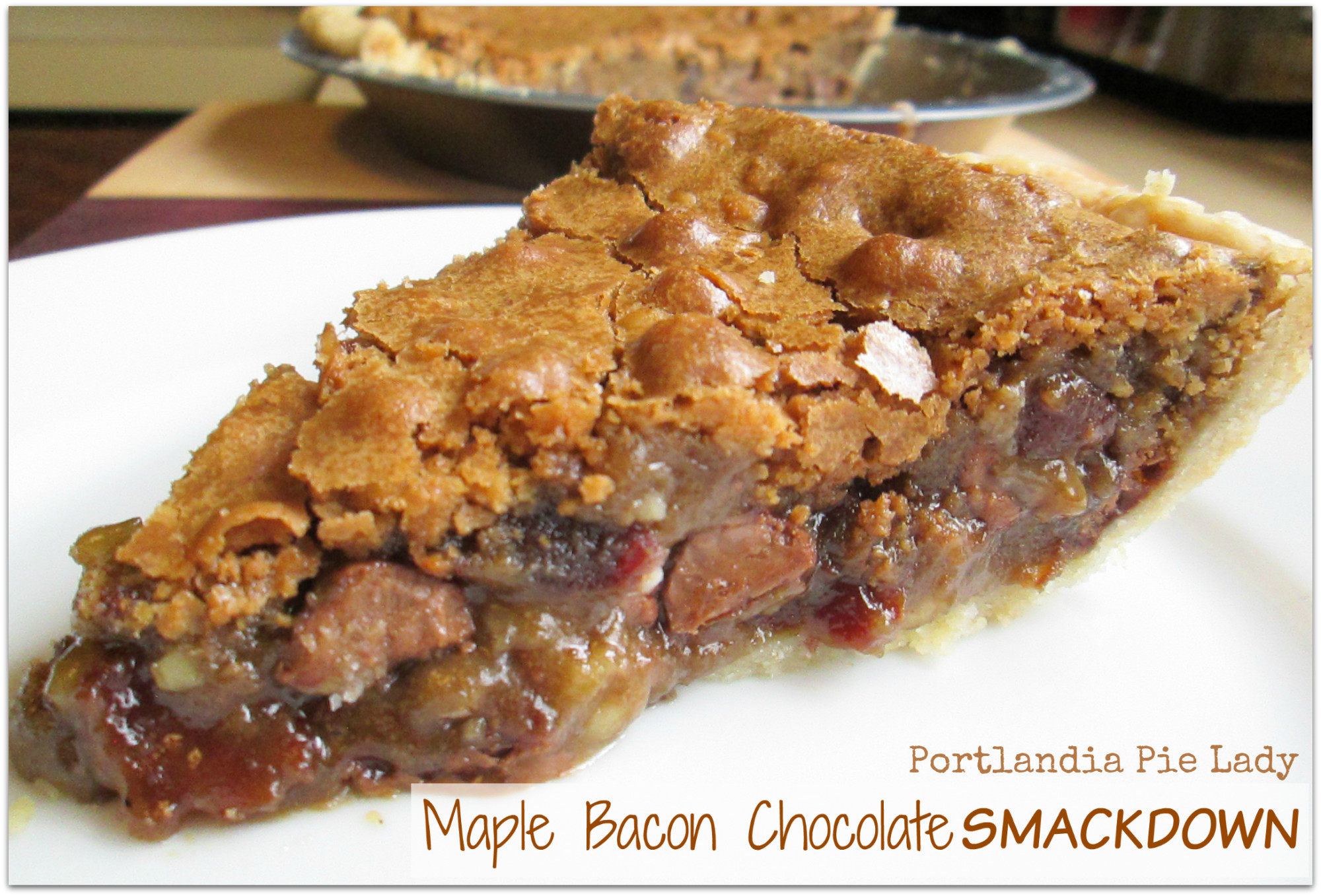 Maple Bacon Chocolate Smackdown, yes, this is a pie that doubles as an event!  This gorgeous creature was created for Pie Night November 2011 (click here to view a few pics of Pie Night 2015).  I have always made chocolate chip walnut pie, but I was bacon-deficient in my pie making, so with the tweaking of a few ingredients, adding bacon and Mapleline, uber success!  Score 1 for the Pie Lady and 1 the Pie Night attendees.  I only made one MBCS (Maple Bacon Chocolate Smackdown) for its maiden voyage, which was a huge mistake as I was only able to stash away one tiny slice before it was gone.  I enjoyed two bites of maple-chocolatey bacon heaven (someone found my hidden treasure in the cereal cupboard before I got to it, hence only two bites).
And eating it warm, whoa… incredible; this I highly recommend.  It literally melts in your mouth.  It's got the right amount of everything baked into butter batter.
For those of you who think "it's just too sweet," let me tell you this, every time you take a bite and you get the feeling like this bite might be your last, BAM, you get a bite of bacon!  The salty crisp-chewy surprise evens out your taste buds that is so wonderfully delicious words do not do it justice.
MBCS, the ninja of pies, hiding in plain sight, others will be fooled at how unassuming she looks as it comes out from the oven.
You're not going to get tired of this pie, e.g., every time someone walks by our MBCS pie in our kitchen, a nearly unnoticeable slice disappears, and pretty soon everyone is vying for that last piece. Saving the last slice for yourself will be victorious!  May the force be with you!
Maple Bacon Chocolate Smackdown!
Author:
www.portlandiapielady.com
Ingredients
2 Eggs
1/2 Cup Flour
1/2 Cup Sugar
1/2 Cup Brown Sugar
3/4 Cup Chocolate Chips
1/2 Cup Chopped Walnuts
6 to 8 Ounces Bacon, cooked & crumbled
2 teaspoons Mapleline Extract
1 Cup Melted Butter (cooled)
One prepared 9-inch unbaked pie shell
Grandma's Pie Crust (half batch):
1 Cups flour
1/2 teaspoon salt
1-1/2 teaspoons sugar
dash baking powder
1/2 cup shortening
3 to 4 Tablespoons cold water
Instructions
Preheat oven to 325 degrees
Prepare Pie Shell: Stir to combine all dry ingredients. Cut in shortening until crumbly. Add cold water all at once and mix just until forms a ball (do not knead or over mix). Roll out dough (this will be rather soft) on heavily floured countertop about 1 inch wider than pie plate, roll up dough onto rolling pin and unroll into pie plate (dough is too soft to pick up by hand). Tuck under sides and crimp by hand or fork, set aside.
Filling: Beat eggs in mixer for about 1 to 2 minutes. Add in flour and sugars. Carefully blend in cooled melted butter. Stir in chocolate chips, bacon, nuts, Mapleline, and pour/spread into pie shell.
Place cookie sheet with rim/sides on rack below in oven as butter will sometimes bubble out a bit at the end of baking.
Bake 1 hour at 325 degrees.