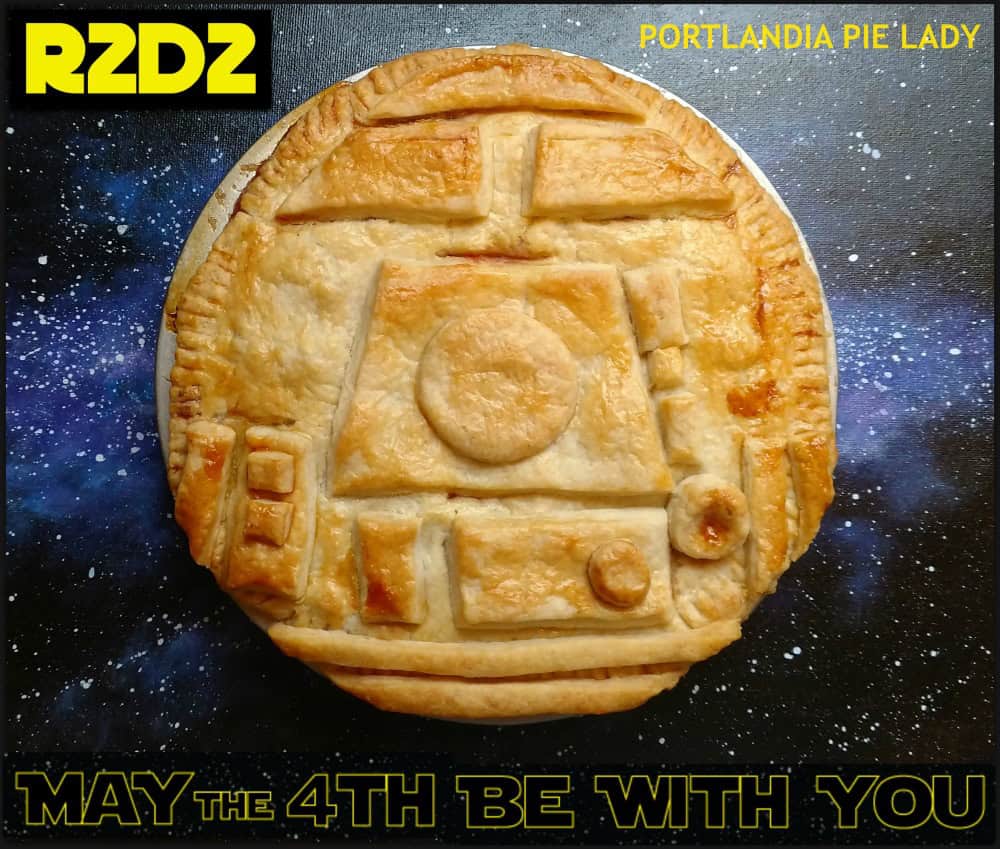 The Force never looked so good.  It is time to harness your Jedi powers immortalizing the droid of all droids into the tastiest pie in the galaxy; including those far, far away!
Any double crust pie will do such as apple, strawberry-rhubarb, or blackberry, etc.
I chose straight up rhubarb as I love to cook in season and I didn't need a light saber to pull out the beautiful tangy stalks.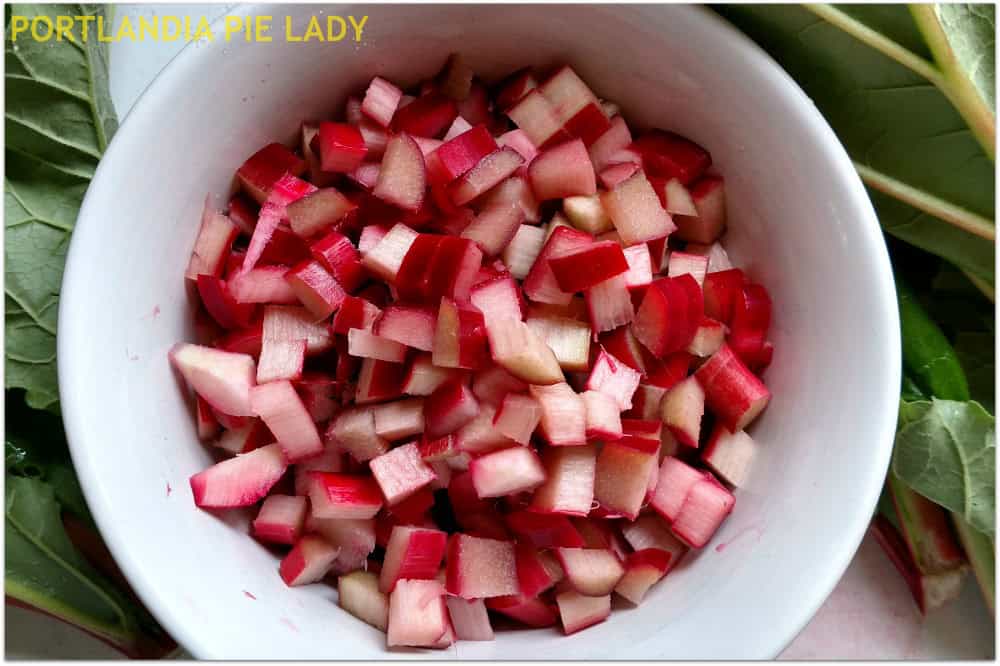 After you roll out the bottom crust, add your fruit filling, place on the top crust and cut a couple of vent holes in the center so air can escape while you start assembling the pieces for your R2D2 masterpiece.
Brush the entire top with an egg wash, apply the pieces, cut some vent holes alongside some of the pieces (they will not show).
Brush the entire pie again with more of the beaten egg and bake!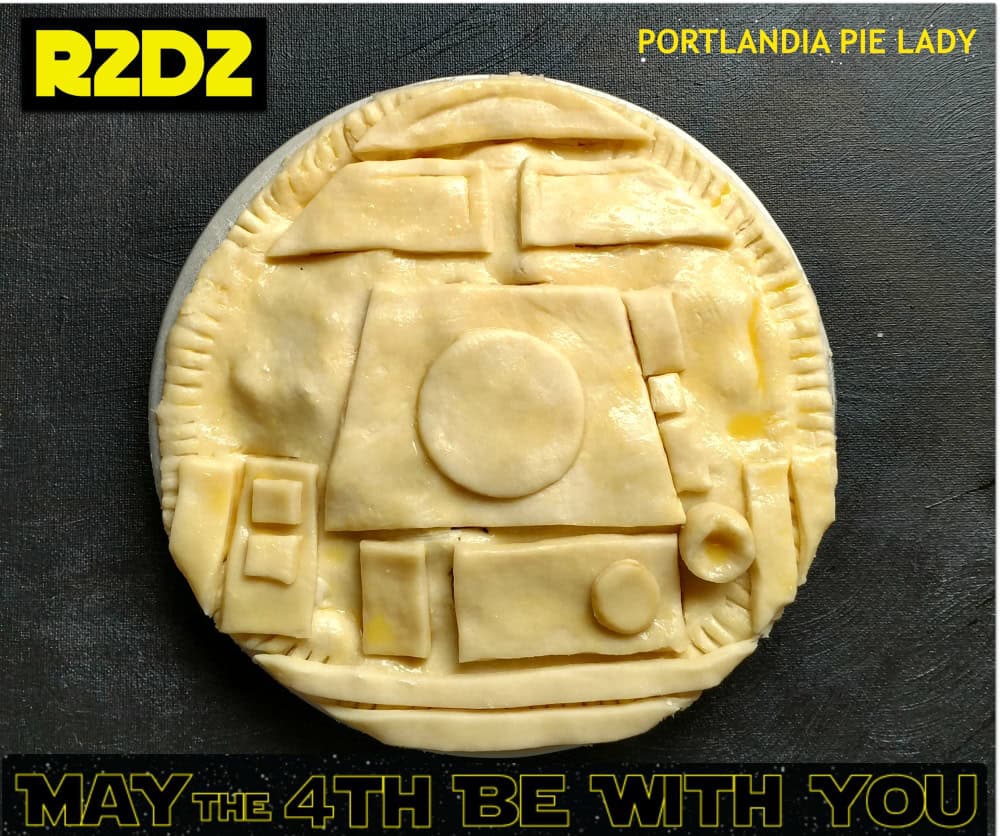 MAY THE 4TH BE WITH YOU as you enjoy your intergalactic creation and do save the last slice for yourself!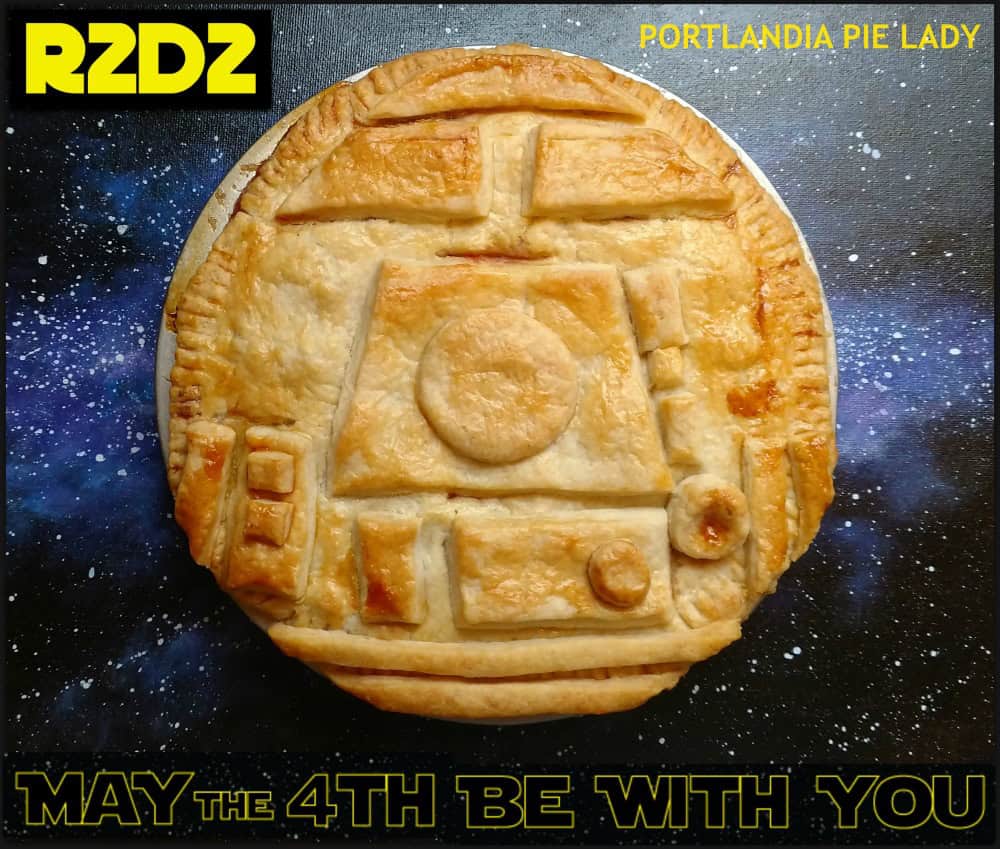 May The 4th Be With You
Your intergalactic empire awaits your immortalized droid of all droids R2D2 fruit-filled pie. Harness your Jedi powers and May The 4th Be With You.
Author:
www.portlandiapielady.com
Ingredients
5 cups chopped rhubarb (about 4 large stalks)
1 tablespoon lemon juice
1 teaspoon vanilla
1/2 cup white sugar
1/2 cup brown sugar
1/3 cup ClearJel cornstarch (or tapioca flour)
1 tablespoon butter
1 egg beaten with 1 tablespoon water
Grandma's Pie Crust (make 1-1/2 recipes to allow for extra design pieces)
2 Cups flour
1 teaspoon salt
1 Tablespoon sugar
1/8 tsp. baking powder
3/4 to scant 1 cup shortening
1/3 to 1/2 cup cold water
Cut in all dry ingredients until crumbly. Add water all at once and mix just until forms a ball (do not kneed or over mix). Divide dough in half (this will be rather soft). Roll out one half on heavily floured counter top about 1 to 1-1/2 inches wider than pie plate, roll up on to rolling pin and unroll into pie plate (dough is too soft to pick up by hand). Repeat for the top crust.
Makes one 8 to 9-inch double crust.
Instructions
Preheat oven to 350.
Stir together the white sugar, brown sugar, and Clearjel. Add in the rhubarb, lemon juice and vanilla.
Pour your fruit filling into prepared bottom crust, dot the top with the butter.
Wet edges of crust and add the top crust, lightly crimp the edges and cut a vent hole in the middle for air to escape while you cut pieces for your design.
Brush the entire top crust with the beaten egg, layer on pieces, and cut additional vent holes alongside edges of design (they will not show when baked).
Brush all of the additional pieces with the egg wash and bake at 350, 40 to 45 minutes.