Made with one arm tied behind my back! 
Okay, I really did make this pie with one hand, the other hand was in a cast, not tied up!  If I can do it with one arm with some imperfections, you can master this with both working limbs.
When I was about 5 years old my grandmother would let me take the last sip out of her cup of whatever she happened to be drinking.  It was always the same and I LOVED it!  I finally asked what it was; coffee with a ton of cream & sugar; cafe au lait love!
Today I don't drink coffee for religious reasons, but boy oh boy, I miss that creamy sugary coffee drink that tasted more like a dessert.  Thank goodness for Pero and Postum!  I make this wonderful hot beverage fairly often and I felt it was high time to get it into pie form. For the very best of both worlds I added a layer of decadent chocolate ganache to my beloved cafe au lait & and Mock Mocha Cream Pie was brought to life!  I think my grandmother would have loved this dessert.
Let's get to it:  Once you make the cafe au lait pastry cream & it's chillin' in the fridge, make the ganache & whipped cream. It's so much easier to assemble the pie if all components are ready.
For the ganache: The hot cream is poured over the chocolate, leave it alone for about 10 minutes for the chocolate to melt before you whisk it smooth.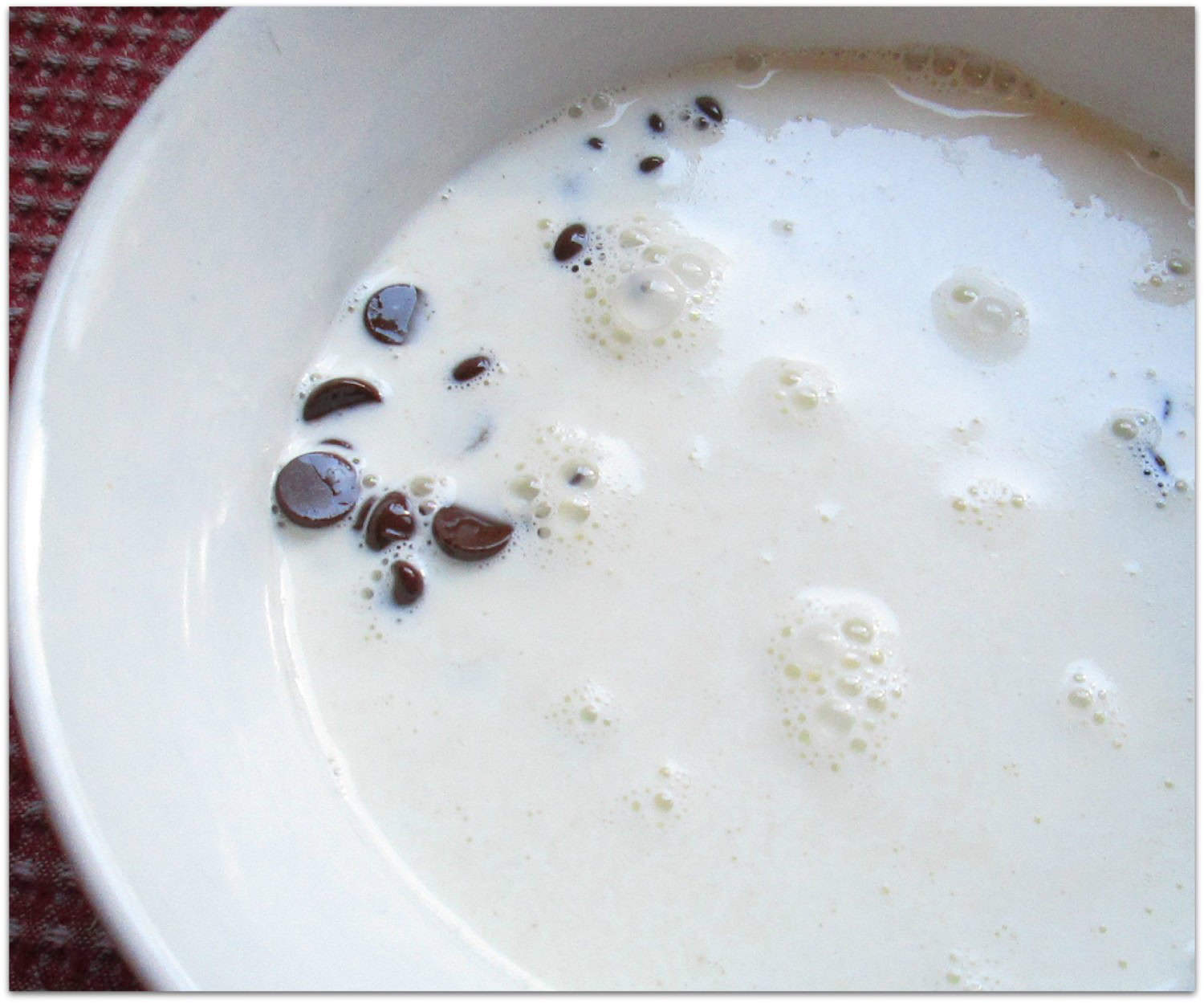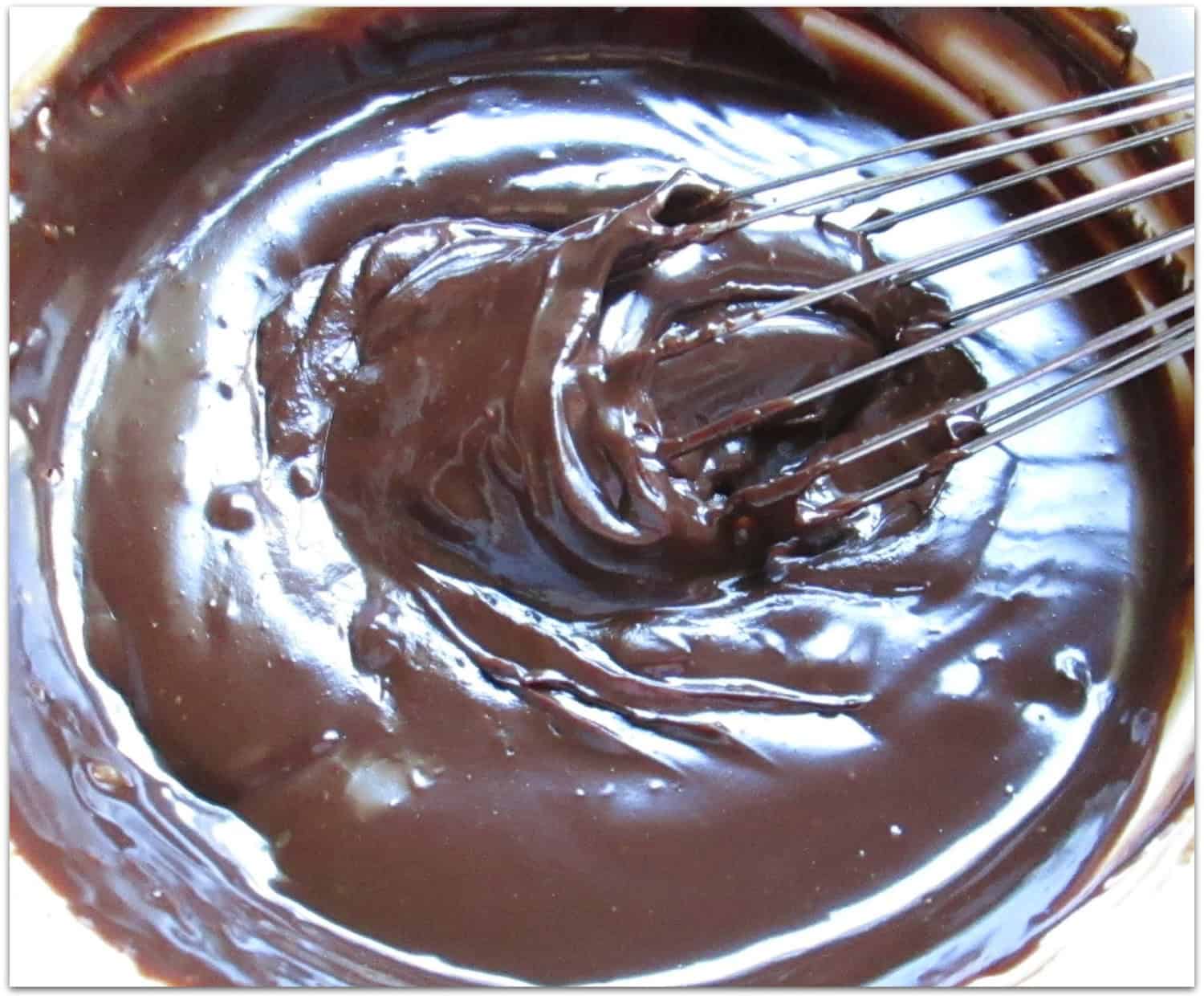 I had an incredibly hard time finding plain chocolate cookies to make the crust & when it came time to make the crust, I was home-bound.  Therefore I made plain chocolate cookies from scratch; rolling, cutting, and baking with one hand/arm (no one was home, I could have waited for help, but patience is not always a virtue I possess).  See below:
Don't be fooled by their "light complexion."  On the inside these crunchy wafers are rich & chocolaty!!
Some melted butter with the fine crumbled cookies makes this the most perfect chocolate crust!  Use a custard cup to help flatten the bottoms & sides evenly.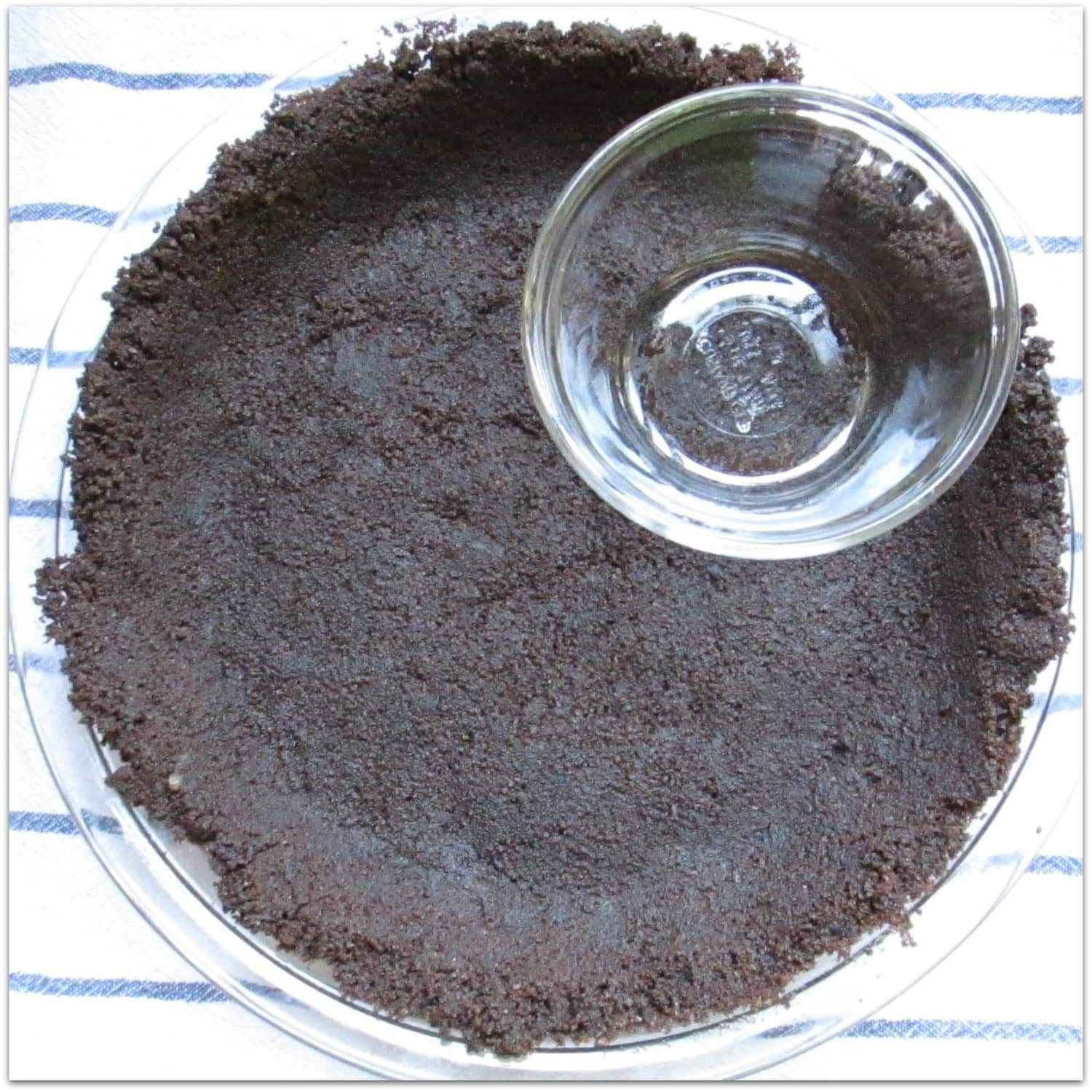 Pour & spread the chocolate ganache up the sides and over entire bottom. Not only does the ganache taste divine with the cafe au lait filling, it keeps the crust from getting soggy should you choose to refrigerate the pie rather than freezing. Pop the ganache coated crust back in the fridge!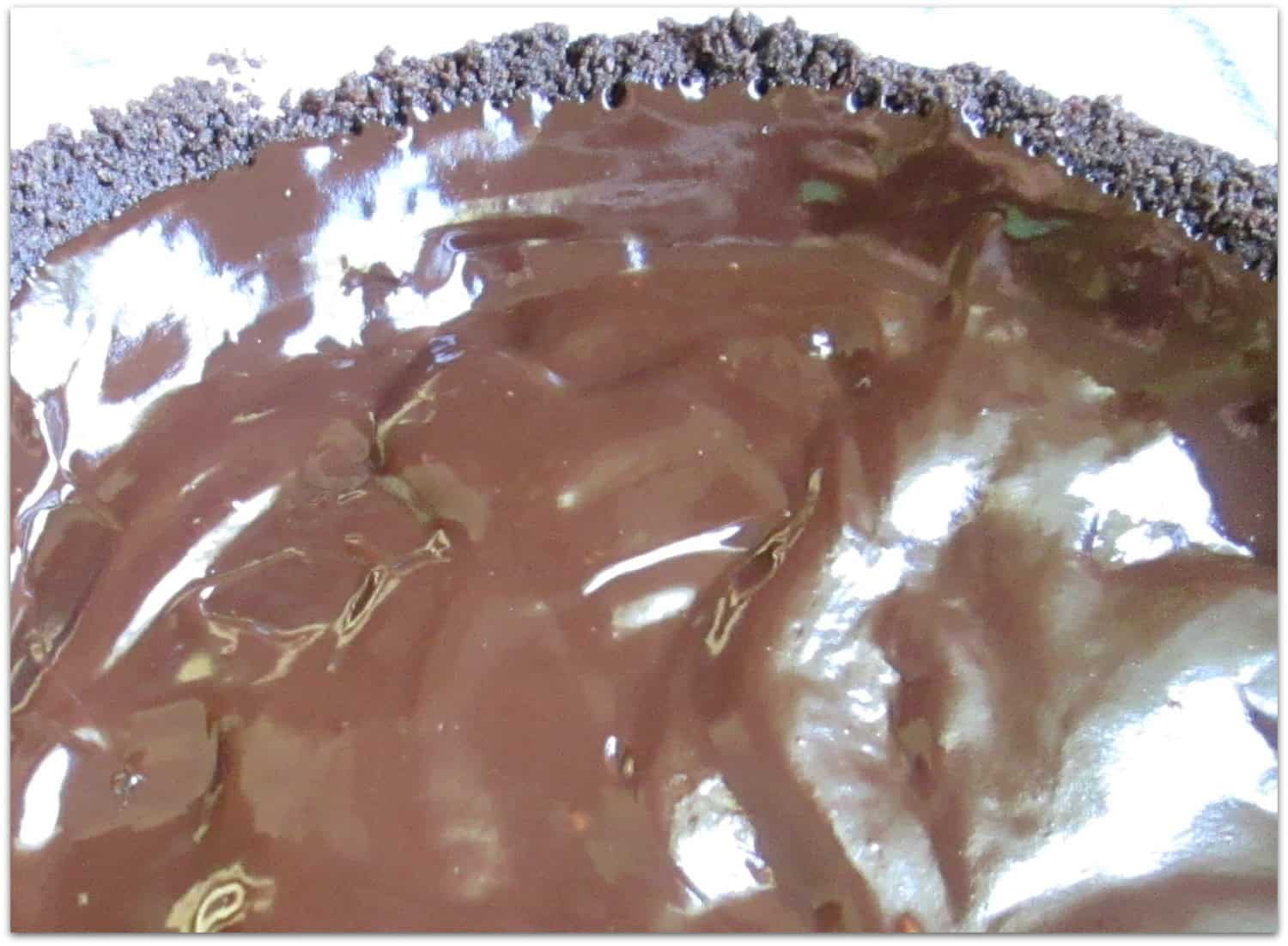 Alrighty, once your cafe au lait cream is fully chilled, fold in the whipped cream and pour into chilled pie shell and place it into the freezer for 1 to 2 hours or refrigerator for 3 to 4 hours.  See recipe for detailed instructions.  Don't forget to save the last slice for yourself!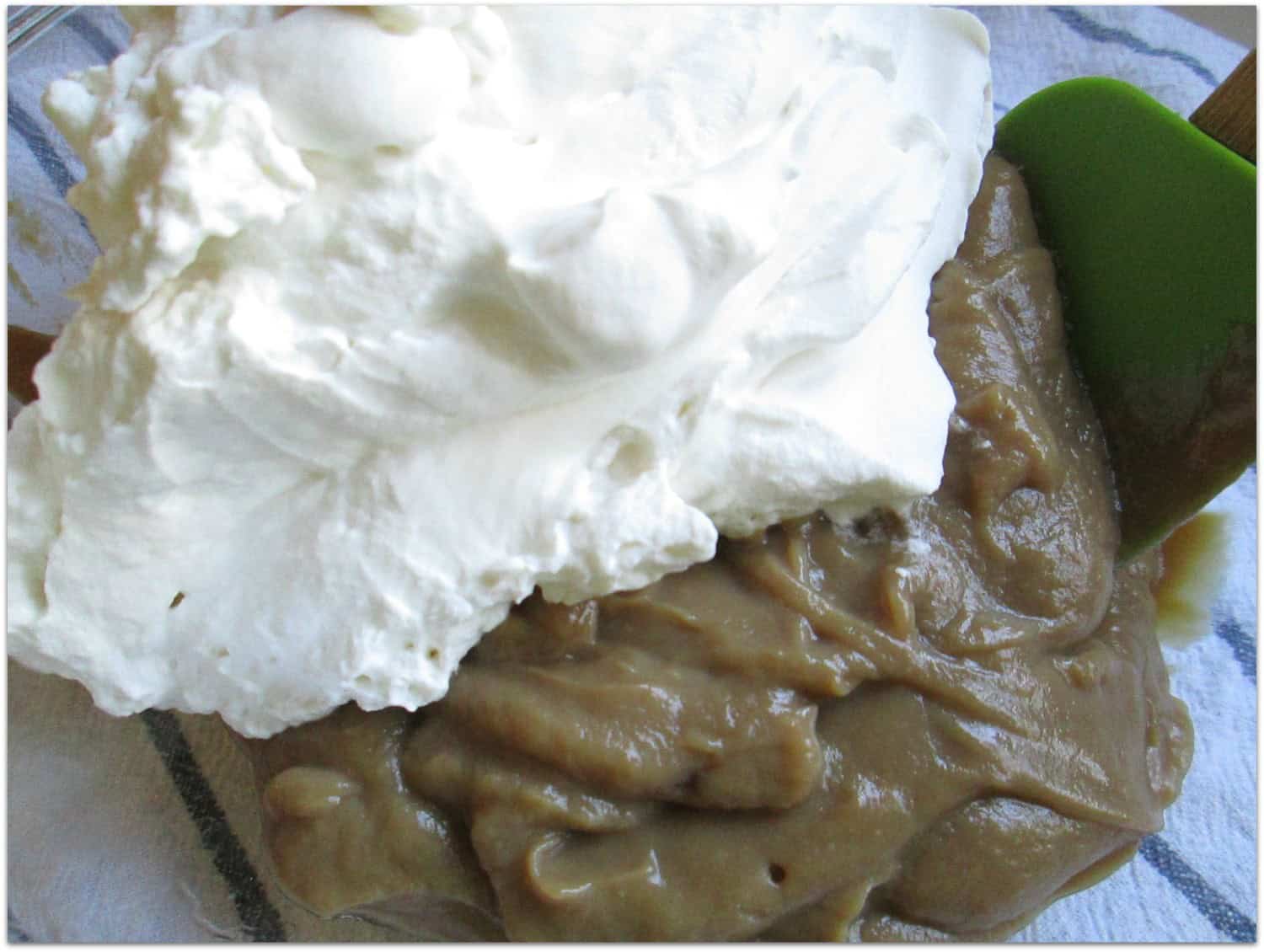 Mock Mocha Cream Pie
Cafe au Lait meets decadent chocolate = Mock Mocha Cream Love!
Author:
www.portlandiapielady.com
Ingredients
Café au Lait Pastry Cream:
1-1/2 Cups Half & Half
2 teaspoon Real Vanilla
2 Large Eggs
2/3 Cup Sugar
3 Tablespoon Postum or Pero Coffee Substitute**
1/4 cup Cornstarch or Clearjel
1/4 Cup Butter
2 Cups Whipping Cream+ 1/4 Cup Sugar (for filling & topping)
1 Prepared Chocolate Cookie Crust
1 Recipe Ganache
Ganache
3/4 cup heavy cream
1 cup chocolate chips (6 ounces)
Crispy Chocolate Cookie Wafers (for chocolate crusts)
6 Tablespoons unsweetened cocoa powder**
2 Tablespoons vegetable shortening**
1 cup + 2 tablespoons unbleached flour
3⁄4 teaspoon baking powder
1⁄4 teaspoon baking soda
1 dash salt
4 Tablespoons salted butter
1 teaspoon vanilla extract
1⁄2 cup white sugar
1 1⁄2 teaspoons milk
1 egg
Chocolate Cookie Crust:
1-1/2 cups chocolate cookie crumbs (or chocolate grahams)
6-7 Tablespoons butter
1/4 cup sugar
**for you coffee drinkers, try using 1 to 2 Tablespoons instant espresso powder/granules (that's what a friend said she used.)
Instructions
Café au Lait Filling:
Whisk half & half, eggs, vanilla, sugar, coffee substitute and cornstarch. Cook and whisk constantly over medium to high heat until it begins to thicken and bubble.
Remove from heat and stir in butter until melted. Transfer to bowl and place plastic wrap directly on surface and refrigerate until cool (3 to 4 hours or longer).
Cookies (for crust):
In small microwave safe bowl, melt vegetable shortening with unsweetened cocoa powder about 20 seconds on high. Stir until smooth & no lumps, set aside.
Sift together the flour, baking powder, baking soda, and salt, set aside.
In mixer bowl of electric mixer, cream the butter, sugar, and vanilla; beat to mix well.
Add the melted chocolate, and beat until thoroughly blended. Add milk (cream), and egg; beat to mix well.
Mix in dry ingredients on lower speed, scraping the bowl with a rubber spatula, to blend together, do not overbeat.
Preheat oven to 400 and line cookie sheets with parchment.
On floured surface using a floured rolling pin roll the dough out to about 1/8" thin. Using a cookie cutter (3" in diameter), cut the cookies & place 1/2" apart on the parchment.
Bake for 8-10 minutes until the cookies feel almost firm to touch. They will crisp up as they cool. If not crispy when cooled place back in oven for an additional 3 to 4 minutes. Seal as soon as they are cooled to keep crispy.
Crust:
Preheat oven to 350 F.
Mix cookie crumbs & sugar together, stir in melted butter until thoroughly mixed & press into pie plate, bake 5-7 minutes.
Cool completely before adding fillings.
Whipping Cream:
Whip whipping cream with sugar in mixer on high until very stiff peaks form, careful not to over beat. Refrigerate until ready to use. (If under beaten, pie will not hold shape once it is folded into the filling.)
Ganache:
Place chocolate chips in glass or metal mixing bowl. Heat cream in saucepan over medium-high heat until just boiling, remove from heat and pour over chocolate. Let sit for 10 minutes to melt chocolate. Whisk by hand until fully incorporated, glossy & smooth.
Assembly:
While filling chills, reheat ganache to pourable consistency if necessary. Pour ganache into cooled pie shell while quickly turning shell to coat bottoms & sides, place back in refrigerator.
When filling is completely cooled, fold in 1 cup of whipped whipping cream (save remaining for garnish). Spread mocha filling into chocolate pie shell & freeze for 1 to 2 hours or refrigerate for three to four hours.
Garnish with whipped cream and ever so lightly dust with unsweetened cocoa or chocolate shavings.