Mayan Chocolate Cream is a spiced up pie inspired by Mexican hot chocolate with an extra kick of a hot pepper prevalent in many foods we love south of the border.
The first taste is a super light melt-in-your-mouth chocolate that followed by a surprise hint of cayenne and a cinnamon chaser.  However, you will not be running to guzzle milk, dabbing watery eyes, and the hair inside your nose will stay intact.
I almost left the giant curvy dollops of pie filling (see below) is she gorgeous?  However, I did smooth it out for easier serving.
This is one of the most fun and easy pies to make but you really need an electric mixer.  I don't know anyone who does not have at least a hand-held electric mixer, but if you are one of the few that does not, you will need to borrow one.
The most important step is beating the butter and granulated sugar until white and fluffy which takes a good 10 -12 minutes depending on your mixer.  Warning, if you skimp on this step you will taste gritty sugar in your finished pie, no bueno.  I did add an additional 2 minutes beating time (on super high speed) so the picture below is not quite as creamy as it should be.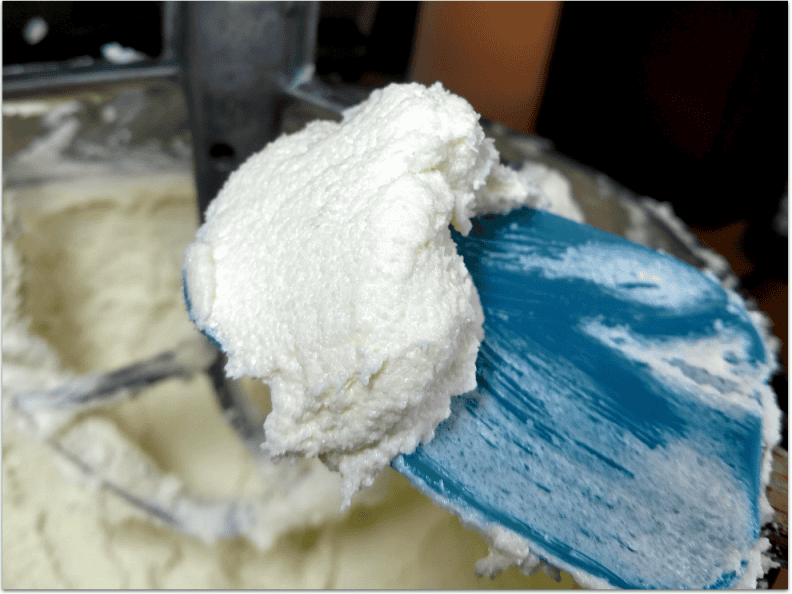 While the butter and sugar is whipping up I mixed the unsweetened cocoa and cooking oil to ensure there were no lumps.  I am terrible about keeping unsweetened chocolate in my pantry, but I always have unsweetened cocoa.
After adding the chocolate and beating a few more minutes, the chocolate lightens up a bit, and you will still taste a little grit, that's perfectly okay.  Once the eggs are added the filling whips up, grows in volume and the fabulous creamy chocolate silk sensation is ready for the spices. As this does have raw eggs and this bothers you click on the following link to pasteurize your eggs before using them.
There is probably a scientific explanation how the eggs interact with a semi-grit granulated concoction that comes out super creamy.  We could ask Alton Brown (Food Network fame) and let him explain; however, I have not been able to. Maybe I should just give him a call.
And here is the finished pie one more time:
If you are nervous about having the pie too spicy decreased cinnamon and cayenne by 1/2-teaspoon each BEFORE you add the filling to your prepared crust; you can always add more.
I added a dollop of whipped cream and dusting of cinnamon and it was divine.
Don't forget to save the last slice for yourself!  Game on family!
Mayan Chocolate Cream
Mayan Chocolate Cream is a spiced up pie inspired by Mexican hot chocolate and peppers from our friends south of the border. This is a super light melt-in-your-mouth chocolate cream pie with a hint of cayenne and a cinnamon spice chaser, the ultimate flavor combination.
Author:
www.portlandiapielady.com
Ingredients
4 ounces unsweetened baking chocolate (or 3/4 cup unsweetened cocoa +1/4 cup cooking oil)
1 cup salted butter, softened to room temperature
1-1/2 cups granulated sugar
1 teaspoon vanilla extract
4 whole eggs
2 teaspoons cinnamon
1 teaspoon dried cayenne pepper
1 prepared Cinnamon Graham Crust
Whipped cream for garnish
Instructions
Melt the unsweetened chocolate in microwave just until melted (about 30 to 50 seconds), set aside. If you are using unsweetened cocoa and cooking oil, mix it in a bowl with a fork to make sure there are no lumps.
In an electric mixer on high speed, beat the butter and sugar until white and fluffy (10 - 12 minutes). If you do not make sure it is fluffy, you will taste sugar grit/granules in the pie filling when done (this is a very important step).
Add the chocolate, beat with mixer an additional 5 to 7 more minutes. (If you still taste grit at this point, but you have properly beat the times above, you are fine, once the eggs get beat in the grit goes away.)
Add the eggs, one at a time, beating each into the filling thoroughly. After the last egg is mixed in, beat the filled (which will fluff up) an additional 3 to 4 minutes.
Add the vanilla, cinnamon and cayenne pepper. Spread into prepared crust and chill about 3 to 4 hours.
Serve with dollop of whipped cream with a dusting of cinnamon.