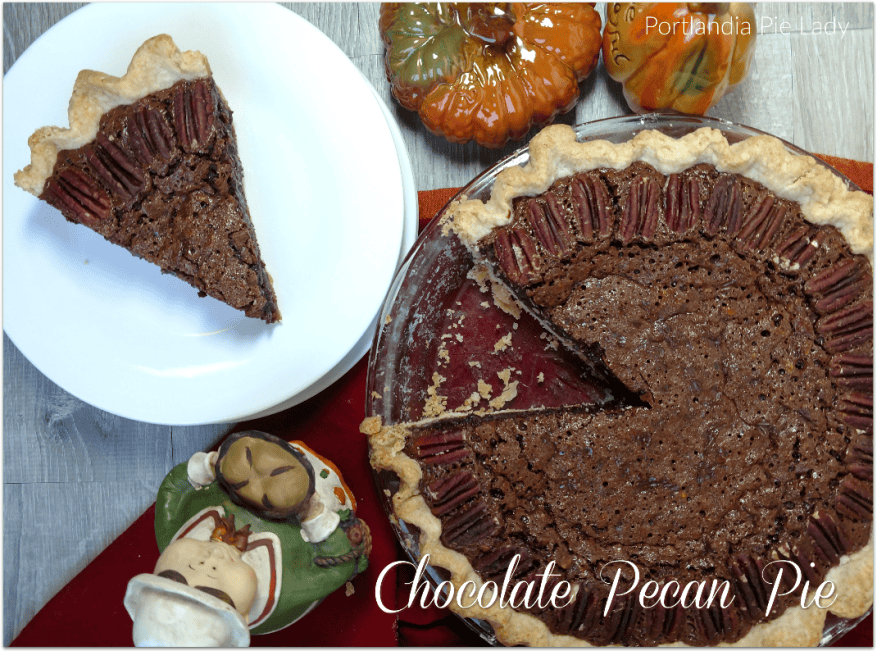 I remember when we lived in Texas many years ago and if you knew where to go you could forage for pecans in vast pecan orchards. However, I am back in the Great Northwest where I forage for pecans in the bulk bins at the grocery store (probably shipped from a pecan grove in Texas)!!!
We have been enjoying chocolate pecan pie since our Texas days. Someone gave me a recipe, I cannot remember who but we thank you.  So, this means it is not my own creation, but the process of how I put the pecans in this ultra rich nut-filled chocolate masterpiece is different than the original. Regardless, the taste will knock your socks off.
Chocolate pecan pie is made with bittersweet dark chocolate which helps take the edge off the sugar coma-inducing index, not much, I said it only helps.  Also, like the old faithful classic pecan pie, it takes nearly an hour to bake, which can make those pecans on top difficult to slice through.  I have that problem fixed that for you.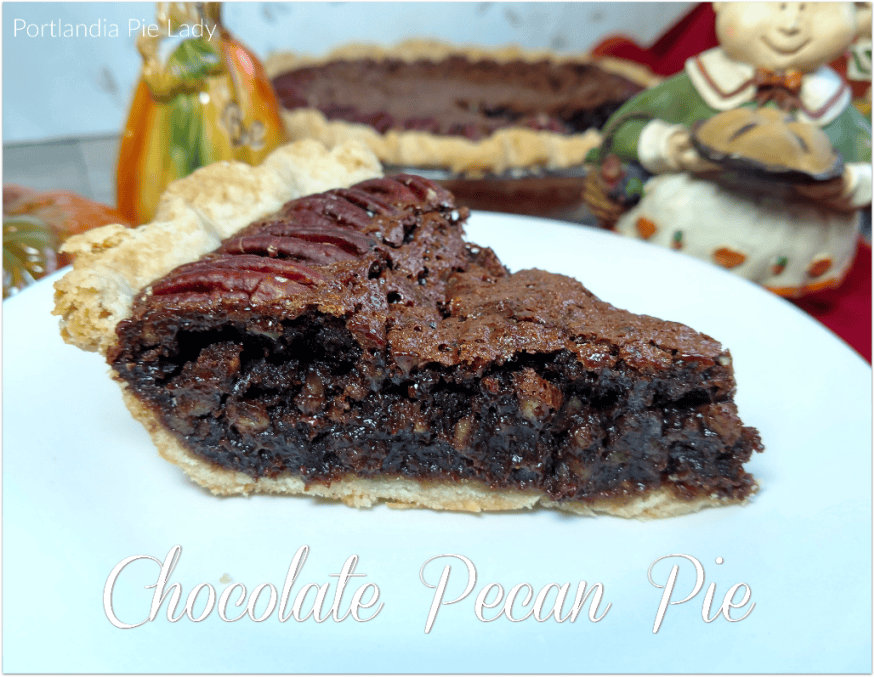 Instead of placing all of the pecans on top I finely chop pecans and add them to the filling; saving the nicest pecan halves to adorn the outer rim.  It's gorgeous when it comes out, it's easier to cut into slices, and every chocolaty bite is packed full of pecans!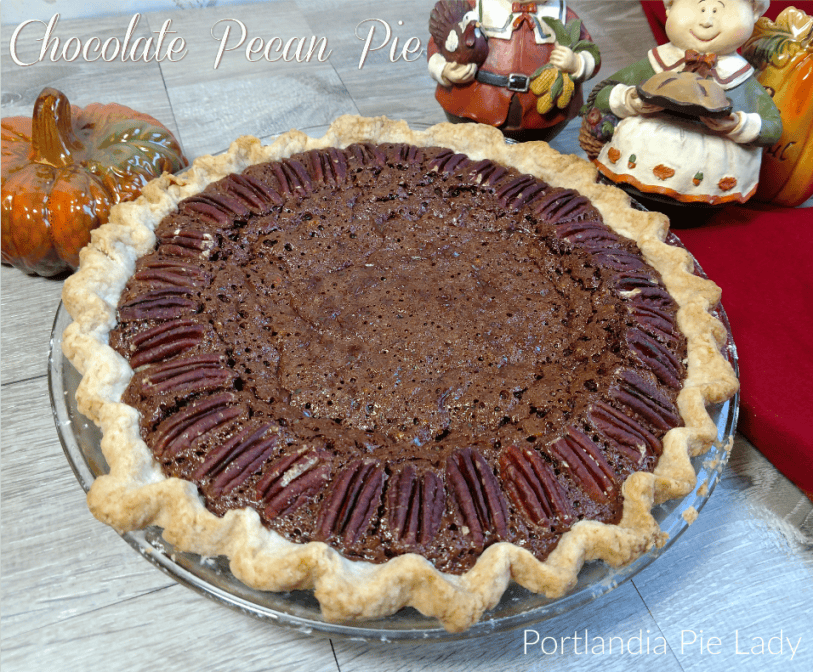 When the pie comes out of the oven it will be puffed up but it will go down as it cools.
You can easily make this gluten free also by using my gluten free flour mix.
Let's go make our Thanksgiving the best we can and don't forget to save the last slice for yourself!

Chocolate Pecan Pie
Author:
www.portlandiapielady.com
Ingredients
5 ounces bittersweet
1 cup corn syrup
1/2 cup granulated sugar
3 eggs, beaten
3 tablespoons butter
2 teaspoon vanilla
1-1/2 cups chopped pecans
1/2 cup pecans halves (for outer edge of pie)
One 9-1/2-inch unbaked pie shell
Grandma's Pie Crust - half batch for 1 single-crust:
1 Cups flour
1/2 teaspoon salt
1-1/2 teaspoons sugar
dash baking powder
1/2 cup shortening
3 to 4 Tablespoons cold water
Instructions
Preheat Oven to 350.
Crust: Stir to combine all dry ingredients. Cut in shortening with a large fork until crumbly. Add cold water all at once and mix just until forms a ball (do not knead or over mix). Roll out dough (this will be rather soft) on heavily floured counter top, roll up dough onto rolling pin and unroll into pie plate (dough is too soft to pick up by hand). Tuck under edges and crimp by hand or fork, set aside.
Melt chocolate with the butter in the microwave, 1 to 1-1/2 minutes, depending on your microwave. Whisk to make sure all the chocolate and butter is melted, set aside.
In large bowl, whisk by hand or with hand mixer, corn syrup, sugar, beaten eggs, and vanilla just until thoroughly combined.
Whisk the chocolate mixture and egg mixture together, and fold in the chopped pecans.
Pour into the unbaked pie shell, place the pecan halves around the outer edge.
Bake 50 - 55 minutes. Toothpick inserted to check if done will not come out completely clean but there should no longer be any wet batter goo.