Hey, you got peanut butter in my chocolate!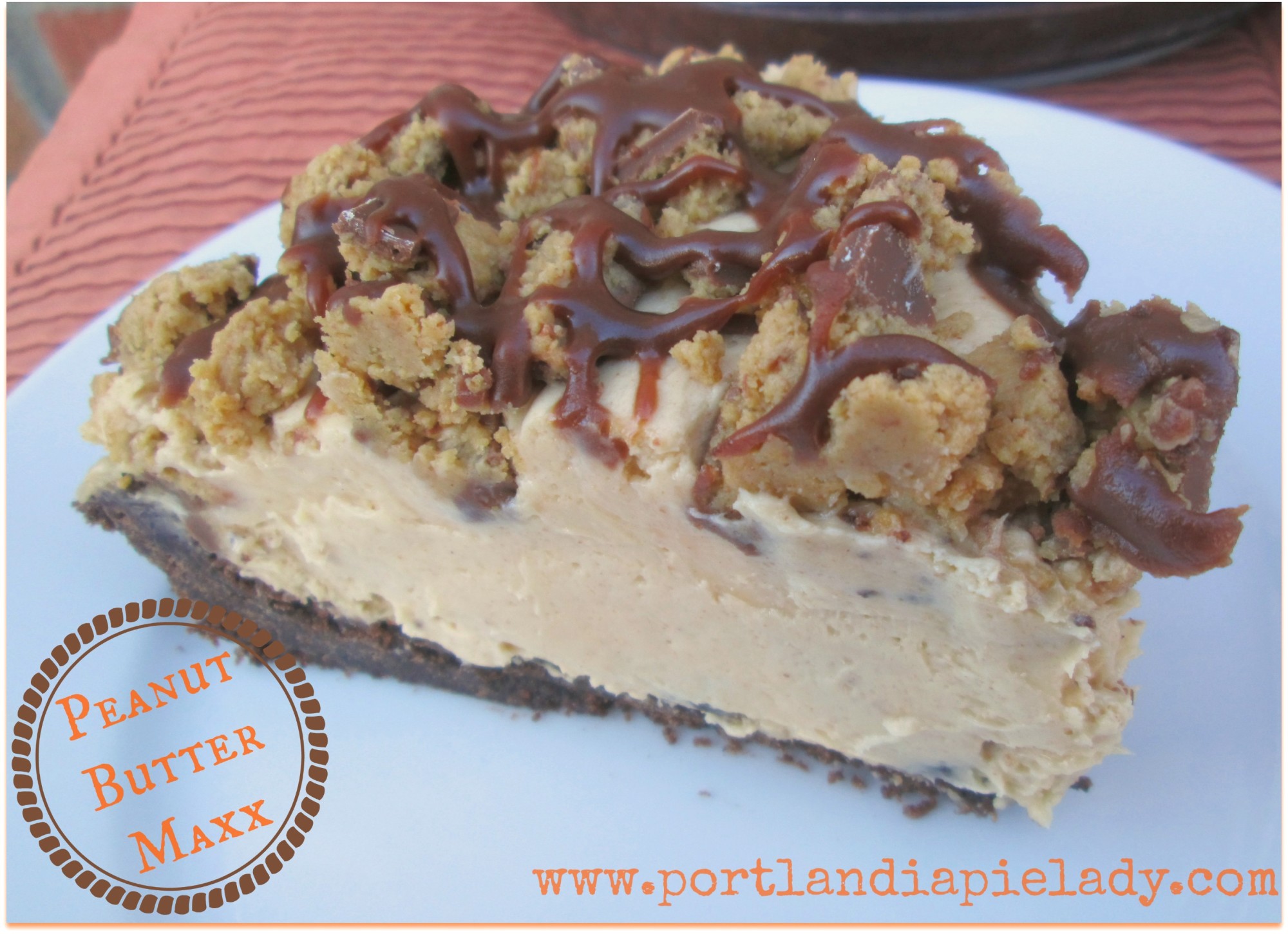 No, you got chocolate in my peanut butter! 
Man alive, every time I heard that 1970s ad I was on the edge of my seat chanting: EAT CHOCOLATE WITH THE PEANUT BUTTER!!! They always did by the end of the commercial, but not fast enough for me. I was in Peanut Butter-Chocolate love heaven before they took their first bite of "Two great tastes in one candy bar…"
This is going to be a pie to remember, it really could not get any better.  Chocolately crust, creamy peanut butter filling, peanut butter cup topping and then more milk chocolate fudge topping.  While the lightweights in my home had their sliver, I had an entire healthy-sized slice.
However, do make this pie with the notion you WILL NEED TO SHARE (or freeze a slice for later, or just have it for dinner).  It's an indulgent slice of pure pie pleasure, but one was definitely my own personal limit.
If you need to make this scrumptious Peanut Butter Maxx pie quick and easy, by all means do!  Purchase a chocolate graham crust, a jar of hot fudge, and peanut butter cups.  All you will need to do is  make the peanut butter filling!  (Your own is always better, but time is not always on our side!) 
Make your peanut butter cup topping first!
Make the milk chocolate hot fudge second (this had cooled, I warmed it a bit to drizzle over pie).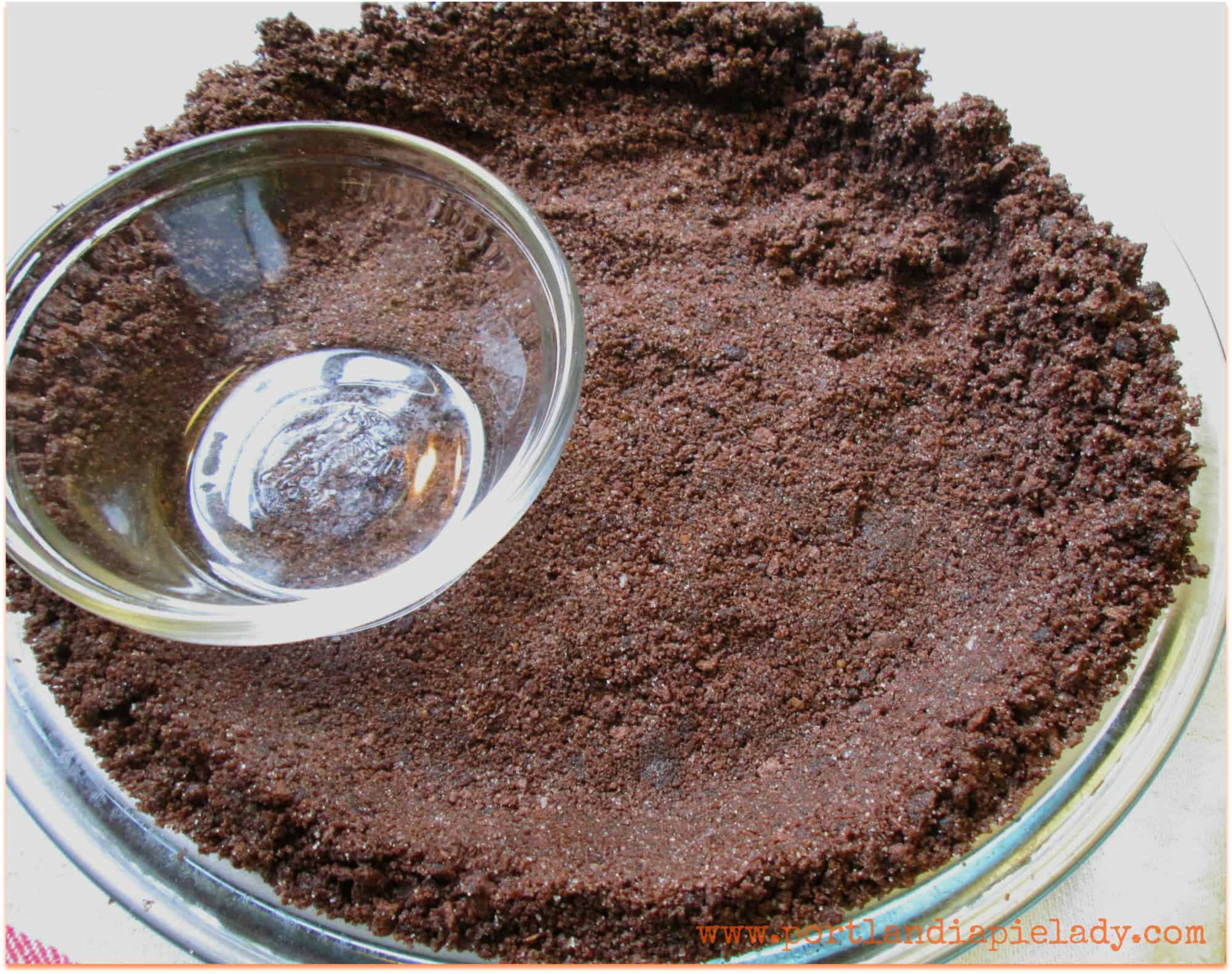 Use a custard cup to help press in the bottoms and sides of the graham crust.
Ready to dig in!
Don't forget to save the last slice for yourself, my daughter's friend (Ashlee) just learned the hard way if you don't put your name on it, it's not safe.  Yes, I ate it.
Peanut Butter Maxx
Author:
www.portlandiapielady.com
Ingredients
Peanut Butter Pie:
8 ounces cream cheese, at room temperature
1 cup powdered sugar
1 cup creamy peanut butter
1 cup whipping cream
1 teaspoon vanilla extract
Chocolate Graham Cracker Crust
1-1/2 cups chocolate graham cracker crumbs
1/4 cup sugar
6-7 Tablespoons butter, melted
Milk Chocolate Hot Fudge Sauce:
1/2 cup heavy cream
1/4 cup light brown sugar
1/4 cup light corn syrup
1/8 teaspoon salt
2 teaspoons vanilla extract
1 cup milk chocolate chips (6 ounces)
Peanut Butter "Cup" Topping:
1/3 cup Peanut Butter
2 Tablespoons butter, room temperature
1/2 Cup powdered sugar
1/2 Cup Graham cracker crumbs
1/2 teaspoon vanilla
1/4 cup milk chocolate chips, melted
Instructions
Crust:
Mix together graham cracker crumbs, sugar and melted butter. Press into pie plate, bake 5-7 minutes @ 350. Cool completely before adding fillings.
Milk Chocolate Hot Fudge Sauce:
In a saucepan over medium heat, add the cream, brown sugar, corn syrup, and vanilla, stir over medium heat until sugar is dissolved and starts to simmer, reduce the heat to medium-low and add chocolate chips, stir constantly until chocolate is completely melted (about 3 to 4 minutes), remove from heat, pour into separate bowl or jar and let cool.
Peanut Butter "Cup" Topping:
In large bowl mix peanut butter, butter, powdered sugar, graham cracker crumbs and vanilla. This will be a little stiffer than a cookie dough. Press mixture onto wax paper lined cookie sheet, roll out to about 1/2-inch thick. Spread melted chocolate over the top, let chocolate cool and firm up chocolate about an hour or so (you can put it in the fridge to speed it up, but it is actually harder to chop up if the chocolate is cold/hard).
Pie Filling:
In a large bowl combine the cream cheese, powdered sugar, and peanut butter, beat with electric mixer about 3 to minutes and light and fluffy. In a separate bowl, whip whipping cream with vanilla until whip until stiff peaks form. Carefully fold the whipped cream into the peanut butter mixture. Pour the batter into prepared pie shell. Scattered chopped peanut butter cup pieces on top and drizzle milk chocolate fudge sauce.