Looky, Looky, Something Fruity!
Making individual tarts is MUCH EASIER than it seems! I have tried to streamline the process for you and with a little prep work you can crank out a couple dozen tarts in under an hour! That includes the baking time!  
I decided to go all raspberry: black raspberries and red raspberries. I have been told by more than one person that the black raspberries have a blueberry-like taste and I have had to reassure people that not a single blueberry touched the black raspberry filling.  They truly have their "own" flavor.
To answer the next question, yes, I used frozen berries for the filling.  The berries from last summer were sealed in the freezer within 24 hours of being hand-picked by our family, picked with love; HA, HA, HA.  Oh, we love each other and it's fun to pick the fruit, but squeezing in harvest time was difficult as all those darn berries ripened early last year at an alarming rate.  For those of you who live in the Northwest, you will remember how freaking hot it was here, the berries loved it but we could barely keep up!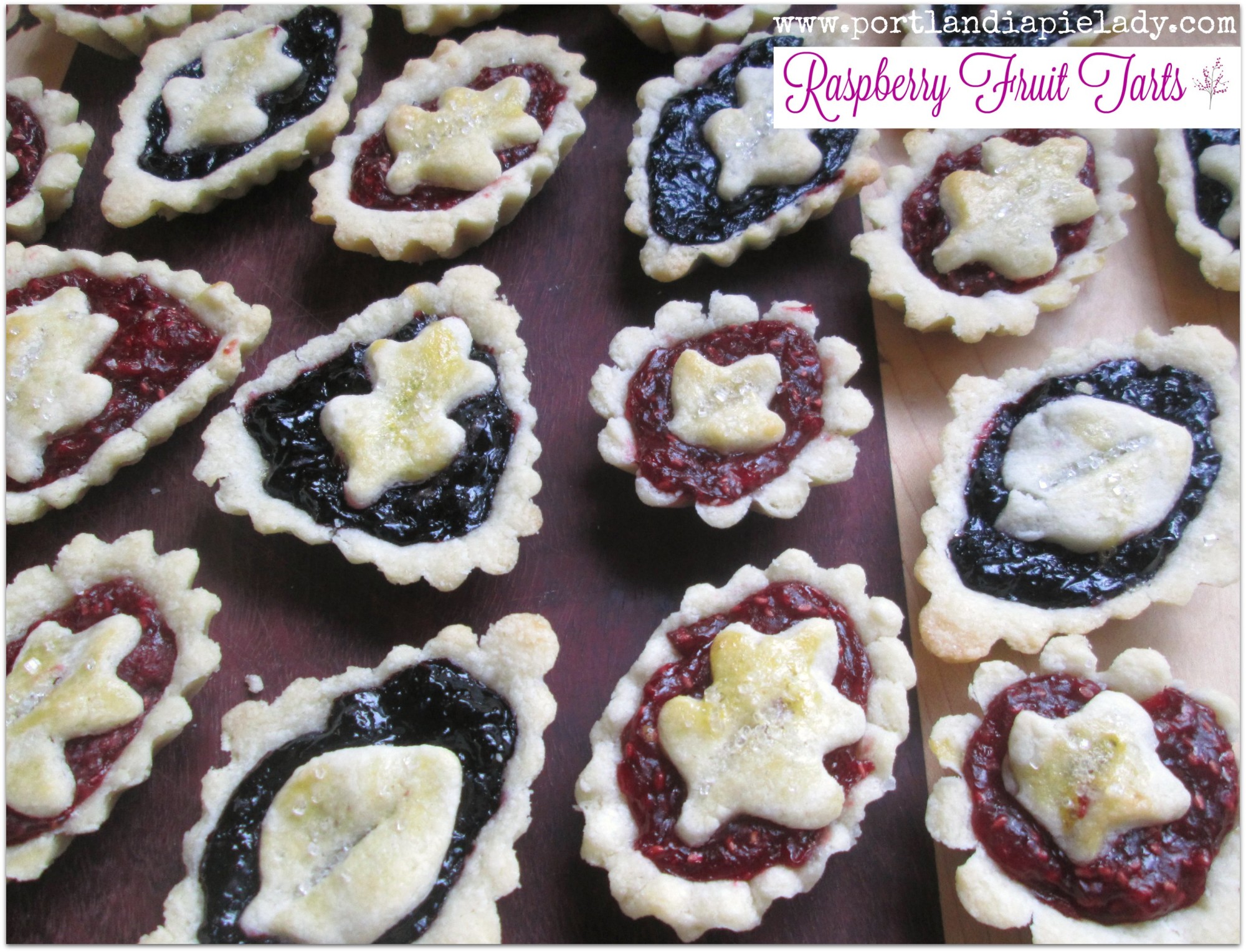 I saved some extra fruit filling from a couple of weeks ago when I made Berry Hand Pies, so the only thing I needed to do was make the tartlet crusts!  The dough we're making today gets cut and pressed right into the tart tin, the tin serves as their own cookie cutter, so easy!  My tarts went to a church function and they were a hit, good thing I left a few at home for the hubby, because they were gone in a flash!
To make this a one-step process, spray the tins with non-stick cooking spray (about 4 or 5 at a time).  Roll out the dough (which will be fairly soft) and press the tin as shown below to cut out the dough, it should stick to the tin!  Gently press the bottom down, don't worry about the sides (they will puff up a bit and cookie up pretty).  Keep going  until you have all the tins lined with dough.  This will go rather quickly.
Place the dough-lined tins on a cookie sheet and fill with about 1/2 to 1 Tablespoon of filling (depending on size of tin).  I have a 30 ml (1 ounce) cookie scoop and I used about a half scoop for each tin, a little less for the smaller round tins.
I cut some extra pieces of dough in the shapes of leaves, lightly brushed with beaten egg and sprinkled on some large granulated sugar, but that is not necessary.  I just wanted to dress them up a tiny bit more.
Don't forget to save the last tart for yourself, better yet, just indulge and go for it, why wait?
Raspberry Fruit Tarts
Author:
www.portlandiapielady.com
Ingredients
4 to 5 Cups Berries (If Using Strawberries Chop Into Chunks)
1-1/4 Cup Sugar
3 Tablespoons Clear-Jel Or Tapioca Starch
2 Teaspoons Lemon Juice (Orange Juice If Using Black Raspberries)
1 Tablespoon Butter
1 Beaten Egg (Egg Wash)
Extra Sugar For Top Crust
Tartlet Butter Crust
3 cups unbleached white flour (or my gluten-free flour mix)
2/3 cup sugar
1 cup butter (room temp, not cold)
1 egg
2 tablespoons milk
Mix all dry ingredients together in large mixing bowl. With food processor or electric mixer, mix in butter and egg and milk. See assembly below:
Instructions
Place berries in saucepan over medium to high heat.
Mix sugar and starch together toss with berries, add lemon juice and butter.
Bring to boil, reduce heat to medium, simmer about 10 minutes, remove from heat and let cool to room temperature.
Frozen Berry Instructions:
Once thawed, save all the liquid that separates from the berries. Pour all the juice into saucepan, add all ingredients, except berries, cook over medium-high heat until starts to thicken, stir in berries and simmer over medium about 10 minutes, you should only need to stir once or twice, the more you stir the more the berries will break part.
Assembly:
Preheat oven to 375.
Dust the rolling surface with flour and roll out dough about 1/4 inch thick. Spray tins with non-stick spray and cut out crusts shapes with inverted tin. If you are using a cupcake pan, spray with non-stick spray and use a glass or cookie cutter no bigger than size of the opening of pan. Gently press in dough.
Spoon in fruit filling, about 1/2 to 1 Tablespoon (adjust amount of fruit filling for larger tarts), filling should be close to top of crust. Garnish with leaves cut out of extra dough, brush with egg and sprinkle with sugar.
Bake 15 to 20 minutes, top leaves should have a hint of gold color.
Let cool about 5 to 10 minutes and they should pop right out of the tins.