Easy Peasy Lemon Squeezy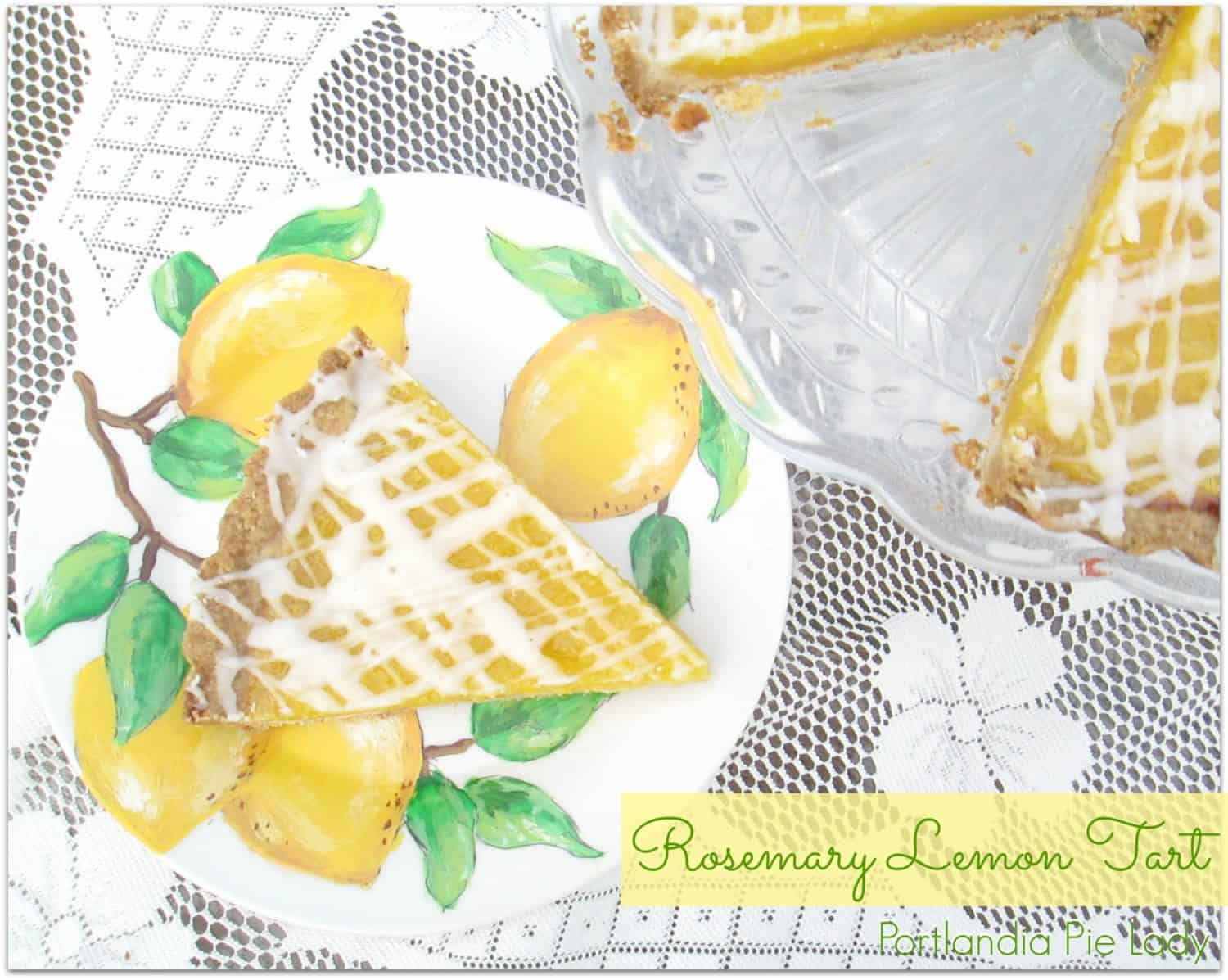 Lemon is one of my favorite flavors on planet earth.  It's nearly as versatile as water in my book.  Just think of all the recipes that call for lemon (just about anything with fruit, right?).  Lemon gives some backbone flavor and enhances everything it touches.  Alone, it's Queen of citrus fruits, I kneel at her throne.
I also noticed while taking in all the little buds popping out of the ground in my yard that my lovely rosemary bush had a lot of new growth.  I had cut it way back in the fall and was not sure I killed it; IT LIVES!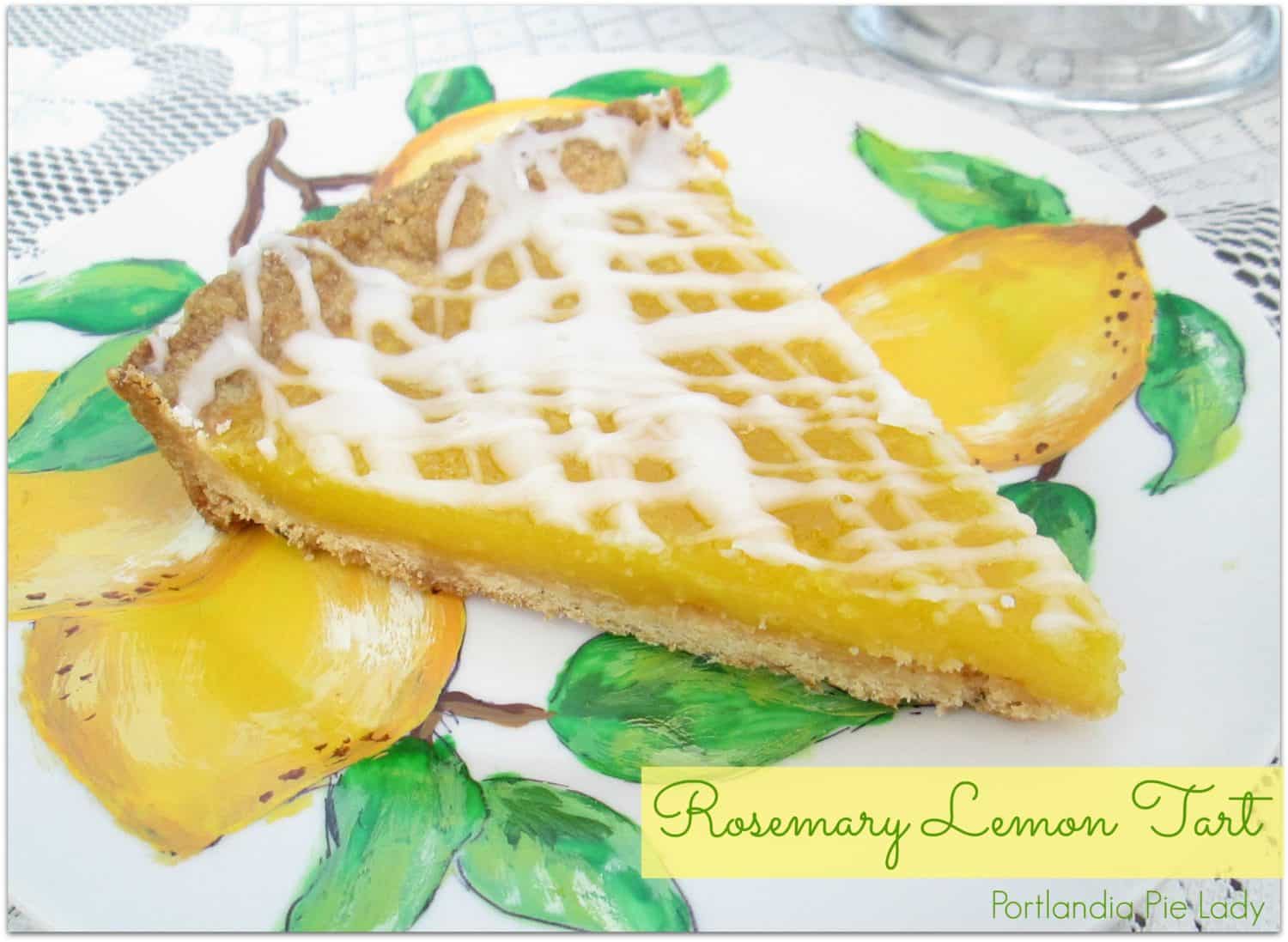 The twist of this blog today is taking lemon bar "type" filling combining it with a rosemary shortbread crust.  As the title says above, we are making Rosemary Lemon Tart.  It is oh soooo good!  You can make this without the rosemary, but if you are one of my friends that live nearby (and you know who you are) I can spare a few more twigs, but I do need to let little Miss Rosemary grow too, so I can't take too much off of her.
This is rather easy peasy and you will be doing some lemon squeezy.  Let's get our "lemon on."  This is kind of jumping the gun, but when you drizzle on the glaze, put the second layer in slightly diagonal to the first, it is just a bit prettier, especially when it is sliced and served.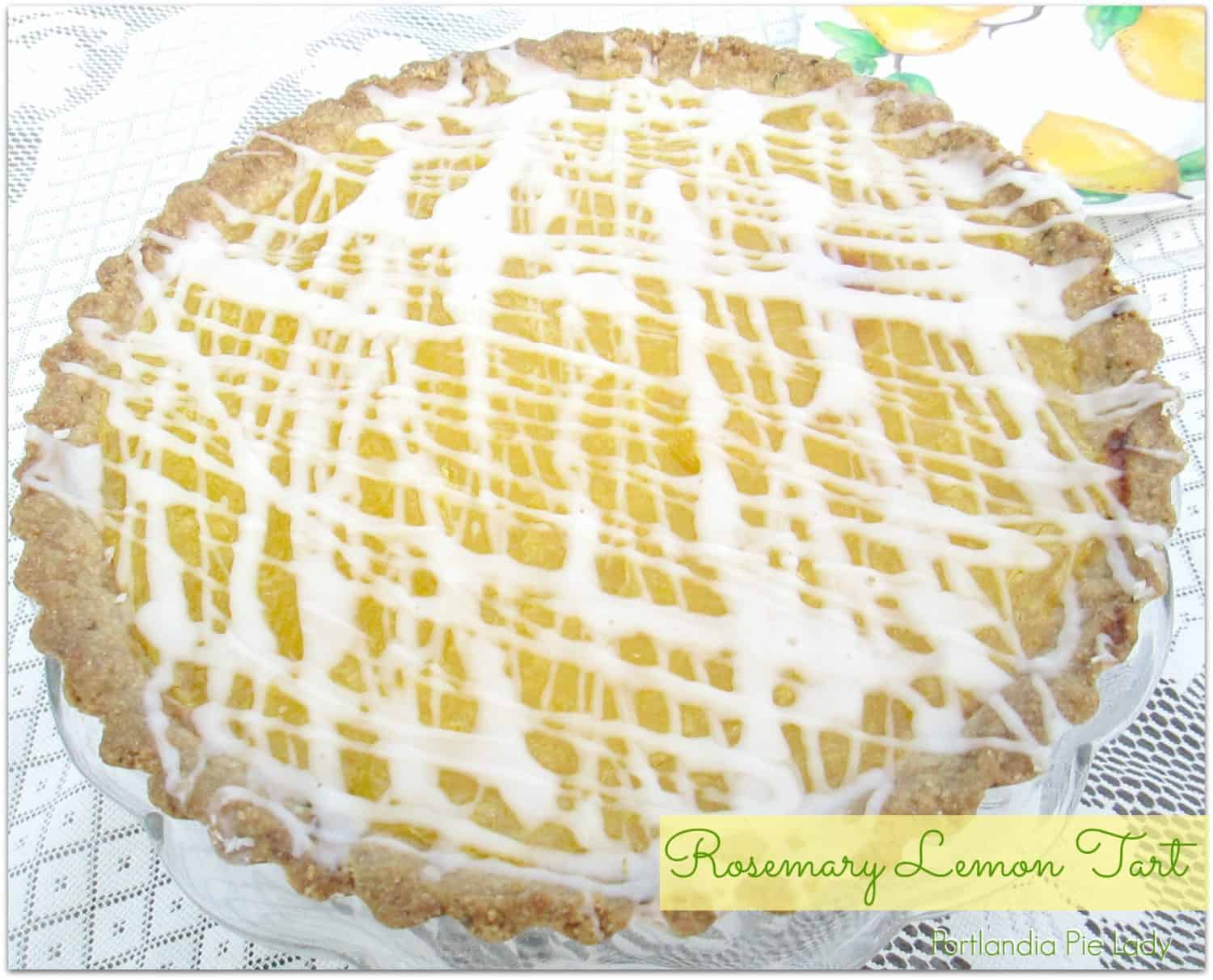 First things first, make the rosemary sugar for the crust.  It's best if it is sits overnight, but even a couple hours will work.  My food processor could not handle the big pieces, so I chopped the rosemary on a cutting board and then popped in the food processor to finish the job.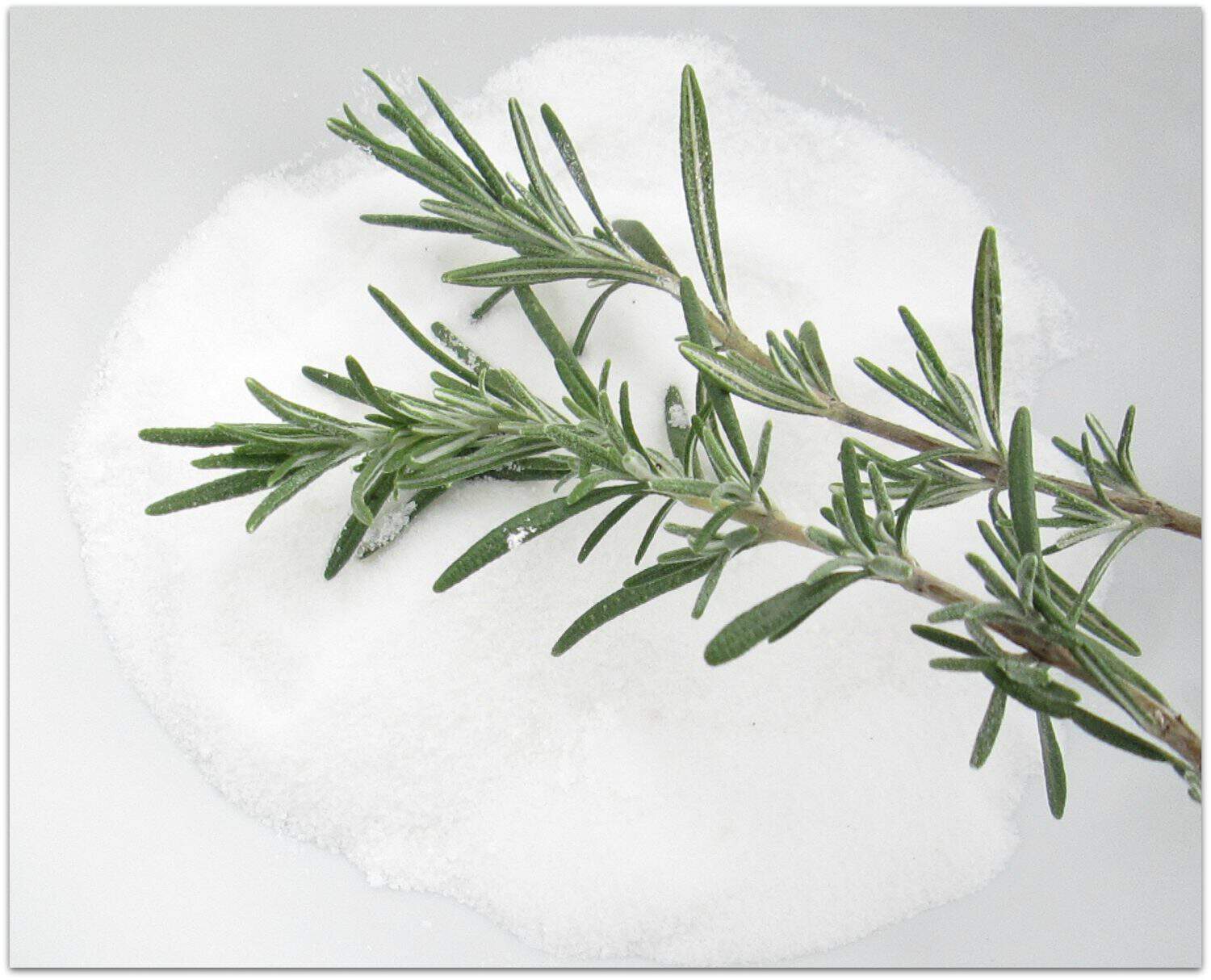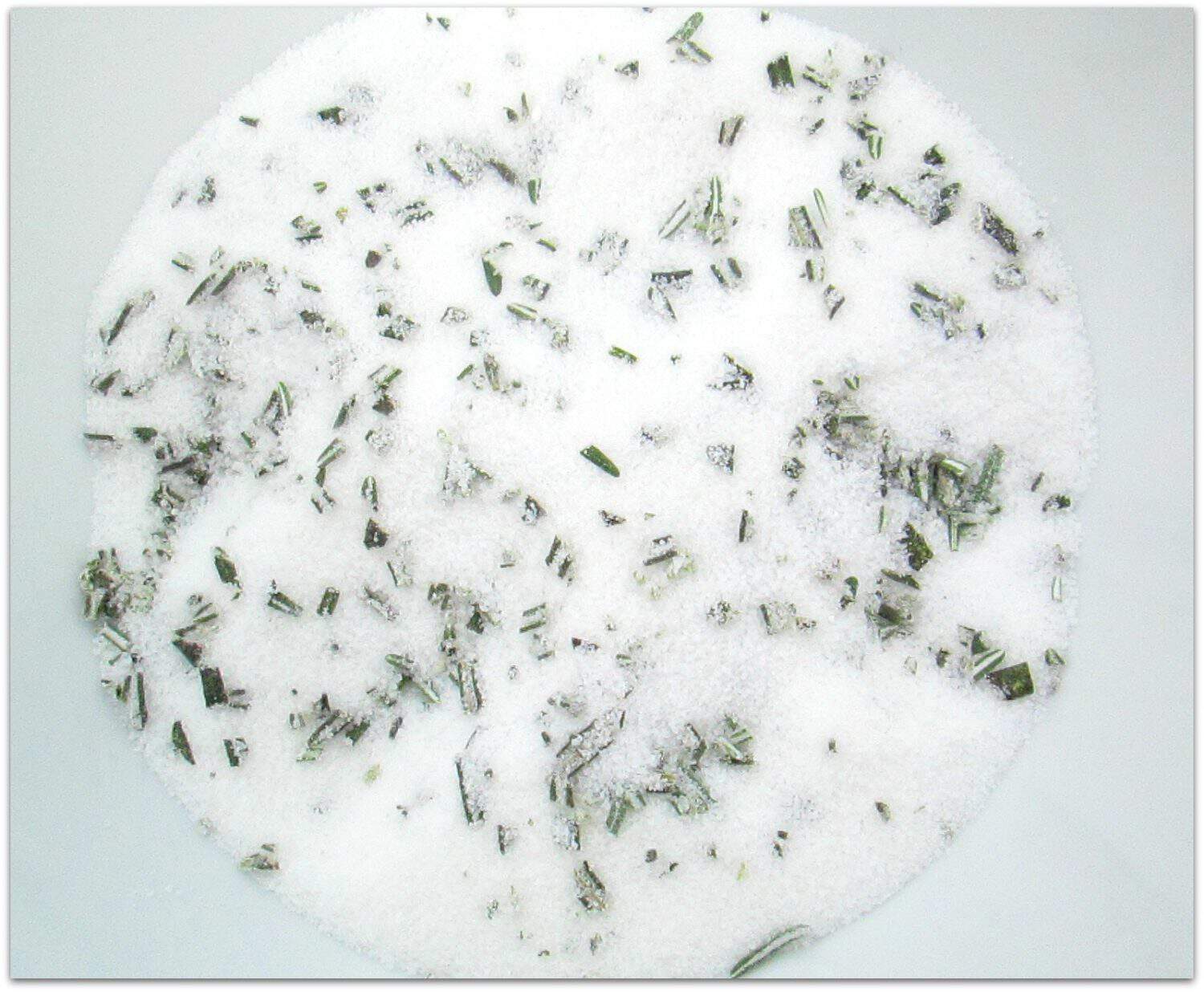 Once you make the crust, press up the sides first and then press the bottom.  I used the bottom edge of a small juice glass to even out the corners around the bottom and push the crust up on the sides a bit more and evened out the bottom by rolling the glass on it.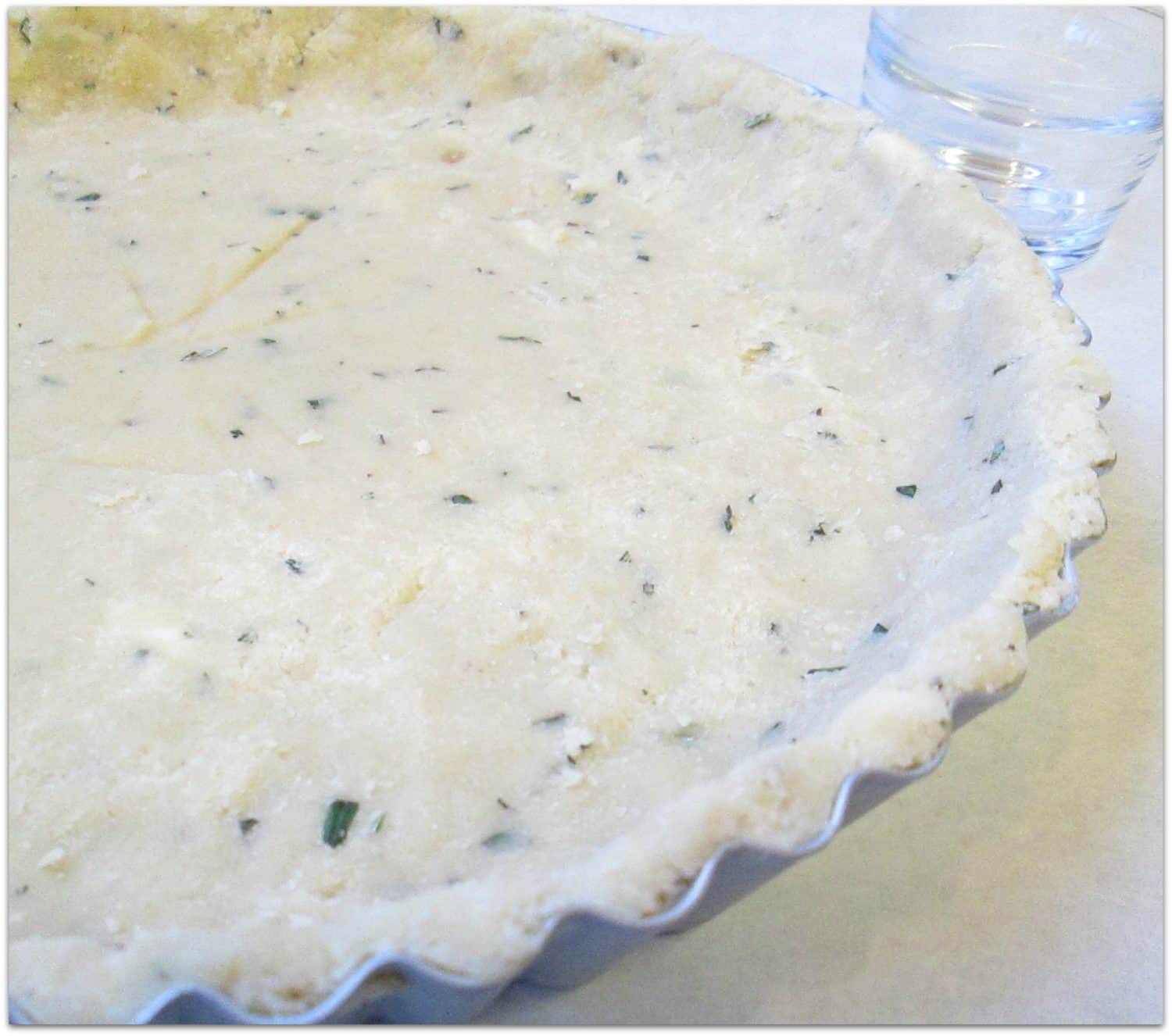 The crust is pre-baked, but no need to weigh it down with pie weights or beans, it's a shortbread crust, no leavening is in it (no baking soda or baking powder), and though it may puff up in a couple of spots, it is only minor and will usually go back down.
You don't have to wait for the crust to cook before pouring in the filling.  Just make sure you strain the partially cooked filling first, BEFORE adding the lemon zest.  Straining gets out those little pieces of egg that never blend in "shudder."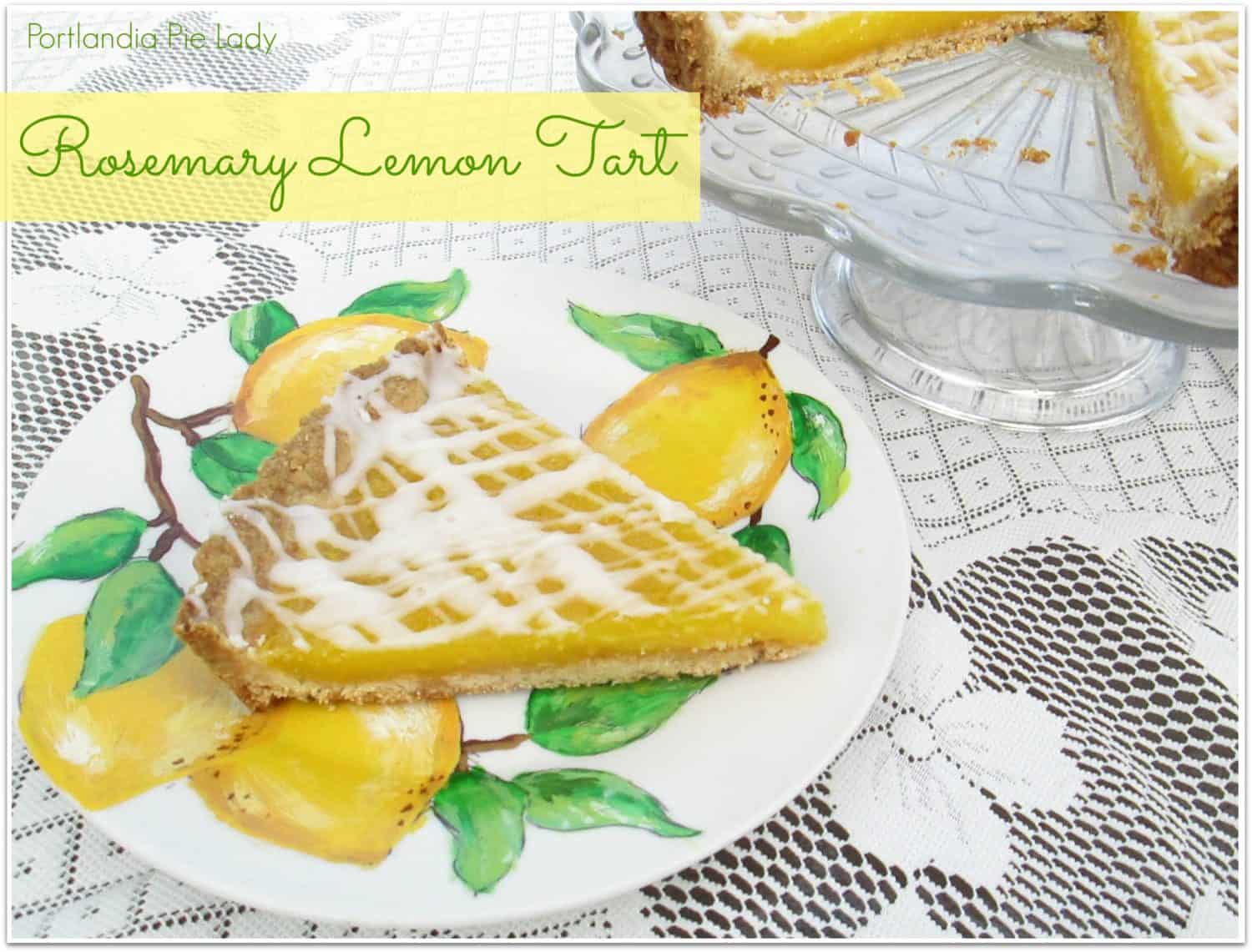 Yes, this is a thin tart, but it is bursting with flavor.  We devoured ours quickly, so need to save the last slice for yourself as the entire tart will probably be gone in one fell swoop!  Happy Spring Everyone!
Rosemary Lemon Tart
Author:
www.portlandiapielady.com
Ingredients
Tart Shell
1 cups flour
1/4 cup sugar
1-2 3" to 4" sprigs of fresh rosemary
1 cubes cold butter, cut into small pieces
dash salt
Lemon Tart Curd:
2/3 cup granulated sugar
2 tablespoons Clear Jel, cornstarch, or tapioca starch
pinch salt
1/2 cup lemon juice
2 tablespoons water
4 large egg yolks
1 large egg
4 tablespoons butter
Grated zest of one lemon
Lemon Glaze:
1 cup powdered sugar
1 tablespoon lemon juice
Instructions
Rosemary Shortbread Crust:
The day before, baking the tart, make the rosemary sugar for crust. Pull or snip off rosemary and chop finely or use food processor to finely mince the rosemary with the sugar. Place in a container and cover with lid or plastic wrap and let the flavors mingle.
Mix flour, rosemary sugar, and salt into mixing bowl.
Cut in butter until mixture has coarse crumbs.
Add the egg yolk and mix until dough comes together and is thoroughly mixed, kneading by hand a bit if necessary.
Butter a 9" tart pan that has a removable bottom.
Roll the dough out onto a lightly floured surface, Press the dough mixture evenly over the bottom and up the sides of the pan. Use a small rolling pin to make bottom uniform and across top to even out top edge. Refrigerate crust for 20 minutes to an 1 hour.
Heat the oven to 375.
Place refrigerated crust in pan into the center of the oven. Bake for 15 minutes. Remove from the oven to let cool.
Lemon Tart Curd Filling:
In medium saucepan, stir together sugar and cornstarch and salt. Vigorously whisk in lemon juice, water, egg yolks, and egg and place over medium to high heat. Cook and stir constantly and bring mixture until slightly starts to thicken, about 3 to 4 minutes. Remove pan from heat and stir in butter until fully melted.
Pour through sieve into separate bowl. Stir in lemon zest and pour into tart shell. Bake 30 minutes at 375.
Glaze:
Mix the powdered sugar and lemon juice together, if not thick enough to run off of a fork, add 1 teaspoon of lemon juice.
While tart is warm, glaze with lemon glaze.
Cool to room temp and refrigerate for 1 to 2 hours.