Americana with a Twist!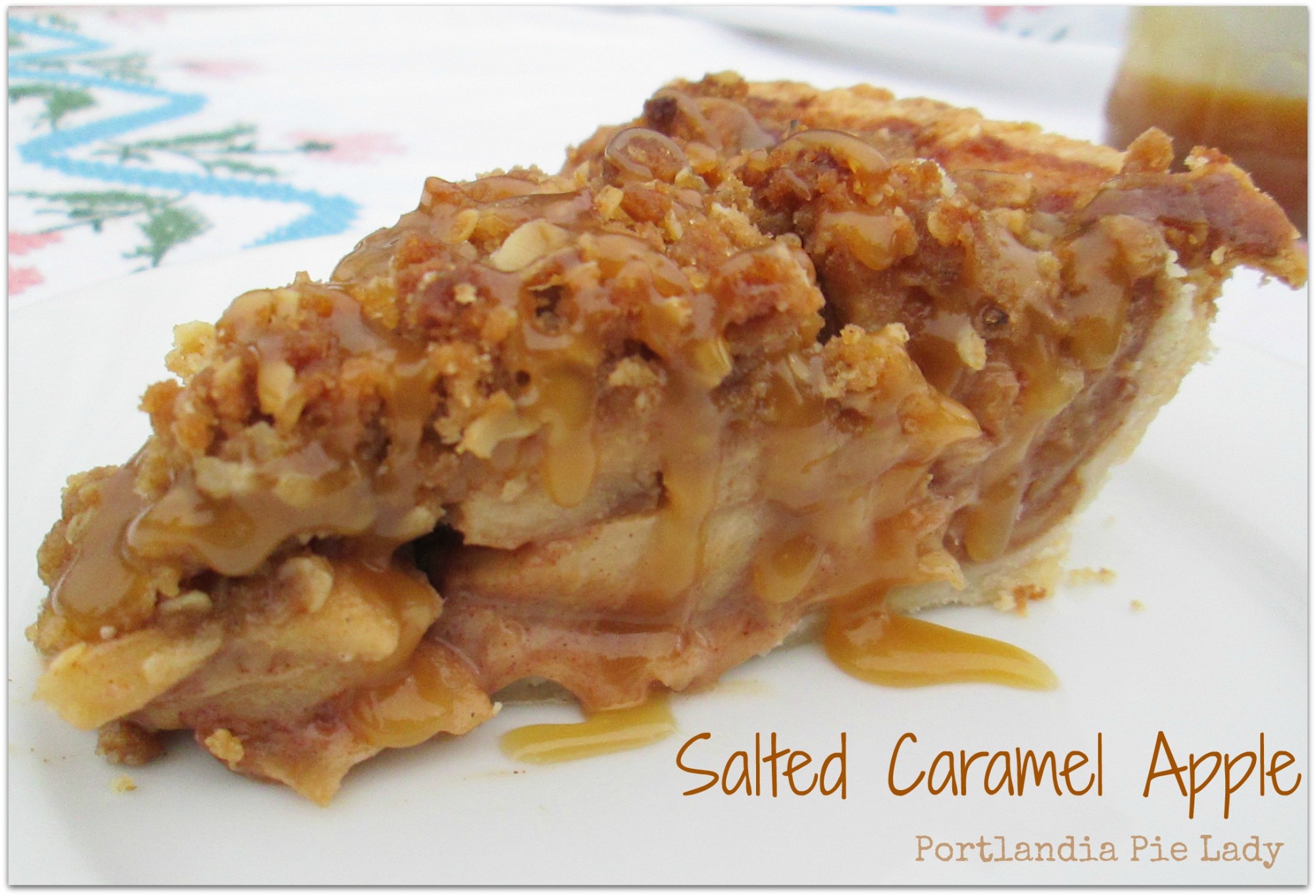 Why wait until July 4th for a slice of Americana?  And why not take a true-blue classic and bring it an addiction level?  Besides, having that luscious salted caramel baked with fresh tart apples is a lot easier than trying to make hand-dipped caramel apples and the pie can hold a lot of caramel (there will be extra for drizzling on top too, a must in our family).
I used Gala apples as they are one of my favorite eating and baking apples; crispy and just a little tart.  Granny Smith apples work beautifully too, use whichever one is easier to find or more appealing to your tastes.
I decided to NOT go a la mode because I really wanted to dive into the baked caramel apple experience (it's also cold outside at this writing and I needed a warm dessert).
When you take this out of the oven you will see caramel bubbling through the buttery crumb topping, and oh my, it will be hard to let it cool down before you can take that first bite (fight the urge, don't scorch your tongue or you won't enjoy the rest)!   We add our extra caramel per each slice, but you can go drizzle crazy on the whole pie, just let it cool a bit.
After tossing apples with sugar & cinnamon, let the caramel flow…
Pile on the crumb topping, time to bake your masterpiece, and let the aroma filter through you home!
You can substitute anything that calls for flour with my Gluten-Free Flour Mix!
The first bite will knock your socks off !
I may start making mini banner flags stating "Mom's Slice! Hands Off!"  I must learn new tactics in out-maneuvering others in the last pie slice-saving challenge.
Salted Caramel Apple
Tart apples baked into caramel perfection. Why wait until July 4th for a slice of Americana?
Author:
www.portlandiapielady.com
Ingredients
6 cups Granny Smith, Gala or Northern Spy Apples
1/2 cup brown sugar
1/4 cup Clearjel or tapioca starch or cornstarch
2 teaspoons cinnamon
Lemon zest (about half of a large lemon)
2/3 Cup Salted Caramel Sauce (recipe below)
1 prepared bottom crust-Grandma's Pie Crust (this is the half batch recipe)**
Grandma's Pie Crust, half batch:
1 Cups flour
1/2 teaspoon salt
1-1/2 teaspoons sugar
dash baking powder
1/2 cup shortening
3 to 4 Tablespoons cold water
Salted Caramel Sauce
1/4 cup unsalted butter
1/2 cup brown sugar, packed
1/2 cup granulated sugar
1/2 cup heavy whipping cream
2 Tablespoon corn syrup
1 teaspoon sea salt
1 teaspoon vanilla extract
Topping:
1/2 Cup brown sugar, packed
1/2 Cup flour
1 cube butter
1/2 teaspoon cinnamon
Instructions
To make your pie-making easier, make all of the components first, and then assembly will be fast, easy, and organized.
Preheat Oven to 375.
Crust: Stir to combine all dry ingredients. Cut in shortening until crumbly. Add cold water all at once and mix just until forms a ball (do not knead or over mix). Roll out dough (this will be rather soft) on heavily floured countertop about 1 inch wider than pie plate, roll up dough onto rolling pin and unroll into pie plate (dough is too soft to pick up by hand). Tuck under sides and crimp by hand or fork, set aside.
Salted Caramel Sauce: In a medium saucepan over medium heat, heat butter, sugars, whipping cream, and salt. Bring to a boil, reduce heat to medium low and simmer for 6 minutes, stirring occasionally with silicone spatula or whisk. Whisk in vanilla (it will bubble up) and simmer about 1 more minute. Pour caramel into bowl to cool, store in refrigerator. Makes about 1 cup.
Topping: Mix all dry ingredients until combined. Cut in butter with a fork until crumbly., set aside.
Assembly: Toss prepared apples with brown sugar, Clearjel (or starch of choice), cinnamon & lemon zest. Place into prepared crust. Pour 2/3 salted caramel on top of apples and carefully mound on crumb topping.
Bake 55 to 60 minutes @ 375. Drizzle extra caramel on entire pie or individual slices.
**May use Gluten Free Flour mix for crust: http://portlandiapielady.com/gluten-free-pie-crust/