Samoas Magic Adventure
Have you eaten the last remains of your Girl Scout Cookies?  Do you miss those toasty coconut little gems?  Well, never fear, Samoas Cookie Pie is here!  Since Pie Night 2015 last month, I have had a few requests to post this recipe.  The wait is over!
This was one of the first pies to go and my daughter, maker of this caramel coconut cookie wonder, did not even get a slice.  No worries, she already dashed off with a slice this one today.
I used a cookie bar recipe for the crust and the filling is very similar to "Eagle Magic Cookie Bars" circa 1974; merge the two together, tweak a few ingredients and Ta-Da!  Samoas Magic!  There is no crust dough to roll out either, which makes this just a bit more magical for a tad less cleanup (I am a messy baker).
You can also substitute the flour in the crust with my Gluten Free flour mix one-to-one (Samoas Magic – Gluten Free -Woot Woot).
Can this get any better?  Wait until you dive into your first bite and wake up those taste buds with layers of gooey salted caramel, toasted coconut, and creamy chocolate.  It's the fix you need to get you through until next year's cookie sales.
STEP ONE: MAKE THE SALTED CARAMEL FIRST…then gather the rest of your ingredients. You will thank yourself!
After you bake the crust (see recipe directions below) and layer everything, the pie plate will be VERY full (make sure you use a 9-inch or larger pie plate, I used 9-inch).  Put a cookie sheet on oven rack below the pie to catch drips.
As the pie cools, melt the remaining chocolate, I wanted less clean up so I used a sandwich bag instead a decorating tip.  Fill the bag, close it with a chip-clip, and snip off the corner and pipe on the stripes.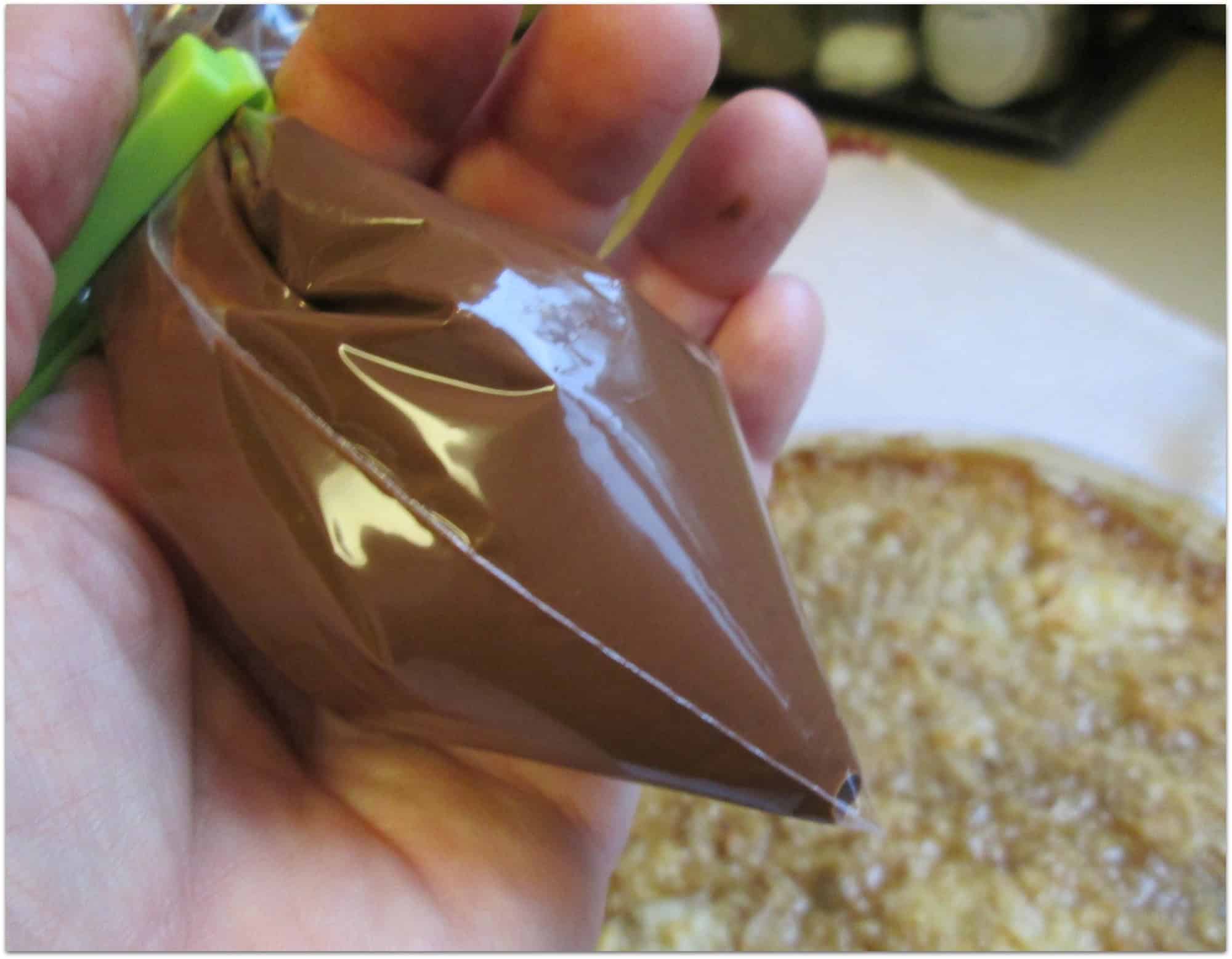 Feel free to drizzle on more salted caramel, it's divine. La manuia le tausamiga (bon appétit)!
Samoas "Cookie" Pie
Ingredients
Crust:
1/2 cup butter, melted
1 egg
1/2 cup dark brown sugar, packed
1 teaspoon vanilla extract
1 -1/4 cups all-purpose flour (or GF Flour Mix)
Filling:
1 cup semi-sweet chocolate chips, for first layer
1- 1/2 cups sweetened shredded coconut (do not pack)
1/2 Can sweetened condensed milk
1/2 cup salted caramel sauce (see recipe below)
Topping:
3/4 cup semi-sweet chocolate chips, melted
Salted Caramel Sauce
1/4 cup unsalted butter
1/2 cup brown sugar, packed
1/2 cup granulated sugar
1/2 cup heavy whipping cream
2 Tablespoon corn syrup
1 teaspoon sea salt
1 teaspoon vanilla extract
Instructions for salted caramel sauce:
In a medium saucepan over medium heat, heat butter, sugars, whipping cream, and salt.
Bring to a boil, reduce heat to medium low and simmer for 6 minutes, stirring occasionally with silicone spatula or whisk.
Whisk in vanilla and simmer 1-2 more minutes.
Pour caramel into bowl to cool, store in refrigerator.
Makes about 1 cup.
Instructions
FIRST: Make the caramel sauce and set aside (you will need this ready for assembling the pie).
Preheat oven to 350. Spray a 9 or 10-inch pie dish cooking spray; set aside.
Melt the butter just until barely melted, stir in brown sugar and vanilla.
Whisk in egg until smooth. Stir in flour and spread batter into prepared pie plate. Bake 12 minutes at 350.
Remove from oven, and evenly scatter the 1 cup chocolate chips over the crust. Now evenly sprinkle on the coconut, then the sweetened condensed milk, and then the 1/2 cup of salted caramel. (The pie plate will be very full to the brim. I put a cookie sheet on the oven rack below to catch drips, yet it has never cooked over. )
Bake assembled pie for 20-25 minutes (do not over bake).
Melt the remaining 3/4 cup chocolate chips in small glass bowl in microwave, about 90 seconds (every microwave is different, check every 15 seconds and stir, it may take less time).
You can use a spoon or decorating bag, or sandwich bag with corner cut out to make your stripes with the melted chocolate however you like (I like thick lines).
Cool pie for several hours or in refrigerator for a couple of hours to set.