Where's the Fire?!
If I know I am going to be nearby a campfire, I will arrive packing s'mores supplies, always.  I will be stationed at the fire with marshmallows a blazing, eating s'mores, sharing them, and feeding loads of them to your unattended children (true story, church camp-out: No worries Maria H., I never told your dad how many you really had).
It's too rainy outside (again) for a fire and as tempting as it is to think about setting the kitchen on fire (I was thinking celebratory s'mores while watching it burn down to embers so I could have a new kitchen), well, say hello to S'mores Campfire Pie!
To get the feel like I was "roughing it" in the great outdoors I made this chocolaty-marshmallow masterpiece in a 10-inch cast iron skillet.  Let me tell ya, I may do more pies this way because it was so nice having a handle to grab it out of the oven (genius)!
I did use a traditional graham cracker crust for the bottom, but the graham topping is an adaptation of a recipe from a friend of mine (who does not have a food blog, but could totally rock it) and a cookie bar recipe I have made for years and years (more than 25 years; that's all I'm sayin').
There is oat flour in the topping, which makes the cooked dough a tiny bit softer and any time I can substitute white/wheat flour I am thrilled.  (I LOVE white & wheat flour, it does not love me!)  For oat flour simply process your oats in a blender (1:1, meaning 3/4 cups oats = 3/4 cups oat flour).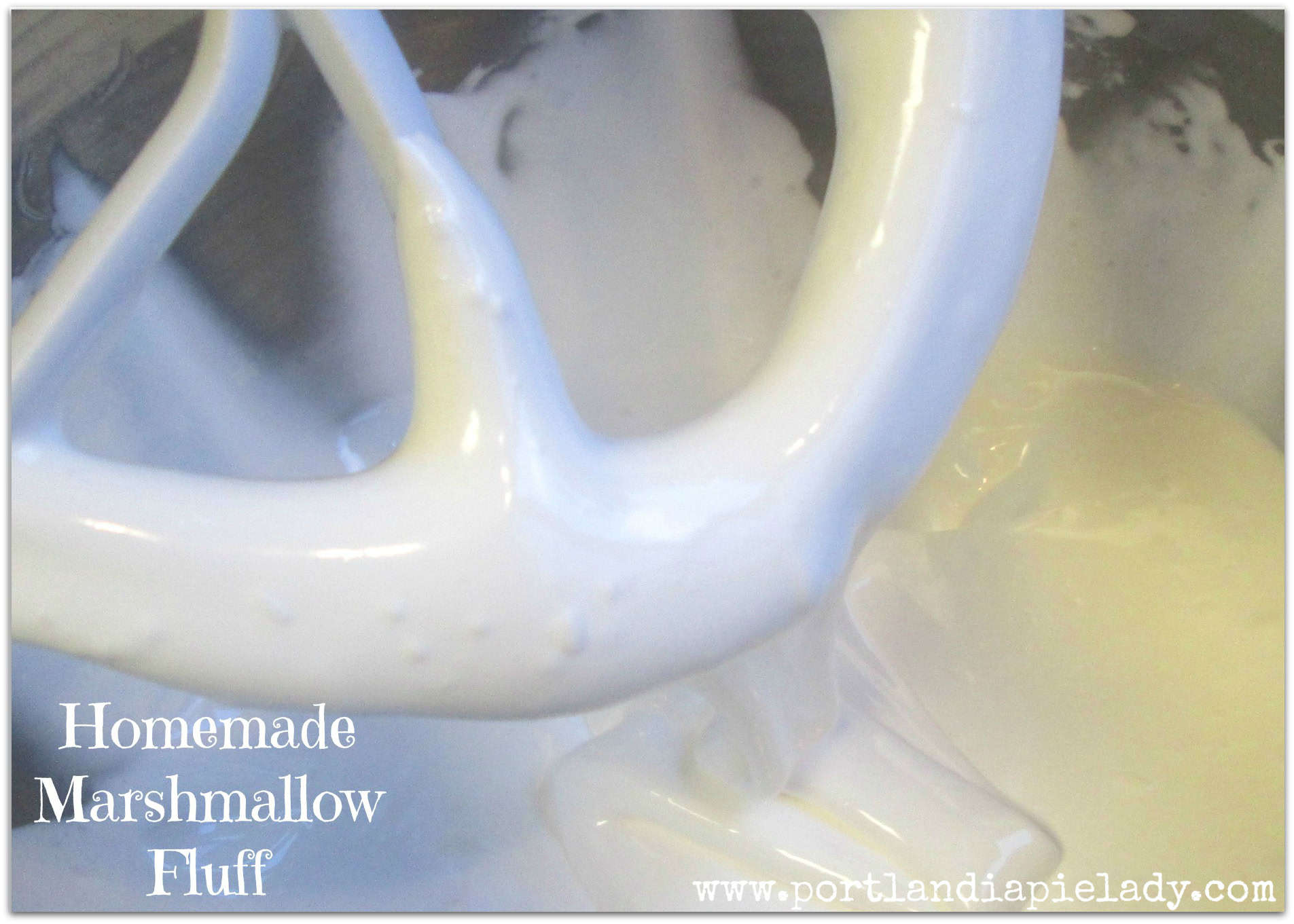 I did use homemade marshmallow fluff because I was too lazy to go back to the store; plus it took less time to make it than traveling back and forth to the market!  Serious folks, this was super easy to make!!!
For you GF people who are sad at this recipe, wipe your tears and pull yourself together.  If you have the patience to make your own gluten-free grahams (or have a fav at the store), and you add in some gluten-free all purpose flour (click here for my recipe), and you've just created the most stupendous S'mores pie ever to hit the GF pie circuit.
As always, save the last slice for yourself (which you may have to label with your name and hide in the veggie drawer)!
The first layer may not look like much, but no worries, more layers are coming!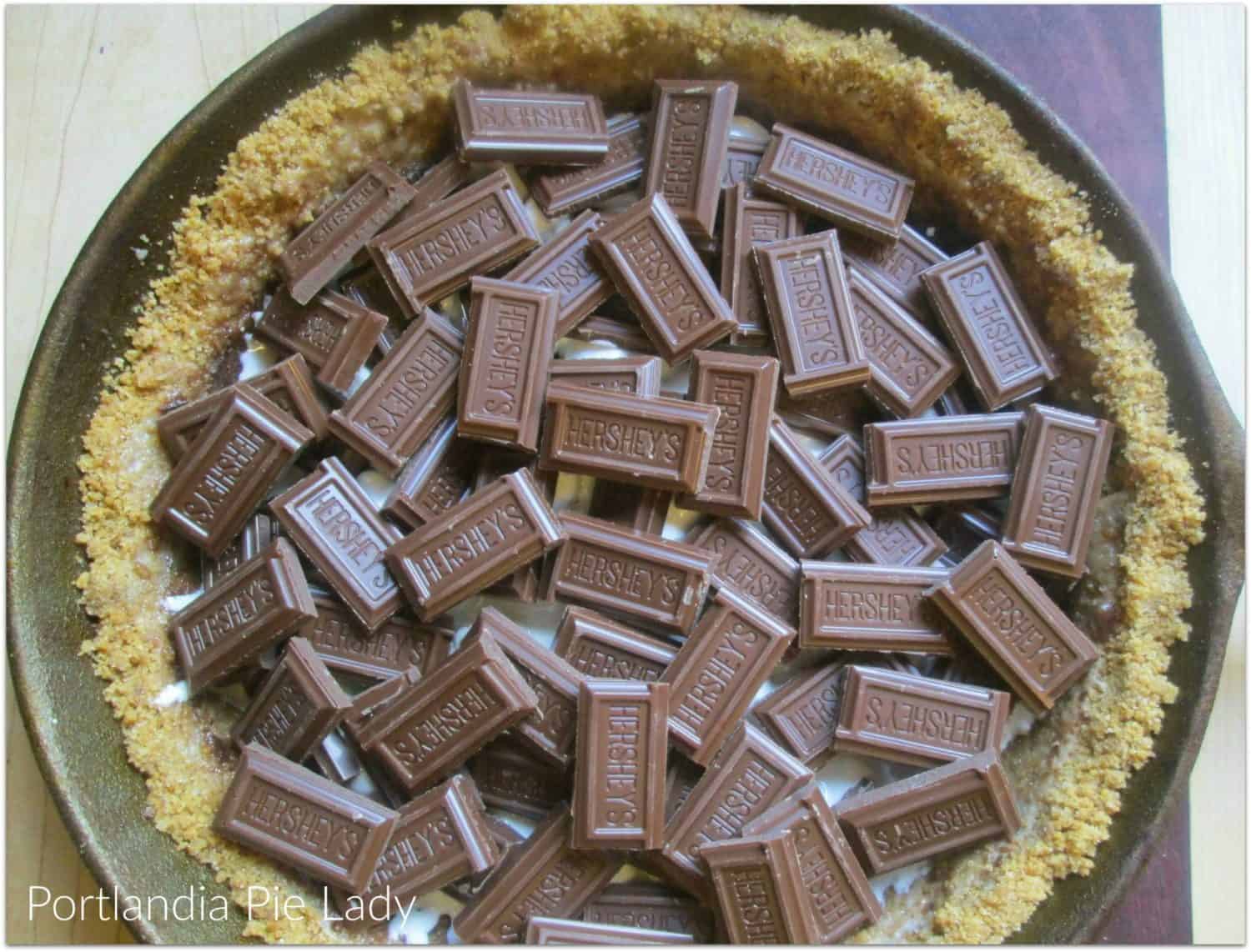 CHOCOLATE LAYER #1!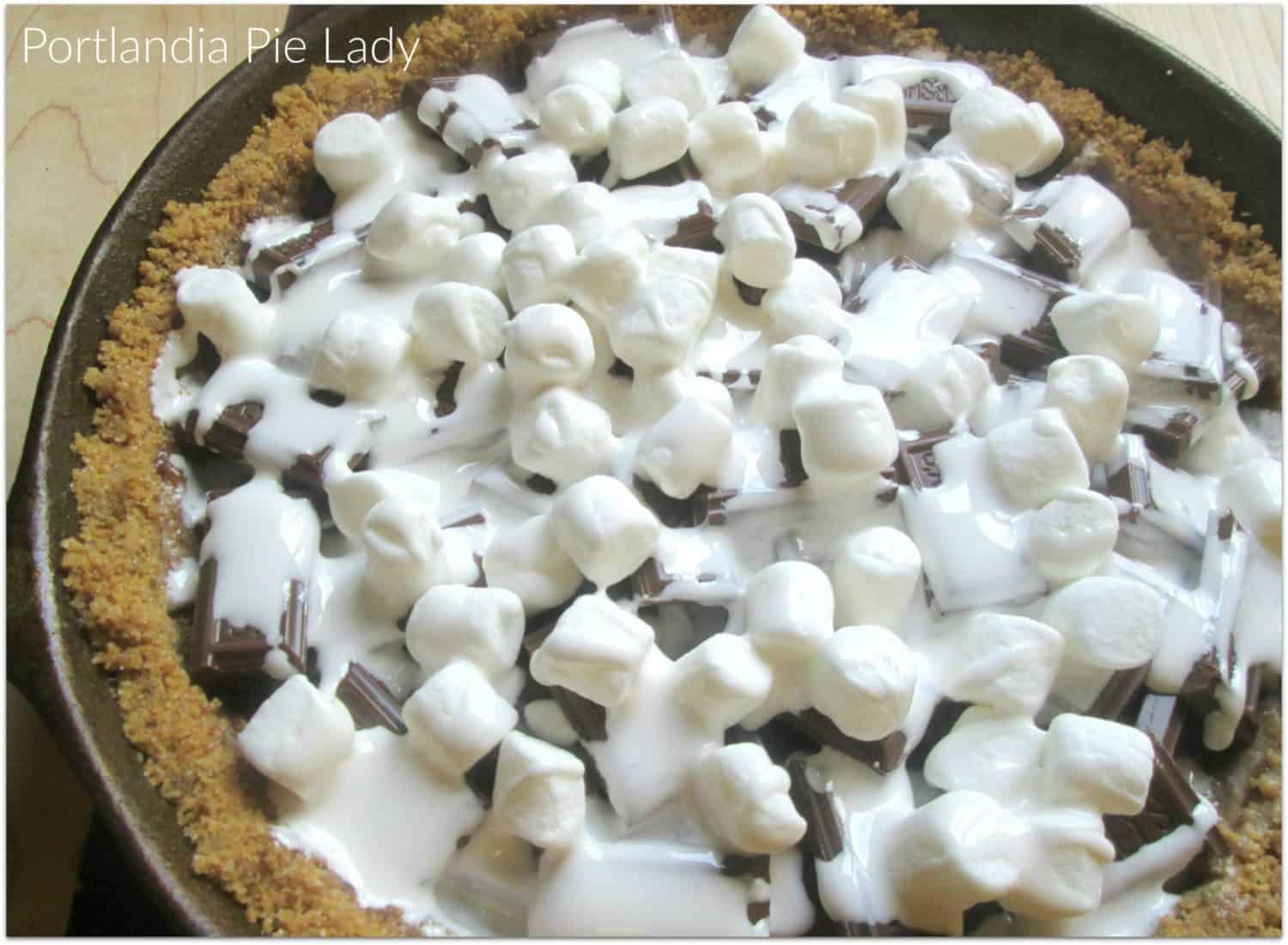 Final layer of marshmallows and marshmallow cream.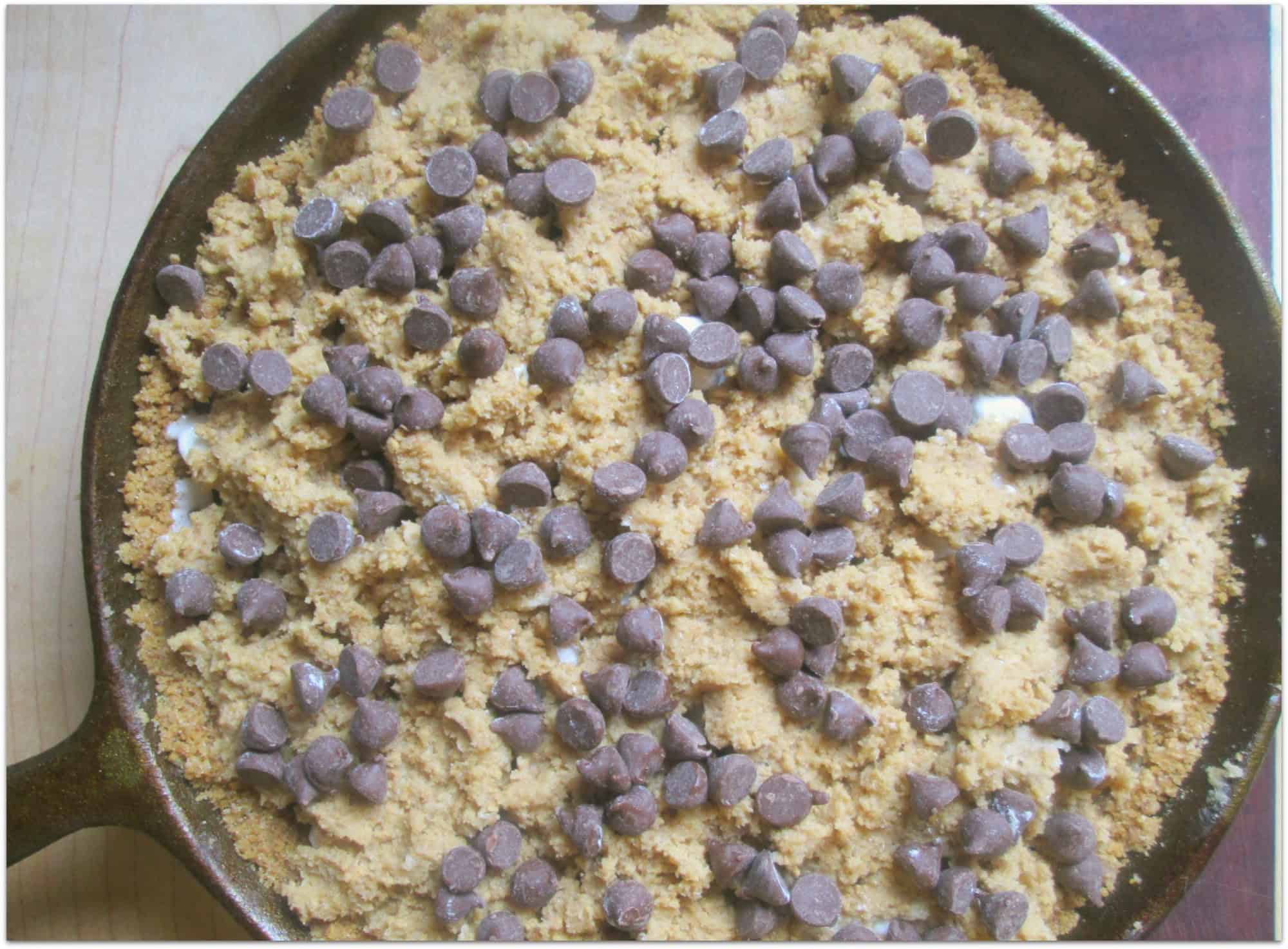 Graham cookie topping, milk chocolate chips, and all ready to bake!
Don't forget to save the last slice of outdoor s'mores from your indoor kitchen for yourself!
Homemade Marshmallow Fluff adapted/inspired by Todd's Kitchen.
S'mores Campfire Pie
Author:
www.portlandiapielady.com
Ingredients
Preheat oven to 350 F
7 Ounces Container Marshmallow Creme (About 1-1/3 Cups)
6 Whole Milk Chocolate Bars (1.55 Ounce Bars)
1-1/2 Cups Marshmallows
1/2 Cup Milk Chocolate Chips
1 Prepared Graham Cracker Crust (& instructions)
1-1/2 cups graham cracker crumbs
6-7 Tablespoons butter
1/4 cup sugar
Mix together, press into pie plate, bake 5-7 minutes @ 350.
Graham Dough Topping (& instructions)
6 Tablespoons Softened Butter
1/3 Cup Sugar
1 Egg
1 Teaspoon Vanilla
3/4 Cup Oat Flour (or 1/2 cup wheat or white flour)
1 Cup Graham Cracker Crumbs
1/2 Teaspoon Baking Powder
Beat the sugar, butter and egg until well blended; then stir in dry ingredients until thoroughly mixed (it will be like sticky cookie dough). Set aside.
Homemade Marshmallow Fluff
2 Egg Whites
1 Cup Corn Syrup
2 Cups Powdered Sugar
1 Tablespoon Vanilla
In electric mixer, beat egg whites with corn syrup on high until doubled in volume (about 7 to 8 minutes), it will be white and gooey.
Add powdered sugar and beat until no lumps, smooth and creamy (about 2 to 3 minutes).
This makes about 2-1/2 cups marshmallow fluff (about 12 ounces). 1-1/3 cups = 7-8 oz. jar marshmallow fluff.
Instructions
With electric mixer beat butter and sugar together until combined, then add egg and vanilla, and stir in dry ingredients. Set aside.
In prepared graham crust, place about half the mini marshmallows and spoon over about half of marshmallow fluff, as evenly as possible (you can put the fluff in microwave for about 15 to 20 seconds).
Break up chocolate bars and place on top of marshmallow layer. Top with remaining mini marshmallows and marshmallow fluff.
Crumble the graham dough over the entire top of the layers, it's okay to have marshmallows peeking through.
Sprinkle on the 1/2 cup of milk chocolate chips.
Bake for 20 to 25 minutes until lightly browned. Let cool about 20 minutes before serving.