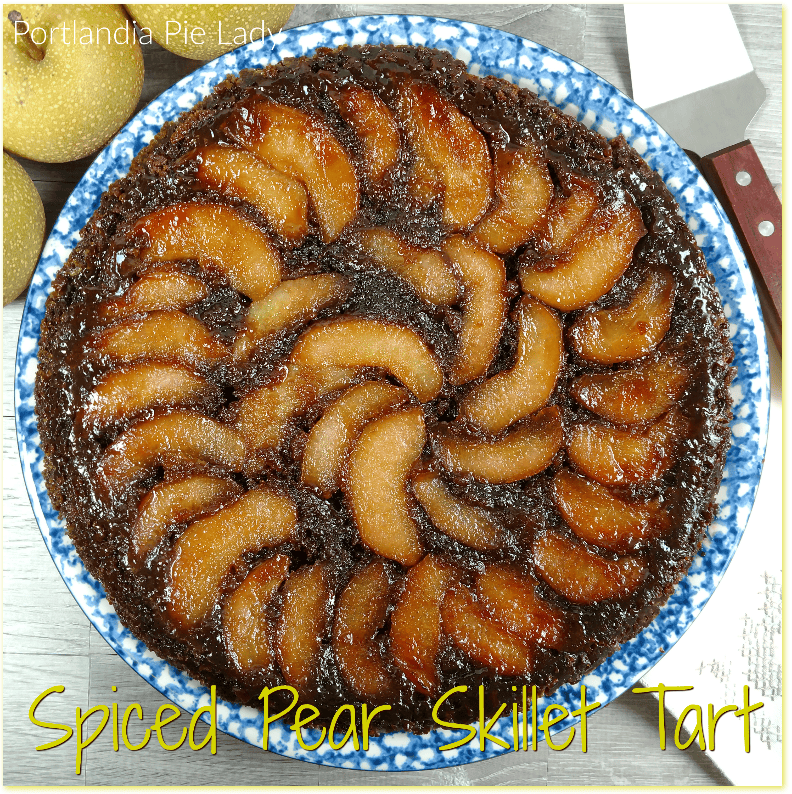 We do all love baking in season, don't we?  Fresh picked fruit is simply the best.  Our Asian pear tree produced an abundance of gorgeous crisp pears this year and the first baked good I make every fall is Spiced Pear Skillet Tart.
Any kind of pear will do, but as my pear tree was brimming, Asian pears it is.  If you haven't had an Asian pear they are a bit juicier and crisper than say a Bartlett pear, but once baked they are very similar in texture.  So, go with the flavor of pear you enjoy the most.  If pears are not your "thing" go with apples, I have used Gala and Granny Smith, it will still be divine and just as tasty!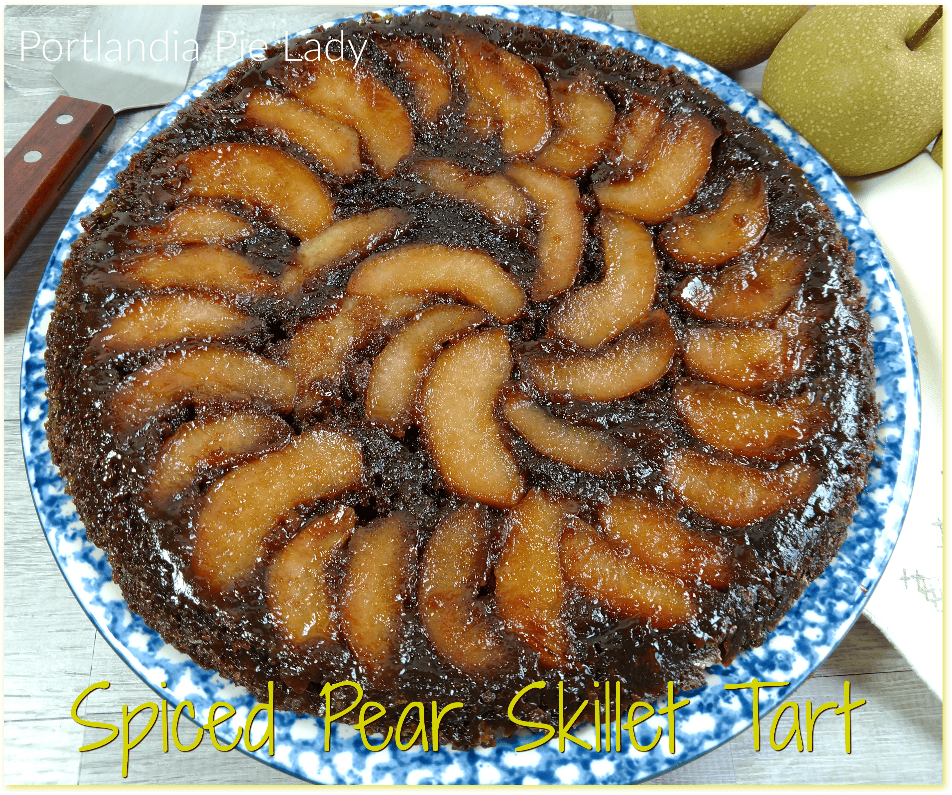 I make the entire tart from start to finish in a cast iron skillet. The heavy skillet keeps the pears from burning and distributes the heat perfectly while baking.
After you have made the melted butter and brown sugar mixture the pears are strategically placed in any pattern you choose.  I love the round floral pattern but this is a time for you to experiment and use your creative prowess.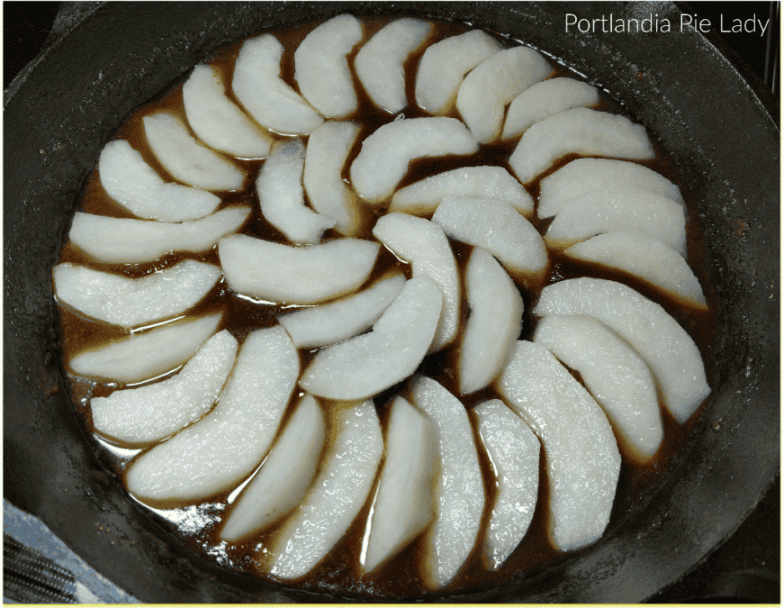 Simply spoon the prepared batter over the top of the pears and bake!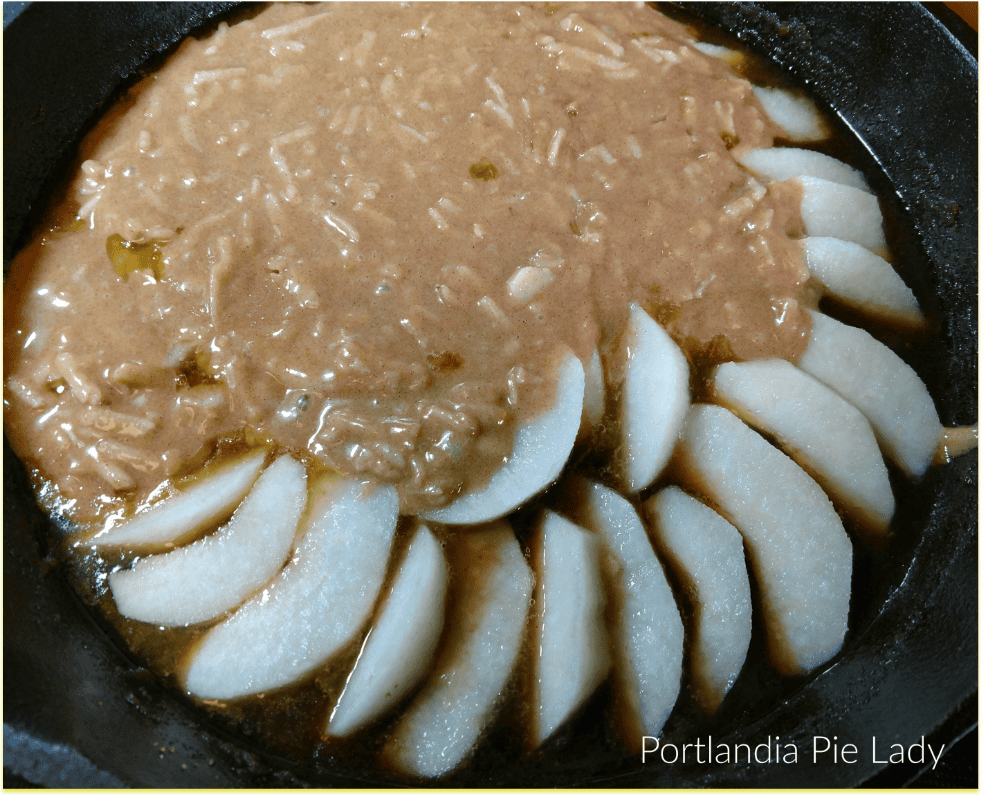 Once this emerges from the oven it is inverted onto a platter; a truly upside-down tart.  No worries, you do not have to do any kind of magic to get it out of the skillet.  If a pear slice clings have to the skillet for dear life it will come right off quite easily to its proper place on the tart.
The edges will be a caramelized brown sugar buttered-spicy pear flavor that is out of this world; this has the power to turn anyone into a lover of pears.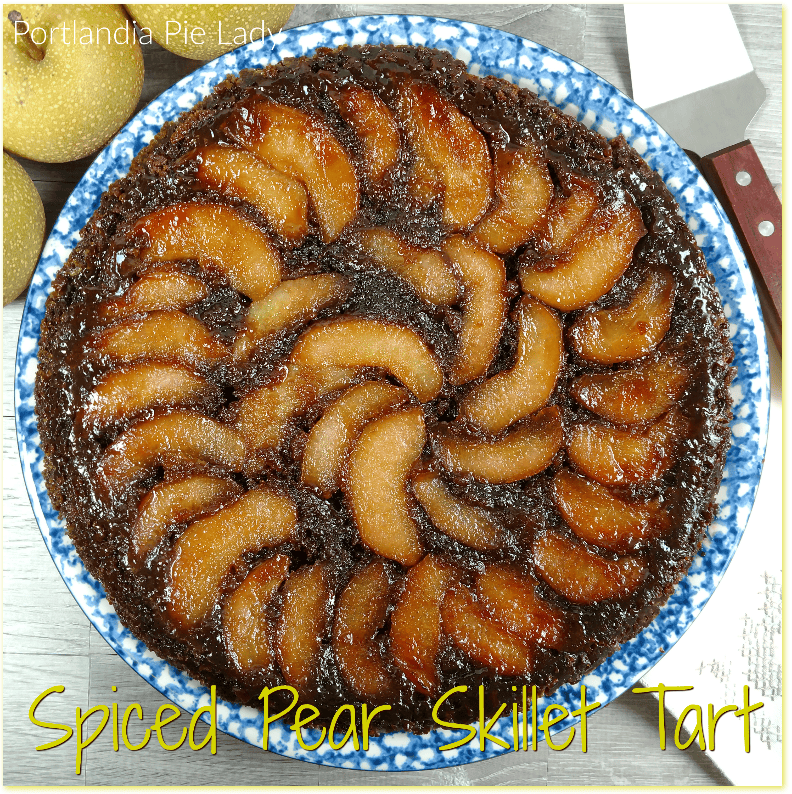 Don't forget to save the last slice for yourself!
Spiced Pear Skillet Tart
Author:
www.portlandiapielady.com
Ingredients
1 cup firmly packed light brown sugar
6 tablespoons butter, cut into 4 pieces ( 3/4 stick)
1 cup flour
1 cup granulated sugar
2 teaspoons ground cinnamon
1-1/4 teaspoons baking soda
1/2 teaspoon salt
2 eggs
1/2 cup vegetable oil
1 tablespoon grated, peeled fresh ginger or 1 teaspoon ground ginger
1 small pear, peeled, coarsely grated
3-4 medium pears, peeled, cored, each cut into 12 wedges (about 1-1/2 pounds)
12-inch cast iron skillet
Instructions
Preheat oven to 350 degrees.
Sprinkle brown sugar evenly over bottom of heavy 12-inch ovenproof cast iron skillet with 2 1/2-inch-high sides. Add butter pieces to skillet. Place skillet in oven until butter melts, about 5 minutes.
Meanwhile, mix flour, sugar, cinnamon, baking soda and salt in bowl. Using electric mixer, beat in eggs and oil. Mix in grated pear and ginger; set aside.
Remove skillet from oven; whisk butter and sugar until sugar dissolves. Arrange pear wedges in skillet in a flower pattern, fitting wedges closely together and placing any remaining wedges in center. Pour batter over pears, spreading evenly.
Bake about 55-60 minutes (middle with spring back if touched). Cool 15-20 minutes. Loosen edge of cake with knife. Place large platter over skillet. Using oven mitts, firmly grasp plate and skillet. Carefully invert skillet, turning out cake onto platter. Replace any slice of pear that clings to skillet and serve.