Tomato Bacon Zuke Pie aka "Garden Crack!"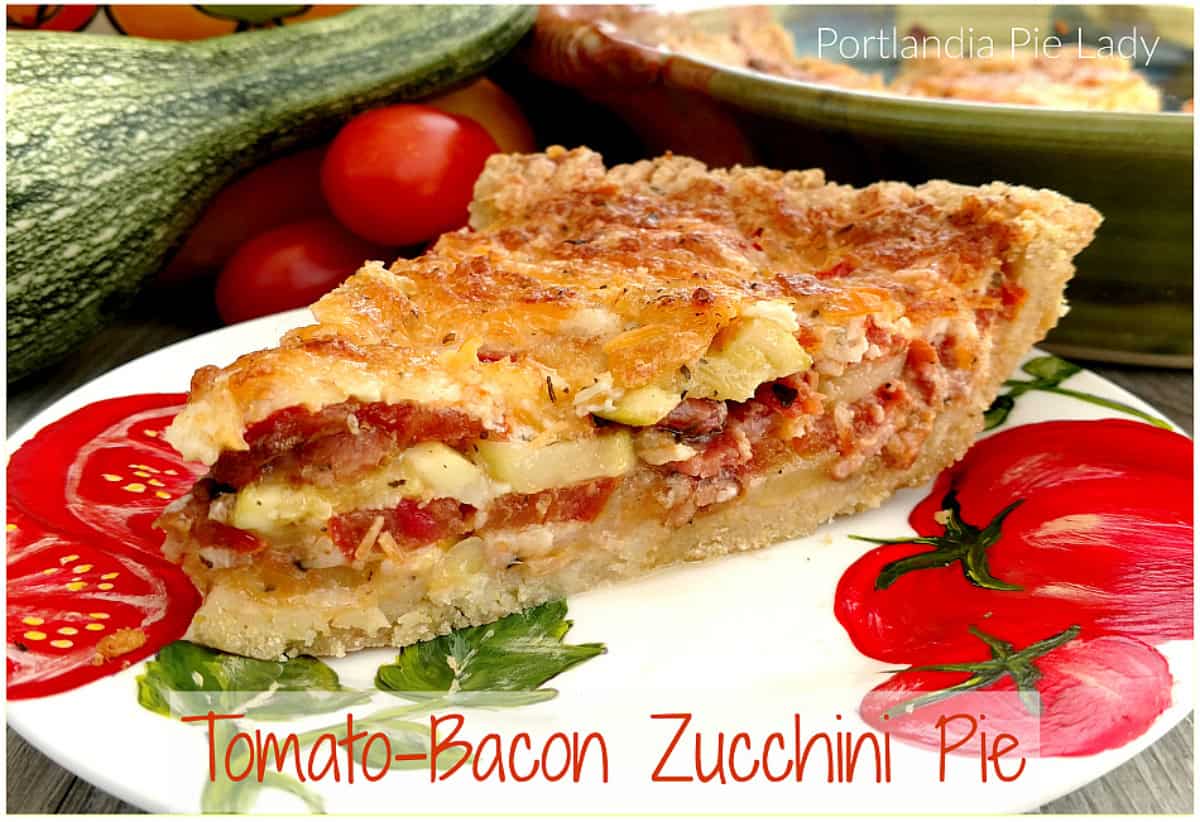 If you have friends, you have friends with zucchini.  It's high time to give your zucchini a new lease on life and bake it up into this truly divine savory summer pie!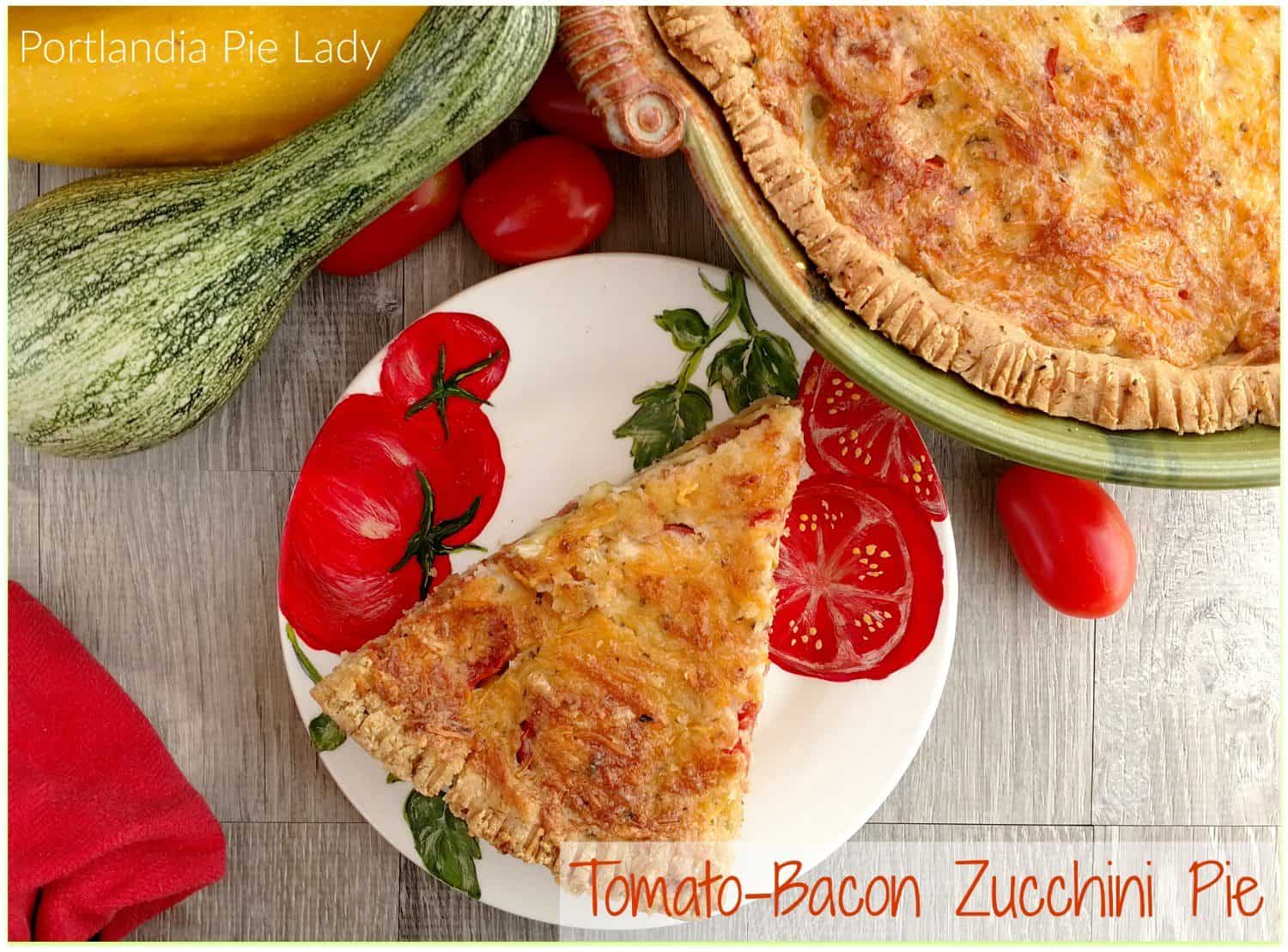 Like the first time I made this savory classic, my daughter, was visiting when this emerged from the oven.  She didn't even try to resist eating a slice, it's pure garden magic baked in a pie. Tomato-Bacon Zucchini Pie is the best reason to stop any dieting madness, just enjoy the pie!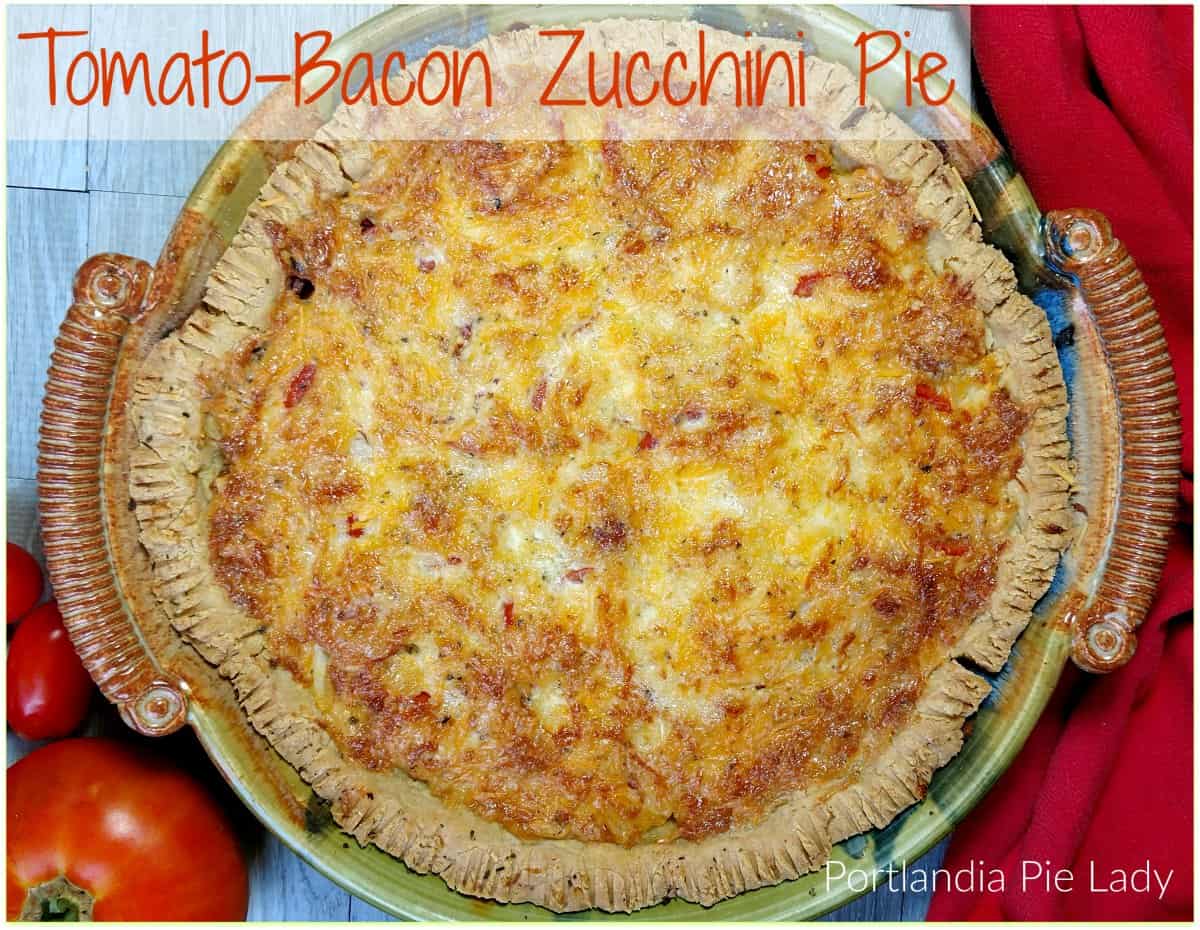 The amazing fact is you would think with a 45-minute cooking time the tomatoes and zucchini would be cooked down into a sauce-like state or mushy; that does not happen.  The veggies stay tender-firm and the zucchini takes on the entire flavor palate of all the ingredients, it's a major hit out of the ballpark. There are always some end-of-garden tomatoes and zucchinis that need a home.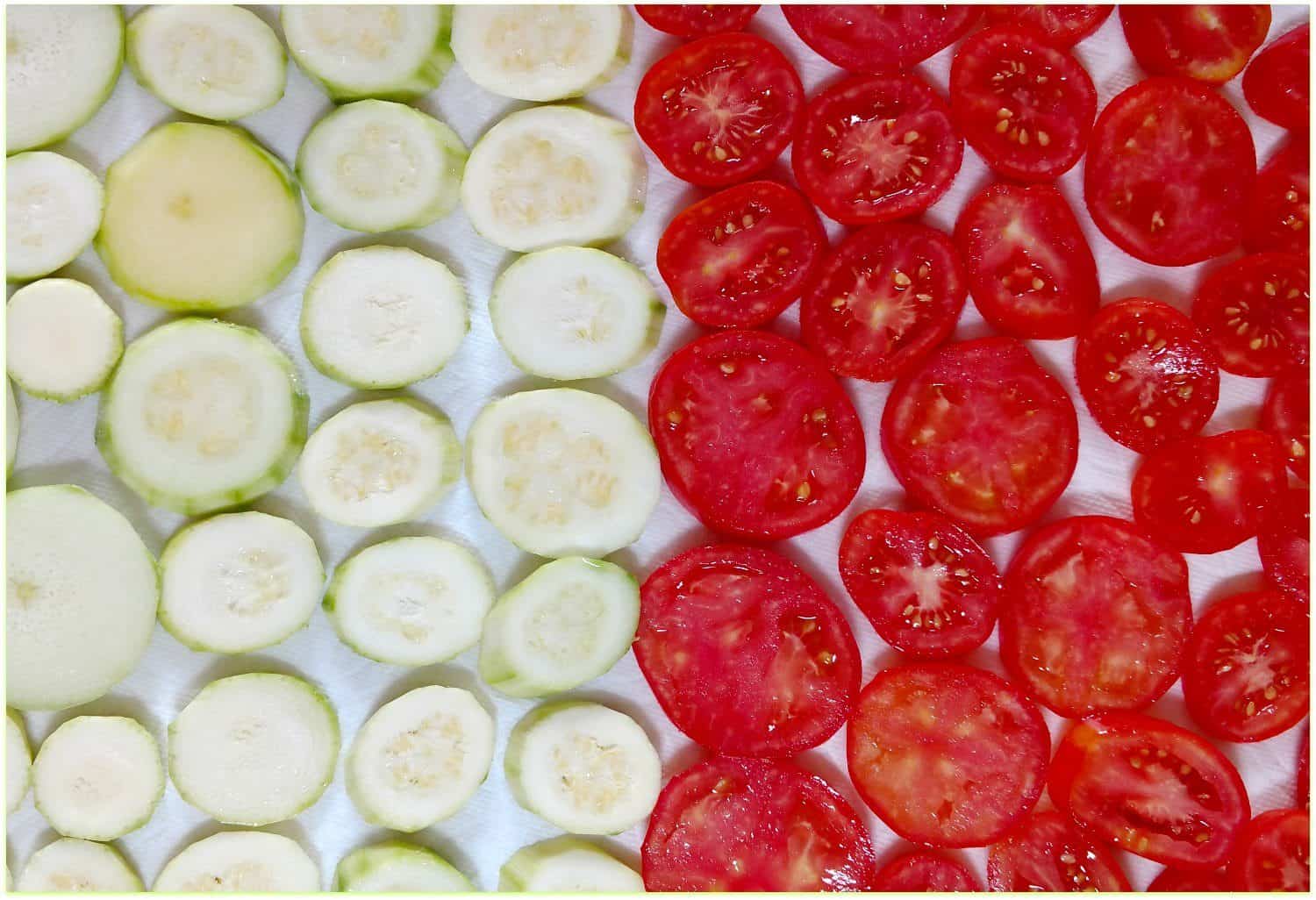 An added feature is the one-strip-of-bacon per slice capita (for an 8-wedge pie).  Could it get any better?  Not much, except for the crust.
When I spread on the topping I usually drop it in spoonfuls and then use my fingers to spread it around as it tends to "grab" the slices of tomato.  Just get into it.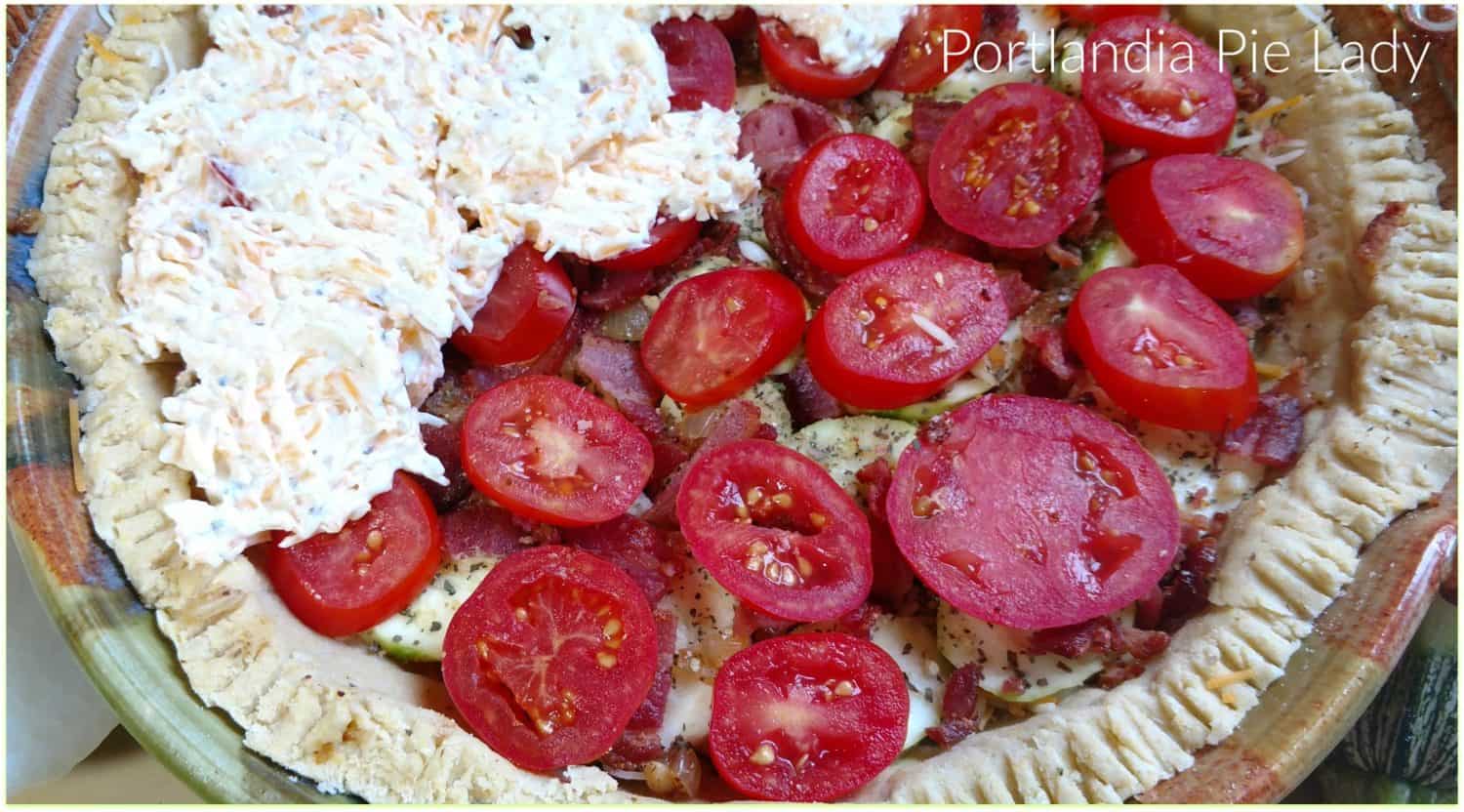 I am also sharing one of my favorite creations, Ultimate Corn Crust, for this baby.  It's a blend of masa, cornmeal, flour and sweet kernel corn.  It does not fall apart from the weight of the ingredients, but it is tender enough to cut with your fork, all the while keeping an eye on the pie to secure your next helping!  This is what the pie dough will look like, I love seeing the bits of corn.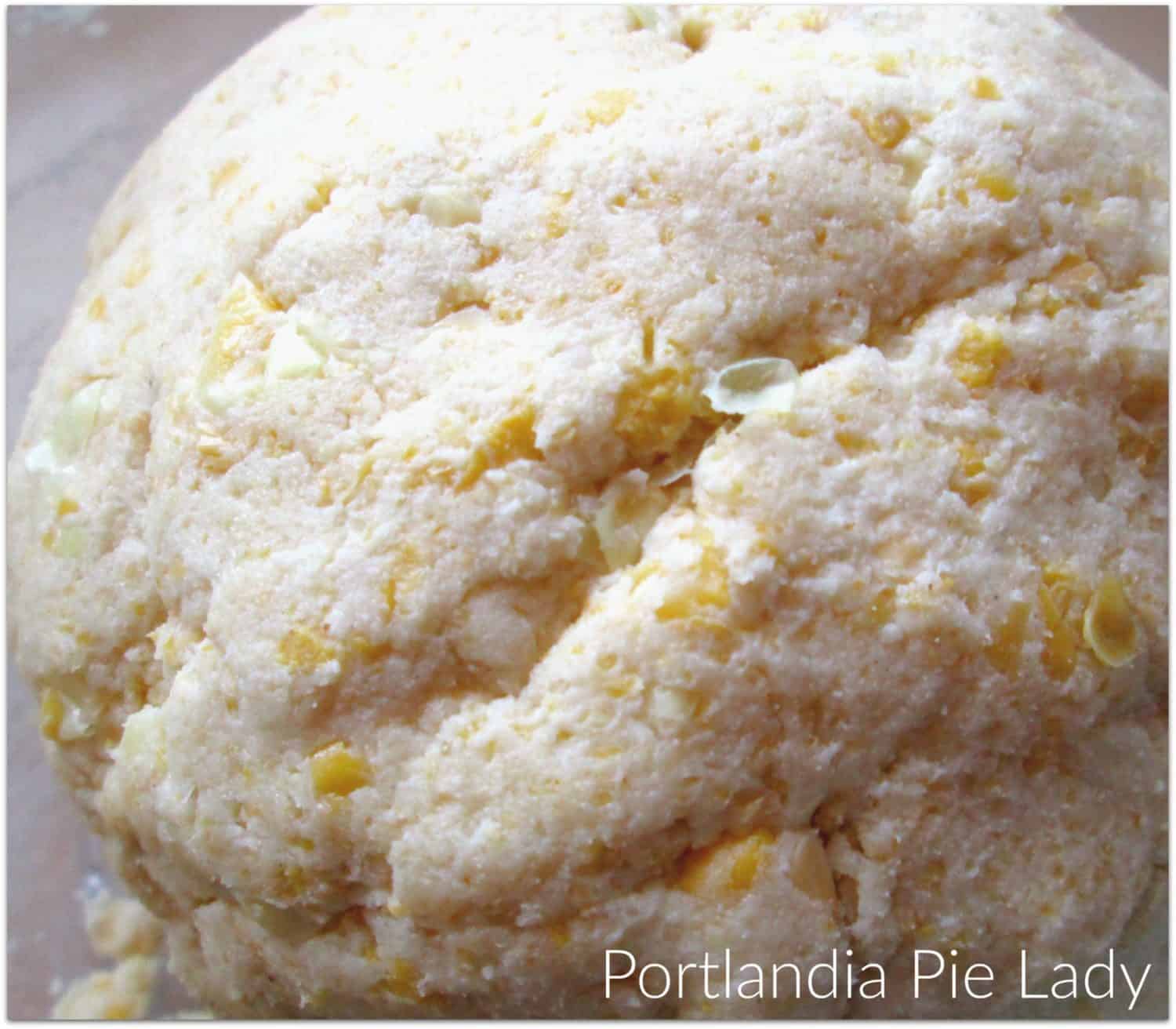 Make sure to grab that last slice of garden crack for yourself…it's that good.
For gluten free replace flour portion of crust recipe with my All Purpose Gluten Free Flour.
Tomato-Bacon-Zucchini
Give your zucchini a new lease on life with some help of some sun ripe tomatoes and bacon, served in a sweet corn crust.
Author:
www.portlandiapielady.com
Ingredients
4 medium to large size Roma tomatoes, sliced (about 24 to 26 slices)
1 small/medium zucchini, very thinly sliced (peeled is optional)
2 teaspoons salt
8 slices of bacon, cooked and crumbled
1/2 cup chopped onion
1 cup mozzarella, shredded
1 cup cheddar cheese, shredded
1/2 cup swiss (or mozzarella or cheddar or Monterey Jack)
3 cloves garlic, minced
3 tablespoons of chopped fresh basil (= 1-1/2 teaspoons dried basil)
3/4 cup mayo
1 teaspoon parsley or basil
1 9-inch Ultimate Corn Pie Crust
Ultimate Corn Crust
1/4 cup corn meal
3/4 cup masa harina
1-1/4 cup flour
1/2 teaspoon salt
1/4 teaspoon baking powder
1 teaspoon sugar
1/2 cup butter (cut in pieces)
1 cup frozen corn (thawed)
1/2 cup cold water
Crust Directions:
Mix dry ingredients to blend. Cut in butter until crumbly, set aside.
In blender or food processor pulse corn and water together for about 15 to 20 seconds, and stir into crumbled mixture that makes an easily pliable ball.
With extra masa (or flour) roll dough out to fit a 10-inch pie plate, fold under and crimp edges.
Instructions
Pre-heat oven to 350.
Layer 2 paper towels on cookie sheet, lay out sliced tomatoes and zucchini and sprinkle with salt, flip over and sprinkle with salt again, and cover with another double layer of paper towels. Let vegetables sit for 30 to 40 minutes to draw out liquid.
Mix all 3 cheeses together, set aside.
Cook the bacon until crisp, remove from pan, and cook onions & garlic in bacon drippings until tender and slightly browned. Drain on paper towel.
Assembly:
In prepared crust, layer 1/2 cup of cheese on bottom of pie crust.
Layer half zucchini, layer half of basil, garlic/onions, half of bacon, and then half of tomatoes. Make one more layer: 3/4 cup of cheese, layer of zucchini, remaining basil, garlic/onions and bacon, and final layer of tomatoes
In a separate bowl, mix together the mayonnaise, parsley/basil and the remaining 1-1/4 cup of cheese; spread evenly over the top (I used my fingers). Bake at 350 degrees for 45 minutes (it should be bubbly and golden brown).
Let pie cool to room temperature before slicing.