Pi Day – 3.14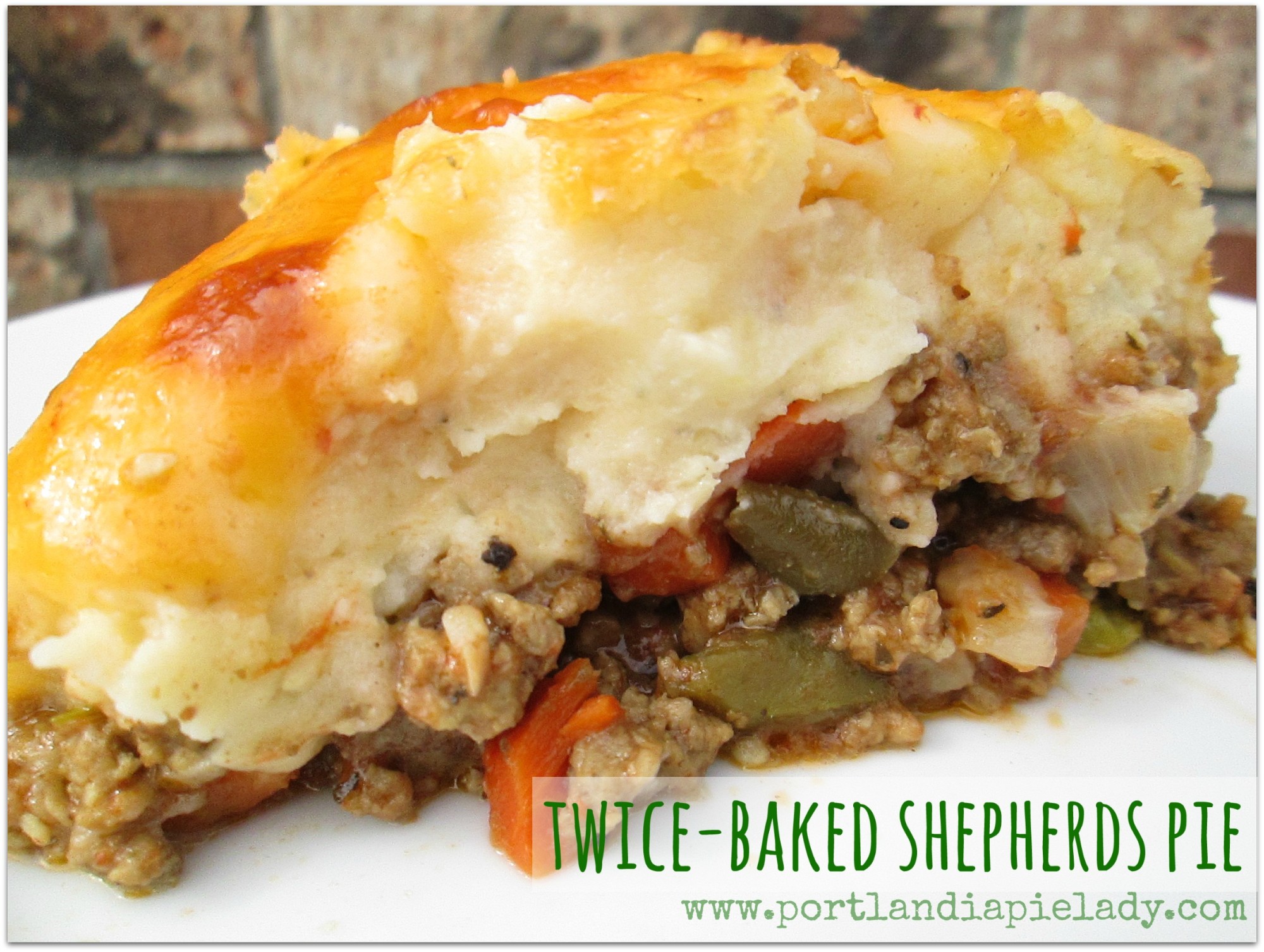 Today is Pi Day.  Here in our wonderful Great Northwest it is also an overcast comfort food day; we shall celebrate both.  Shepherds Pie meets Twice-Baked Potatoes = Ultimate Comfort Food Fest.  I wished I had thought of this meat-veggie marriage years ago.
Anyone remember the ground beef, canned green bean, cream of mushroom, tater tot casserole? (shudder). I leaned how to make it in high school (home ec) and even though I thought it was good, the only part I truly loved was the crunchy salty potato topping, no one really liked the layers underneath but we choked them down anyway, cuz that's what you did when dinner was put in front of you.
Regardless, my newest love is Twice-Baked Shepherds Pie.  Two kinds of meat  (lamb is traditional for shepherd's pie) cooked with your favorite vegetables, seasonings and creamy buttery potatoes with a secret ingredient that will make your mouth say "WOW!" (Won't be a secret for long, see recipe below.) We all know that spring is around the corner and so I took the opportunity of one last rainy dreary post-winter day to make this warm, delicious, welcoming meal that will put a smile on you and your family's face.
Even though this does not get crunchy, I LOVE the side servings with the sizzling cheesy baked edges.  Look at that gorgeous cheesy heavenly morsel!  Divine!
My Shepherds Pie was loaded with carrots and green beans, instead of corn and peas.  I do love them all, but it's the texture/combination of peas and corn I am not fond of (my dad OD'd us on Army Surplus Mystery Canned Stew loaded with corn and peas, but hey, we were fed and he endured our whining & gnashing). THIS is the part you get to be creative with, you can do the veggies any way you like!
The not so "secret" ingredient is the dry ranch dressing mix that is combined with the cheeses and mashed potatoes. It makes great mashed potatoes superb!  You will never go back to your plain potatoes when having twice-baked potato anything.  Side Note: I used a deeper, slightly larger baking dish, so it did not fill it to the top.
I promise this is by far the best Shepherds Pie you will ever have and even though we don't slice it like a regular pie, you're gonna want to save the last "slice" for yourself!
Twice-Baked Shepherds Pie
Healthy Comfort Food!
Author:
www.portlandiapielady.com
Ingredients
Twice-Baked Potatoes:
4-5 Potatoes (Yukon Gold, My Fav), Peeled & Chopped (About 5 Cups)
4 Tablespoons Butter
4 Ounces Cream Cheese (1/2 brick)
3/4 Cup Shredded Sharp Cheddar or Colby Jack Cheese
1 Tablespoon Dry Ranch Dressing Mix
1/2 teaspoon Pepper
1 teaspoon Garlic Powder
1 Cup Shredded Cheddar Cheese for Topping
Meat Filling:
1 Pound Lean Ground Beef or lamb (lamb is traditional for shepherd's pie)
1 Pound Ground Turkey or Ground Pork
1 Cup Chopped Onion
2-3 Carrots, Peeled & Chopped (About 1 Cup)
1 Cup Frozen Green Beans (or fresh) I chopped them in half in semi-frozen state. You can substitute frozen corn or peas, or mixture of both.
1 Tablespoon Minced Garlic
1 Tablespoon Montreal Seasoning (or 1 teaspoon each Salt & Pepper)
2 Tablespoons Cornstarch
1 Cup Tomato Sauce (8 Ounce Can)
1/2 Cup Beef or Chicken Broth
2 Teaspoons Worcestershire Sauce
1 teaspoon Dried Oregano
1 teaspoon Dried Basil
Instructions
Preheat the oven to 375.
In a large saucepan cover potatoes with water, sprinkle in salt, and bring to a boil. Cook for about 15 minutes until potatoes are tender, drain.
In a large mixing bowl, add butter and cream cheese and immediately add drained potatoes and beat with electric mixer to melt the butter/cream cheese. Add shredded cheese, dry ranch mix, pepper and garlic powder. Beat another minute or so until well combined, set aside.
Meat Vegetable Filling: In a large bowl, mix together your two meat choices until well-kneaded together as one meat. In a large skillet, at medium-high heat, add the ground meat, onion, carrots, garlic, and Montreal seasoning (or salt and pepper). Break up meat as it is cooking about 10 minutes, and test the carrots to be sure they are tender. Drain excess grease from the mixture.
Mix cornstarch into meat/veggie mixture and stir in remaining ingredients, cook and stir until mixture is slightly thickened, about 5 minutes.
Coat a 9 x 13 pan with cooking spray and spread the meat/veggie mixture into the prepared pan. Spread the mashed potatoes over entire surface, and top potatoes with remaining 1 cup cheddar cheese.
Bake uncovered for 35-40 minutes.