Welcome to Portlandia Pie Lady's Blog!
Hello, and let me extend to you a big Northwest Welcome to my pie blog!  My name is Linda and though I have lived in quite a few areas around the country, I am a northwest gal at heart and I can't remember a day I didn't love pie!
Pie making is my passion and I want to pass on valuable pie-making lessons, save you from some "duds" I have had, and take you through pie creation experiences that will turn you in into a pie believer.  Creamy custards, silky ice box pies, fruity-liscious, holiday theme pies, ethnic inspired pies, and one of my faves, savory pies!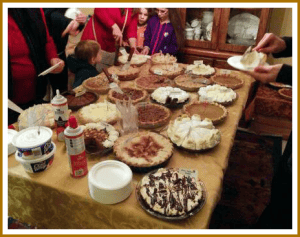 I (with the help of my family) put on a "Pie Night" every year on Thanksgiving Eve. This year, 2015, will mark the 17th Annual Pie Night! This is a pie-eating once-a-year extravaganza.  With the help of my daughter, we crank out 25+ different pie flavors (all sweet and a couple of gluten free pies too), early arrivals get the esteemed honor of cutting the pies, and then all get to enjoy their favorite "slice of heaven" while catching up with friends (or making new ones).
My pie "X-files" are waiting to be uncovered, the pie truth is out there (and you've arrived)!  I am here for you!
Thursdays are Post Days!  This way you have Thursday to drool, Friday to shop for ingredients (unless you have a kick-butt pantry), and the weekend to enjoy the pie.  I can feel the pie magic already happening.  I will be looking forward to getting to know you!
Yes, there is always room for PIE!