Let's Go Bananas!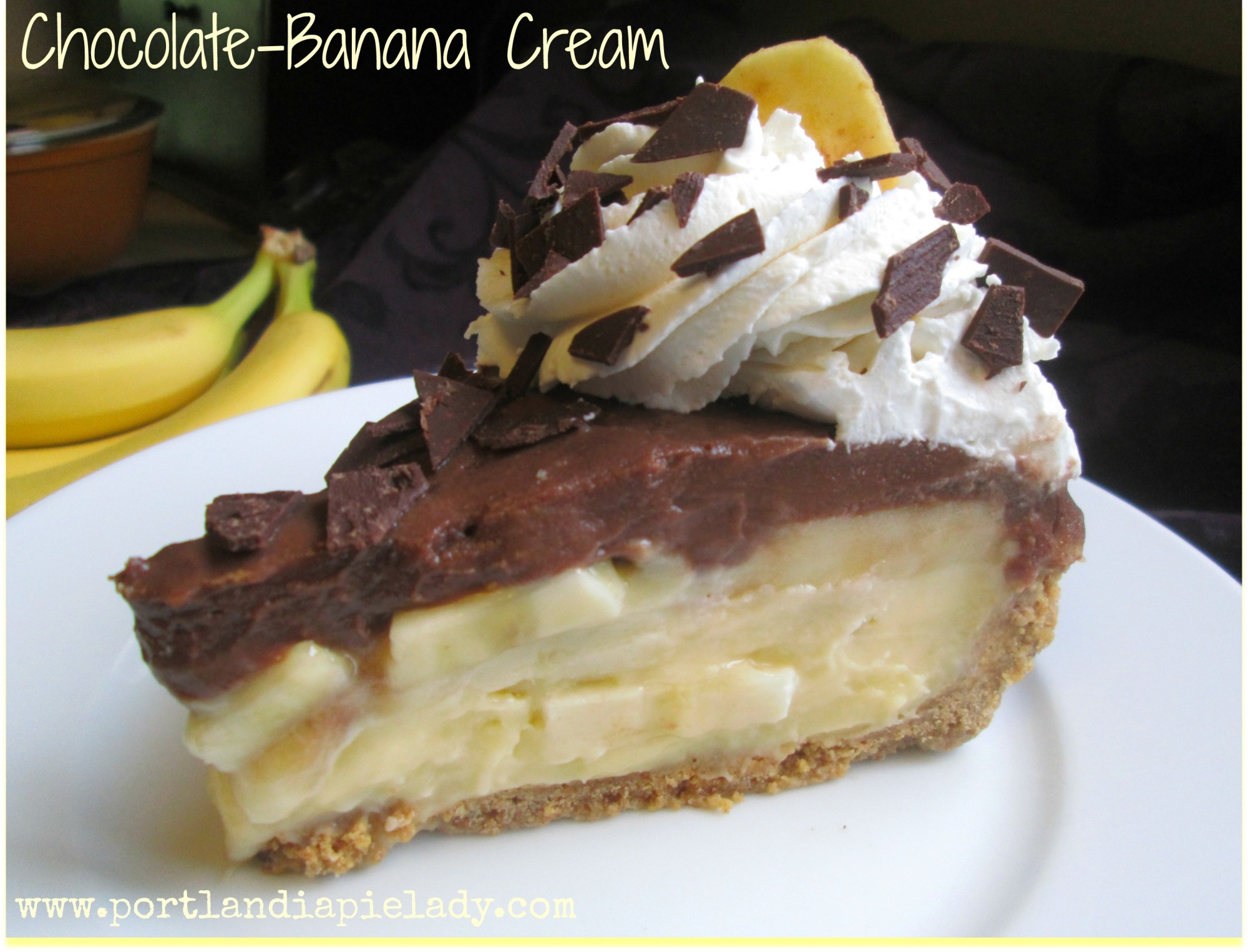 Bananas and Chocolate is one of my all-time-favorite-combinations.  I was at a girls camp when I was  much younger and we made banana boats (banana sliced vertically, cram as many chocolate chips as possible, a few marshmallows, keep in banana skin and warm up in coals of a campfire).  Yummmeeee!  My pie does not have the marshmallow (that's another pie), but it is loaded with bananas and decadent banana/chocolate cream that will knock your socks off, I promise!
As you build the pie, each banana slice is "sealed" with the banana cream filling, which keeps the bananas from oxidizing.  There is nothing worse than slicing into a banana cream pie and finding a "brown" banana.  (I don't care that it will look the same in my stomach, I just can't eat a brown gooey banana…maybe in the zombie apocalypse, but probably not.)
However, the "brown" banana is a non-issue as you will see.  Every bite and each slice will taste fabulously fresh; you will love it!
I put the banana layer on the bottom as you need to slice through the bananas when cutting into this masterpiece and I felt it would be easier to serve this way. This is the first layer pictured above.
This is the last layer (3 layers of bananas total), the chocolate cream goes on next.
This is not very pretty, but it's pretty loaded with bananas and as you can see it is very full.  Spread the cream from the outside in so as not to push/squish out any bananas.  If you look to the right you can see a tiny banana slice trying to peak out.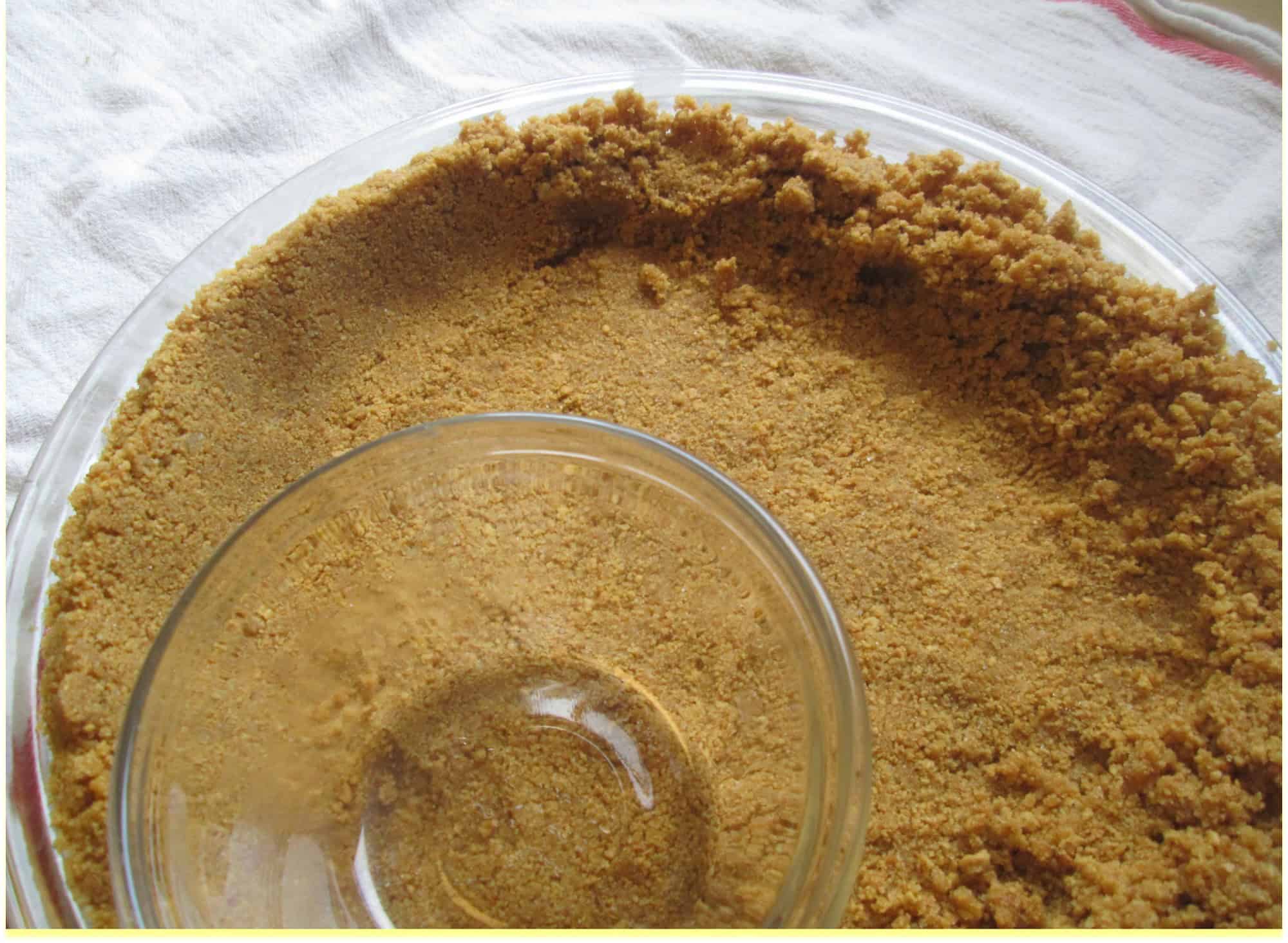 I used a traditional graham cracker crust, because I like the combination with banana and chocolate, but you can use vanilla wafers the same way, or even chocolate grahams.  (I use vanilla wafer crust when it's straight up banana cream.)  I showed this in another post, but using a custard cup pressing on the sides, while using fingers to push top of crust edge before baking works wonders!
Below are pictures of the finished pie, I piped on whipping cream, garnished with banana chips and chocolate shavings.
Okie Dokie, time to "Go Bananas" and don't forget to save the last slice for yourself!
Chocolate Banana Cream
Ingredients
Part 1:
2 Cups Heavy Cream
1-1/2 cups milk
1/2 cups sugar
2 teaspoons pure vanilla
2 to 3 drops banana oil
Part 2:
3 large egg yolks
2 large eggs
1/3 cup food starch (or cornstarch)
1 cup sugar
Part 3:
6 ounces semi sweet/dark chocolate (melted)
4 large or 5 to 6 small bananas
2 cups whipping cream + 1/4 cup sugar (for topping)
1 prepared graham cracker or vanilla wafer crust
Instructions
In a bowl, whisk together Part 2 ingredients, egg yolks, eggs, food starch, and sugar, set aside.
Part 1: Mix cream, milk, sugar, banana oil and vanilla in a large saucepan over medium heat, bring to gentle boil, whisking to dissolve sugar.
Whisk in 1 cup of the hot cream mixture into the egg mixture to temper and then pour all back into the saucepan.
While whisking constantly, bring to simmer until it thickens, about 5 minutes. Pour half into a bowl, cover with plastic wrap pushed onto surface to prevent a skin from forming, place in refrigerator for a few hours to cool (about 4 hours or overnight).
Immediately add the melted chocolate to the other half of filling, whisk in until smooth, place into bowl, cover with plastic wrap and cool as above.
Assembling Pie: Spread 1/2 cup cooled banana custard over bottom of crust. Arrange banana slices in tightly over custard, pressing a little down into custard. Repeat with custard and bananas, making bananas last layer (3 layers of bananas total).
Spread the chocolate-banana custard over the entire pie.
Whip whipping cream with sugar until soft peaks form, pipe around edge or spread over pie. Garnish with whipped cream and chocolate shavings and/or banana chips. Keep refrigerated.