It is only fitting that I learned all about Mississippi Mud desserts when we lived for a few short years in the south. My first experience was Mississippi Mud Brownies served by a gal who had transplanted from Mississippi to my neck of the woods in Texas.  I took one bite of her ultra chocolaty gooey brownie, oozing with loads of marshmallow creme, dripping with a fudge icing sauce; I was hooked!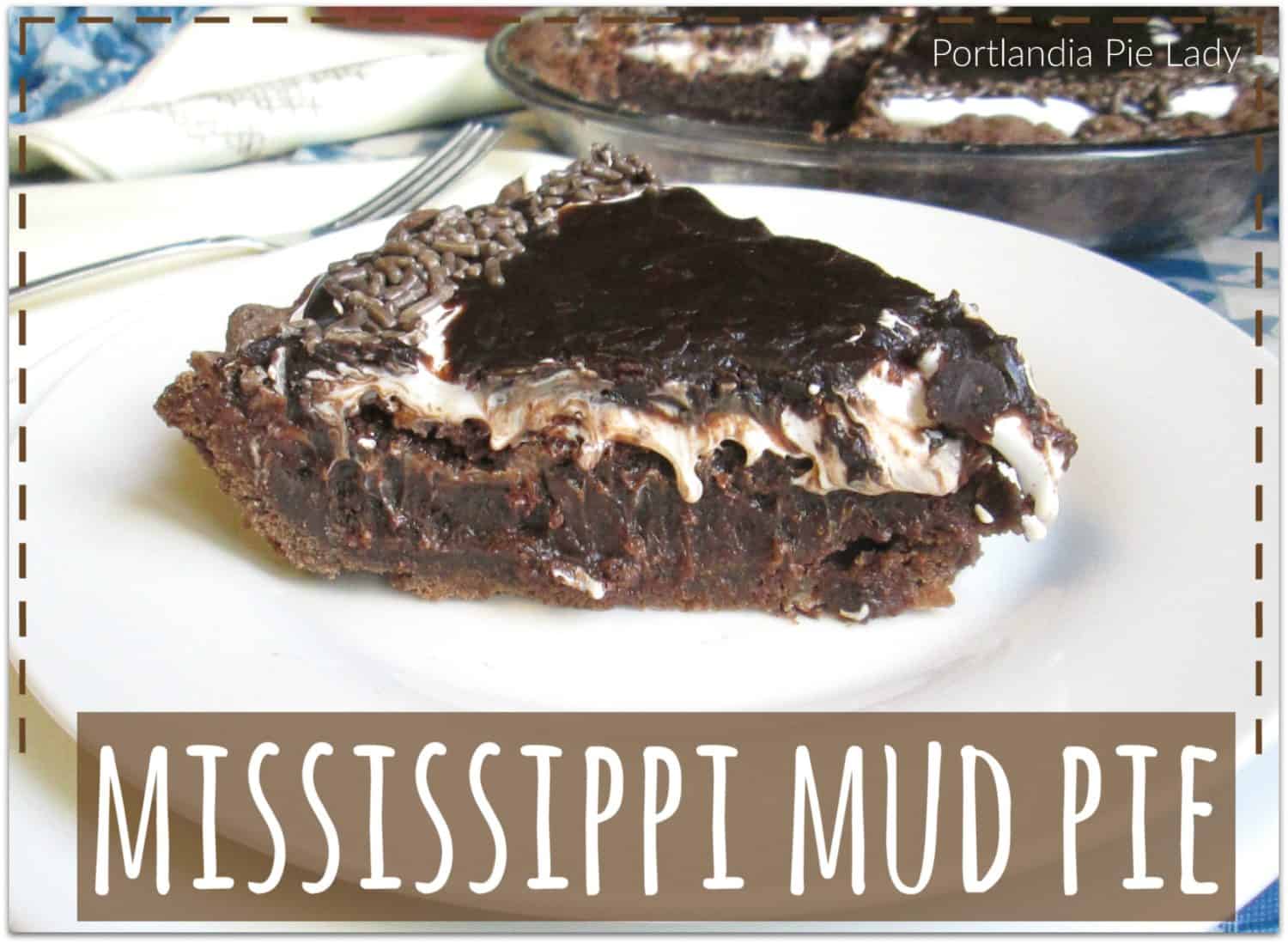 Mississippi Mud Pie cures any chocolate fever while dining on a decadent dessert (with all the fixin's) and makes us chocolate lovers come alive!  This chocolate lifeblood is also is an extremely easy pie to make gluten-free too, baking just got better for everyone. (Click here for gluten-free flour mix.)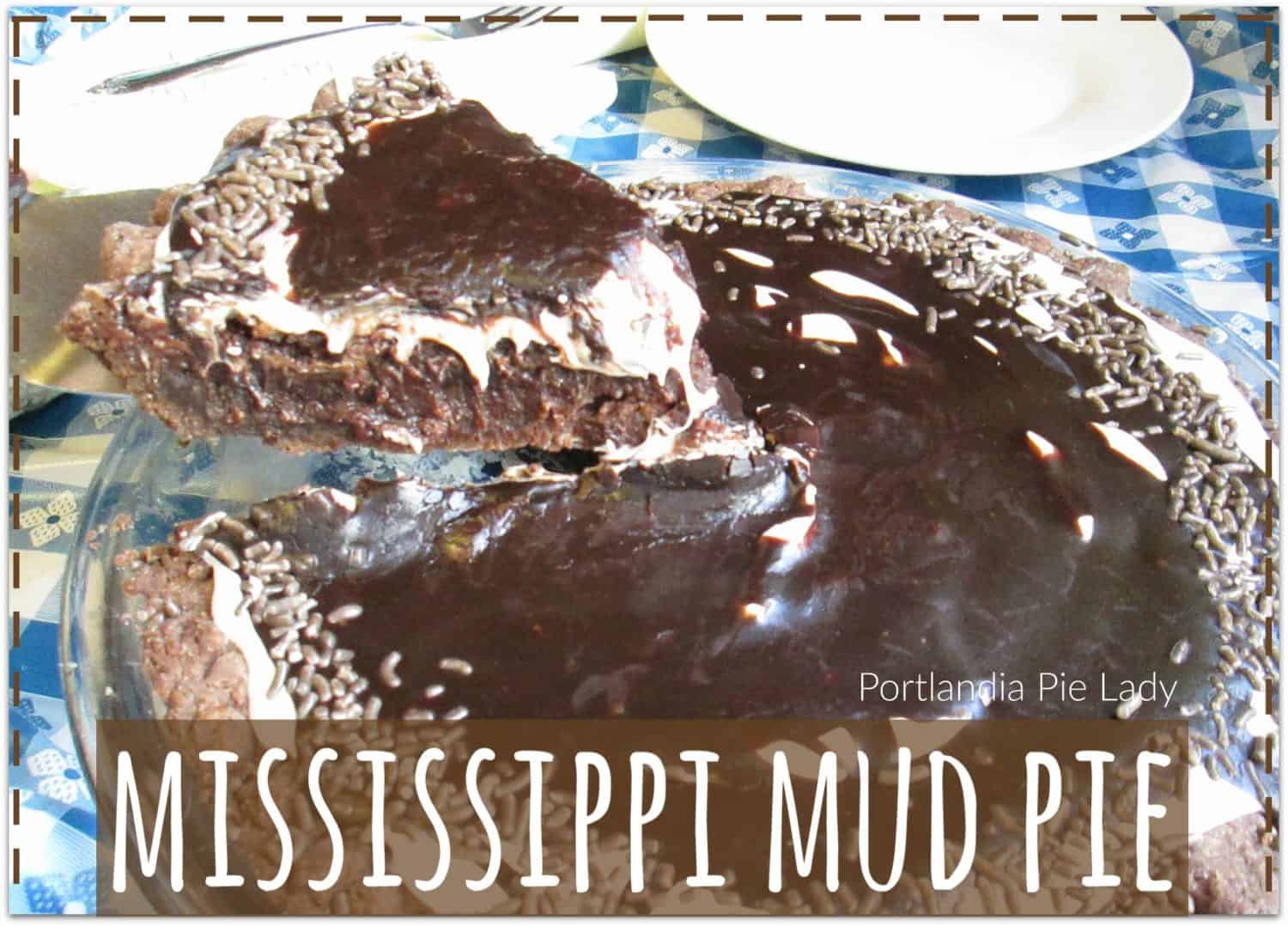 We start off with chocolate pie crust to hold up the concoction of goodness.  The filling is poured right into the unbaked pie shell and popped in the oven.  When it's finished baking it will emerge with a beautiful shiny brownie crackly top. You could stop there and have a fabulous chocolate pie if you really want (it's great too if you are not a marshmallow fan).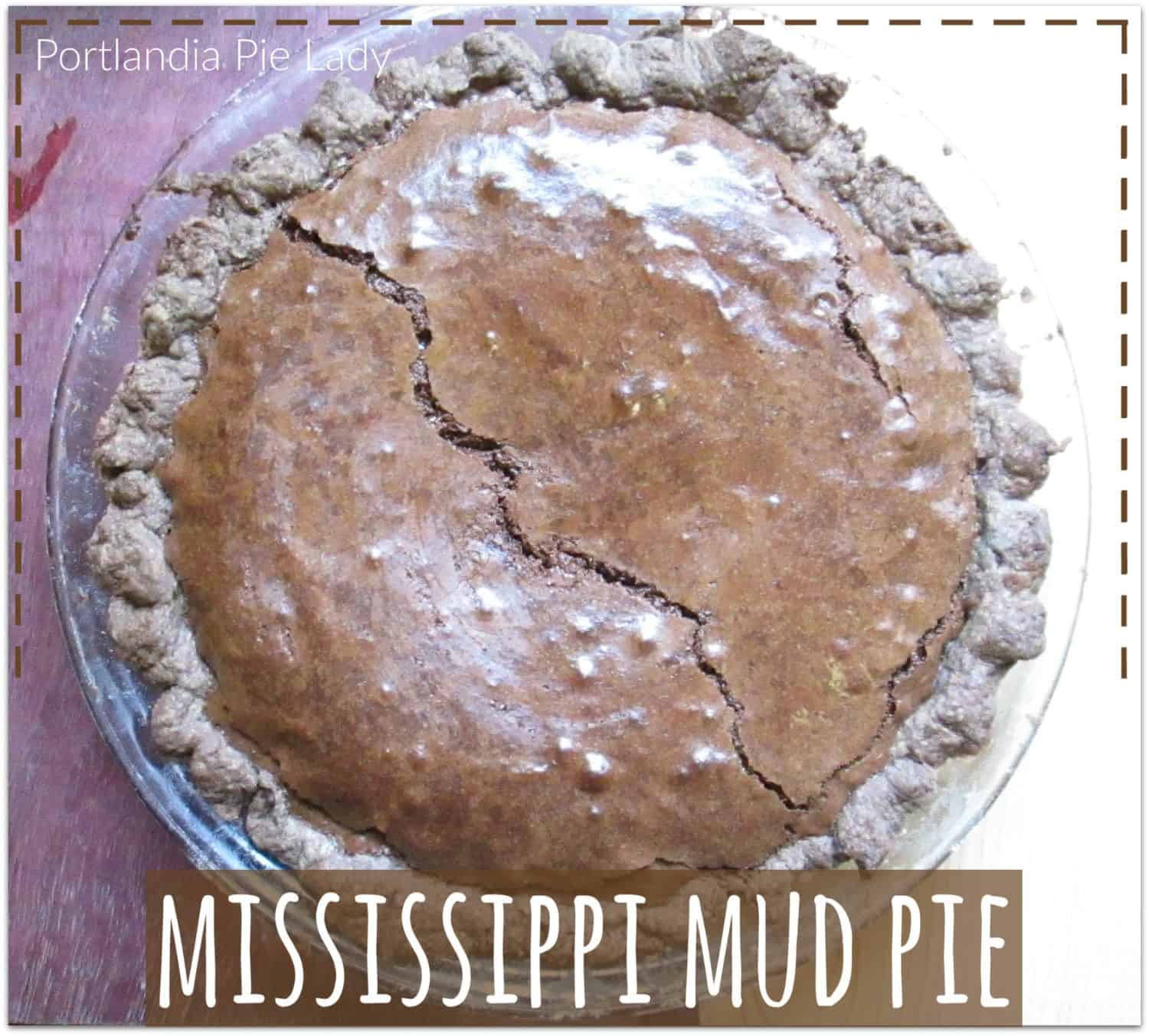 Let the pie sit for about 5 minutes after it comes out from the oven and then spoon over the marshmallow fluff, letting the heat of the pie melt the marshmallow a little making it is easier to spread. If you are using homemade marshmallow fluff (click here for marshmallow fluff recipe) you should not have to spread it much at all as it is ever so slightly creamier.  It will only take you another couple of minutes to prepare the fudge icing and pour it directly onto the marshmallow layer. If the marshmallow creme bubbles, cool!  It will look more like a muddy swamp of chocolaty contraband.  Let the pie cool to room temperature before cutting and you're set.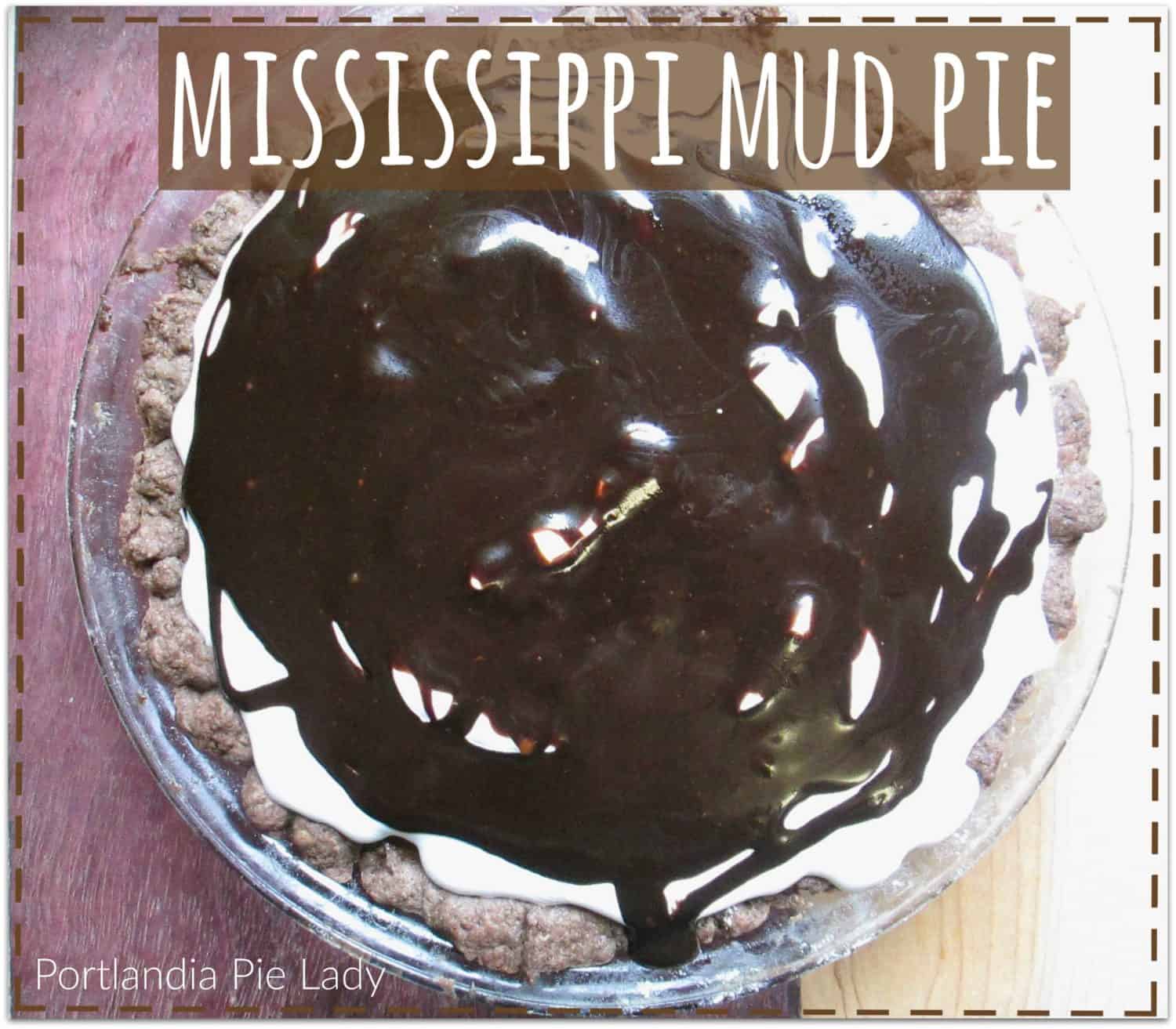 I did garnish it with a few chocolate sprinkles for fun (see top pictures); and Isn't she gorgeous? Yes, yes she is. Now, go, create, have fun in the "mud" and don't forget to save the last slice for yourself!
Mississippi Mud Pie
Author:
www.portlandiapielady.com
Cuisine:
Southern Americana
Ingredients
FILLING:
4 ounces bitter sweet chocolate (=2/3 cups baking chips)
1/2 cup butter
1 cup granulated sugar
2 eggs
2 tablespoon unsweetened cocoa powder
1 teaspoon vanilla extract
TOP LAYER(S):
First Layer:
1 7-ounce jar marshmallow fluff (about 1-1/4 cups)
Second Layer:
1/2 cup powdered sugar
2 tablespoons unsweetened cocoa
1 tablespoons milk
3 tablespoons butter
1/2 teaspoon vanilla
chocolate flakes and curls, to decorate
CHOCOLATE PIE CRUST (9-10" PIE PLATE)
1 cups of all purpose flour, plus extra for dusting
4 tablespoons unsweetened cocoa
1-1/2 cubes cold butter (= 12 tablespoons)-cut into small pieces
1/4 cup sugar
1/4 cup cold water
Instructions
Crust:
Mix the flour, unsweetened cocoa, and sugar together in mixing bowl. Cut in the cold butter with a fork until crumbly.
Pour in the cold water all at once, mix just until dough ball forms, and roll out into pie plate.
Filling:
Preheat oven to 350 F.
Melt the chocolate chips and butter, just until melted, let cool a couple of minutes.
In a saucepan over medium-high heat, melt the butter and chocolate together. Remove from heat stir into sugar & cocoa until well-combined. Whisk in the eggs thoroughly and stir in vanilla.
Pour filling into the crust and bake for 35-40 minutes. Middle may still be soft but will firm up a bit after it cools for a few minutes (about 15 to 20 minutes).
Topping(s):
Carefully, while pie is still warm, but not too hot, spoon marshmallow fluff over top. (You may need pie to sit for about 15-20 minutes to settle back down otherwise all the marshmallow with melt and run off). Let the flufl melt for a couple of minutes and carefully spread to the edges. (You may want to stir the fluff first to get it slightly gooey so as not to "cave in" the pie or tear as you spread.) If you have major run-off, put the pie on a dinner plate to catch drips and pop in the fridge for about 10 minutes. It will still be warm but will cool off the slow down the marshmallow cream from oozing off.
For the second layer, in a saucepan over medium high heat, stir together powder sugar, cocoa, milk, butter and vanilla, just until it starts to steam/simmer, whisking to ensure no lumps. Remove from heat and carefully spoon over marshmallow cream. If the marshmallow cream bubbles, cool! It will look more like a muddy swamp of chocolate contraband. If you put the chocolate sauce on too soon while marshmallow is very warm, it may run off.
Finish edges with chocolate shavings or sprinkles. Let pie cool, serve a little warm or at room temperature. Enjoy!
TIP:
If you use a 10-inch plate, you will not have as many "issues" with the topping(s). It will only take 35 minutes to bake and it may make it a lot easier all the way around.