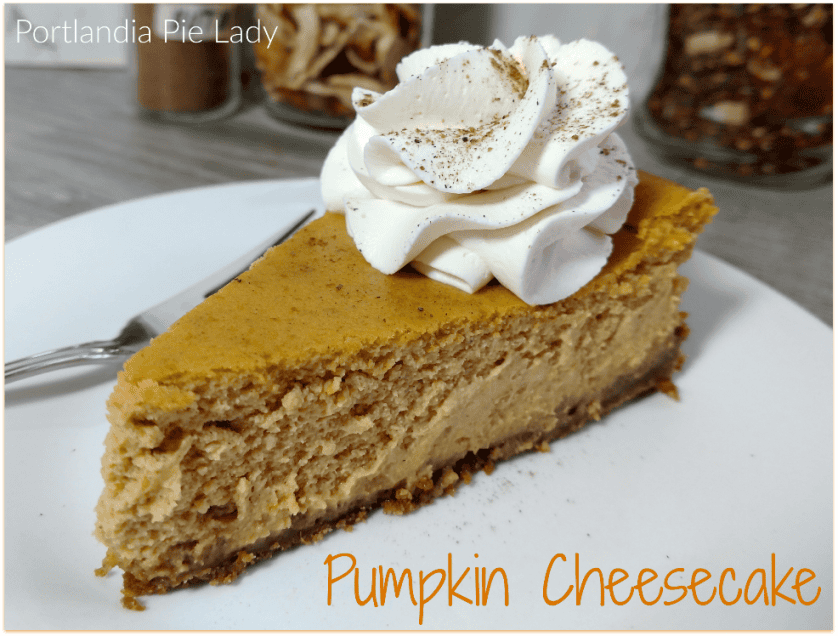 Autumn is upon us and pumpkins are popping up every.  This week it's Pumpkin Cheesecake!  I don't like to skimp and have pumpkin "flavored" cheesecake, so the ratio of pumpkin to cream cheese leans more towards the pumpkin.  You will be oh so happy once you do the taste test with your first slice (and since it was a "test" you can have another full slice, right?).
The texture is creamy smooth with the perfect amount of spice to liven up and bring out that pumpkin pie-type-taste combined with decadent cheesecake we all love.
The crust that is holding together this gorgeous cheesecake is made with gingersnap cookies.  If that's too strong of a flavor, try combining equal amounts of gingersnaps and graham cracker crumbs (which I have done many times in pinch).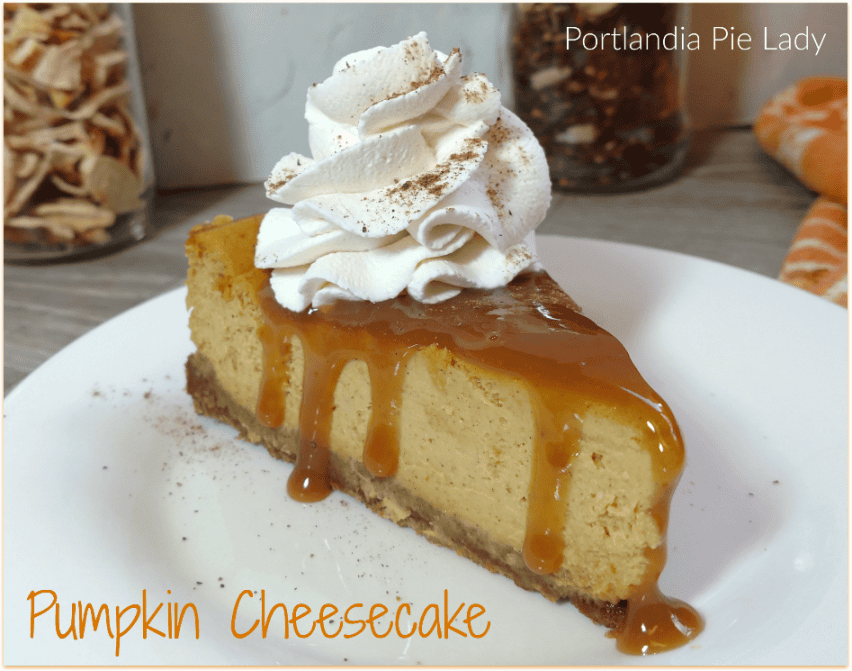 Your biggest decision will be to have it with or without caramel.  Have a slice each way, I did and I loved both. I cheated and used a store-bought caramel sauce (oh the shame, ha, ha, ha), but I also tried it with my own salted caramel sauce; this too was heavenly.  I do think the whipped cream is a must along with a dusting of nutmeg.
Either way, good luck saving the last slice for yourself…we nearly had a mutiny here with the accounting of the slices.

Pumpkin Cheesecake
Creamy smooth with the perfect amount of spice that livens up and brings out that pumpkin pie-type-taste combined with decadent cheesecake we all love!
Author:
www.portlandiapielady.com
Ingredients
2 packages (8 oz. each) cream cheese, room temperature
1-1/4 cups sugar
1 teaspoon cinnamon
1/2 teaspoon ginger
1/4 teaspoon nutmeg
2 teaspoons lemon juice
1 teaspoon vanilla
4 eggs
1 can (15 ounce ) pumpkin
Prepared Crust for 10-inch springform pan:
1-1/2 cups gingersnaps cookies, crushed fine (about 30 to 32 cookies), you may also substitute half graham cracker crumbs and half gingersnaps
1/4 cup sugar
6 tablespoons butter, melted
Instructions
Preheat oven to 350
Crust:
Crush the cookies, add the sugar, and then mix with the melted butter. Pat the crust into a 9-inch pie pan. Bake for 5 minutes. Remove from oven and let cool while mixing the filling.
Filling:
In mixing bowl beat cream cheese, sugar and spices until creamy and smooth (about 3 to 4 minutes)
Add lemon juice, vanilla, and eggs and beat until thoroughly combined.
Add pumpkin, beat just until well-combined.
Pour into prepared crust/springform pan.
Bake @ 350 for 35 to 40 minutes.
To check if cheesecake is done, at 35 minutes, gently shake the cheesecake while still in the oven. If a small spot in the center jiggles, it's done. Remove from oven and let cool (as the cheesecake cools the center will firm up). You can also use a knife to see if it comes out clean, but this may increase your chances of the middle cracking.