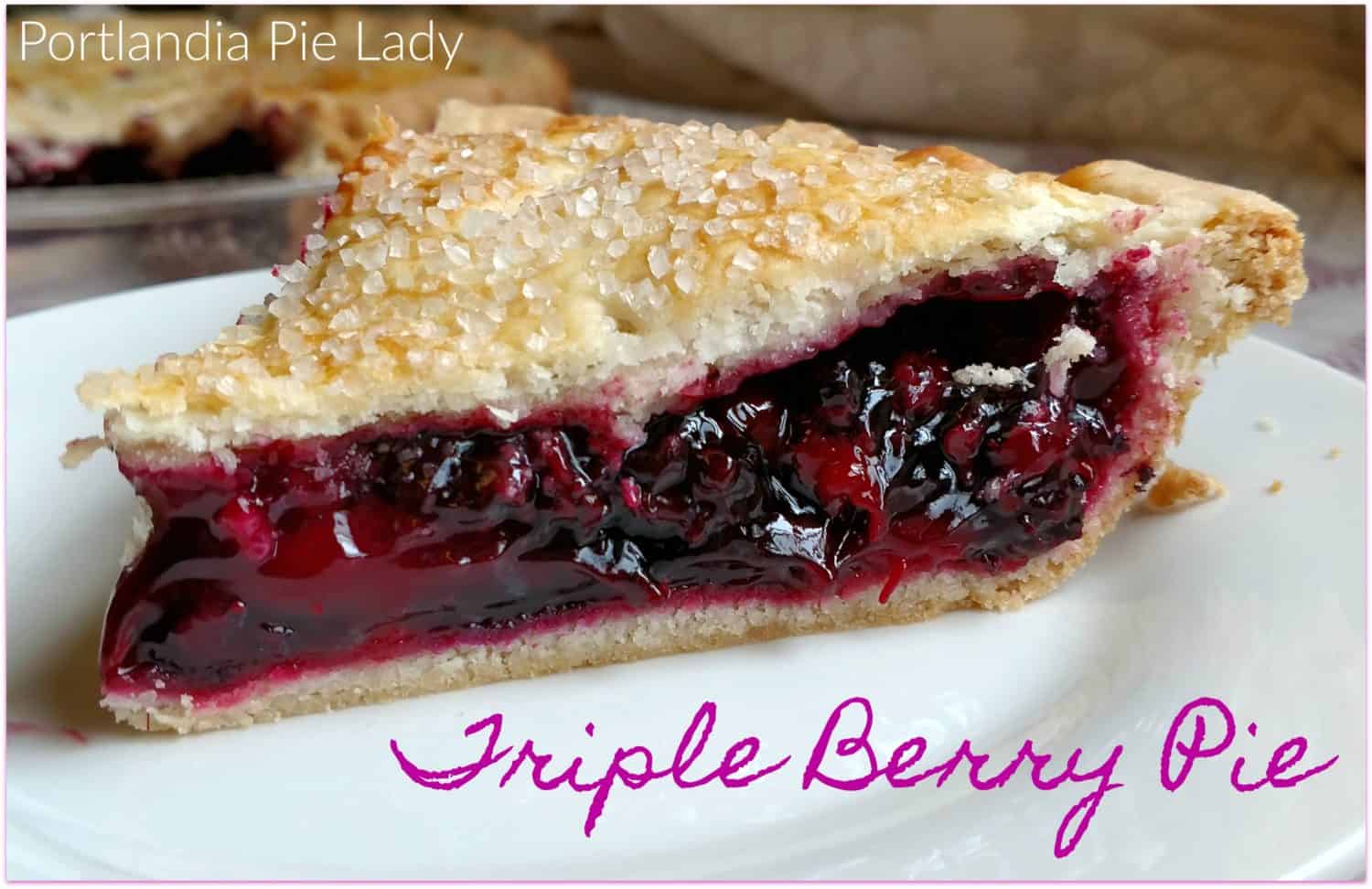 We all love to cook in season and right now in my backyard hideaway we've been harvesting strawberries, black cap raspberries, and blueberries; the ultimate combination for berry lovers in Triple Berry Pie.
Today I am sharing you the tricks of the trade (secret if you will) in creating perfect berry pie filling in every pie, every time!  Why do we make the pie filling do all the work on its own?  A  little pick-me-up and a little extra TLC is all it takes.  The payoff is that fresh-picked berry taste captured in perfectly baked filling in an ultra flaky crust; no watery runny berry pie ever again.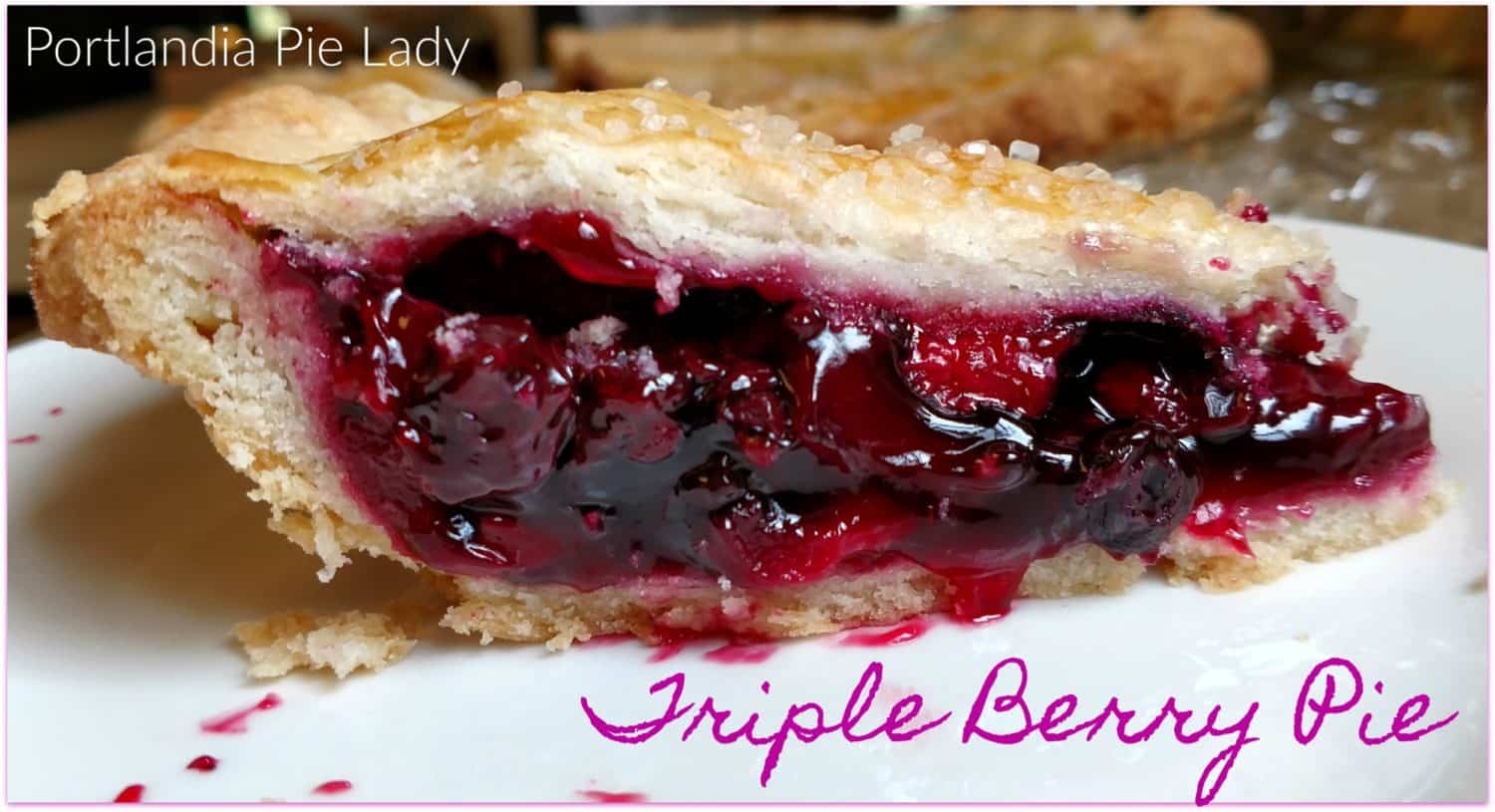 The first step is getting the berries ready and helping them extract their own juices.  Whether you are using frozen or fresh, measure the berries and toss them in a bowl (slice or chunk cut strawberries first), add the sugar, lemon juice, and zest and let them sit at room temperature at least 2 to 3 hours.  Sometimes I will do this the night before and put them in fridge for baking the next day.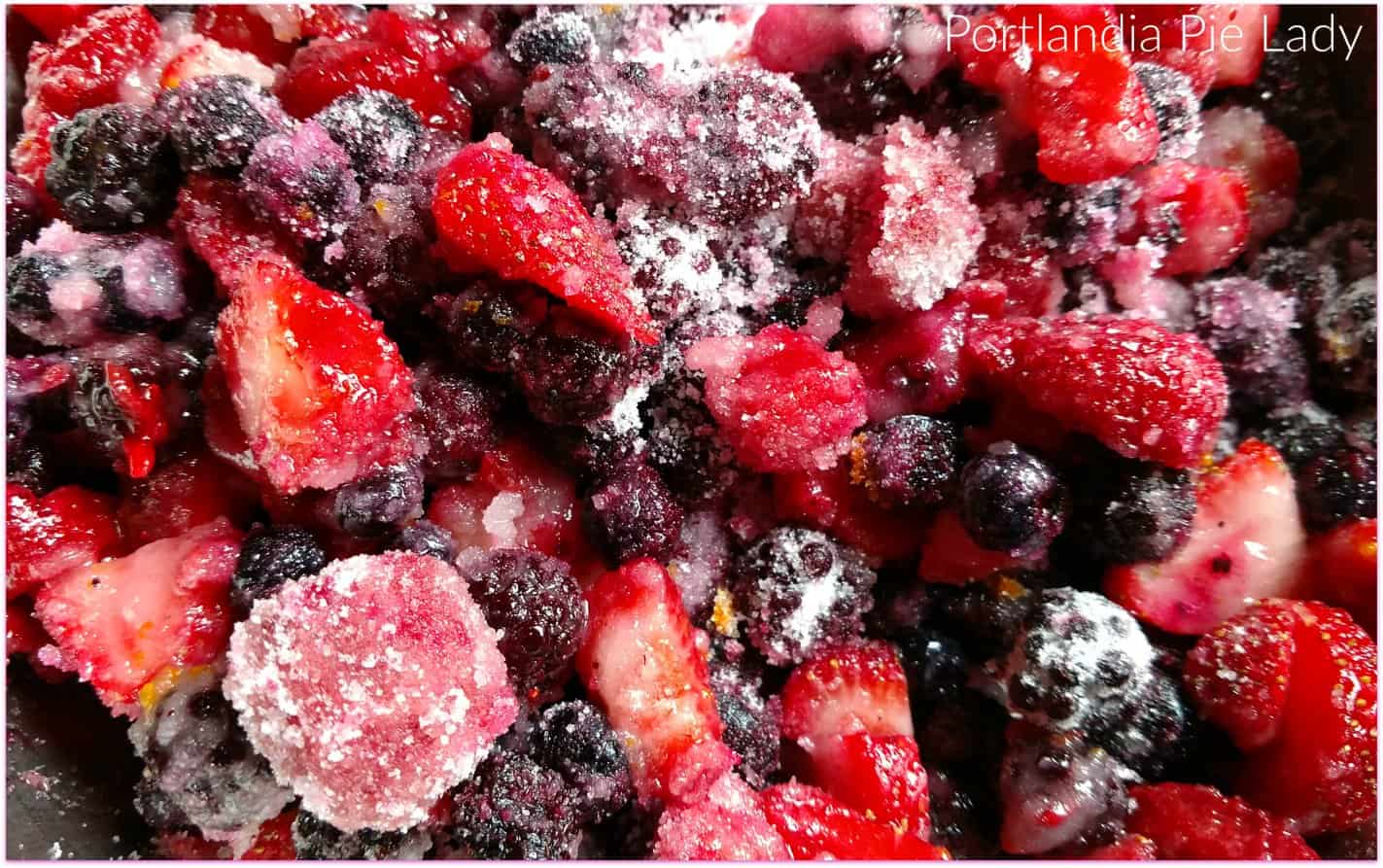 Strain the juice into a sauce pan, add in the thickener (Clearjel or tapioca starch) and whisk thoroughly to make sure all the starch is dissolved before you turn on the heat.  Cook while whisking the juice over medium to medium-high heat just until it starts to thicken (it will be fairly thick like pudding).  Fold the pie "goo" back into the berries, place in the prepared crust, top with the top crust and bake. That's it, seriously.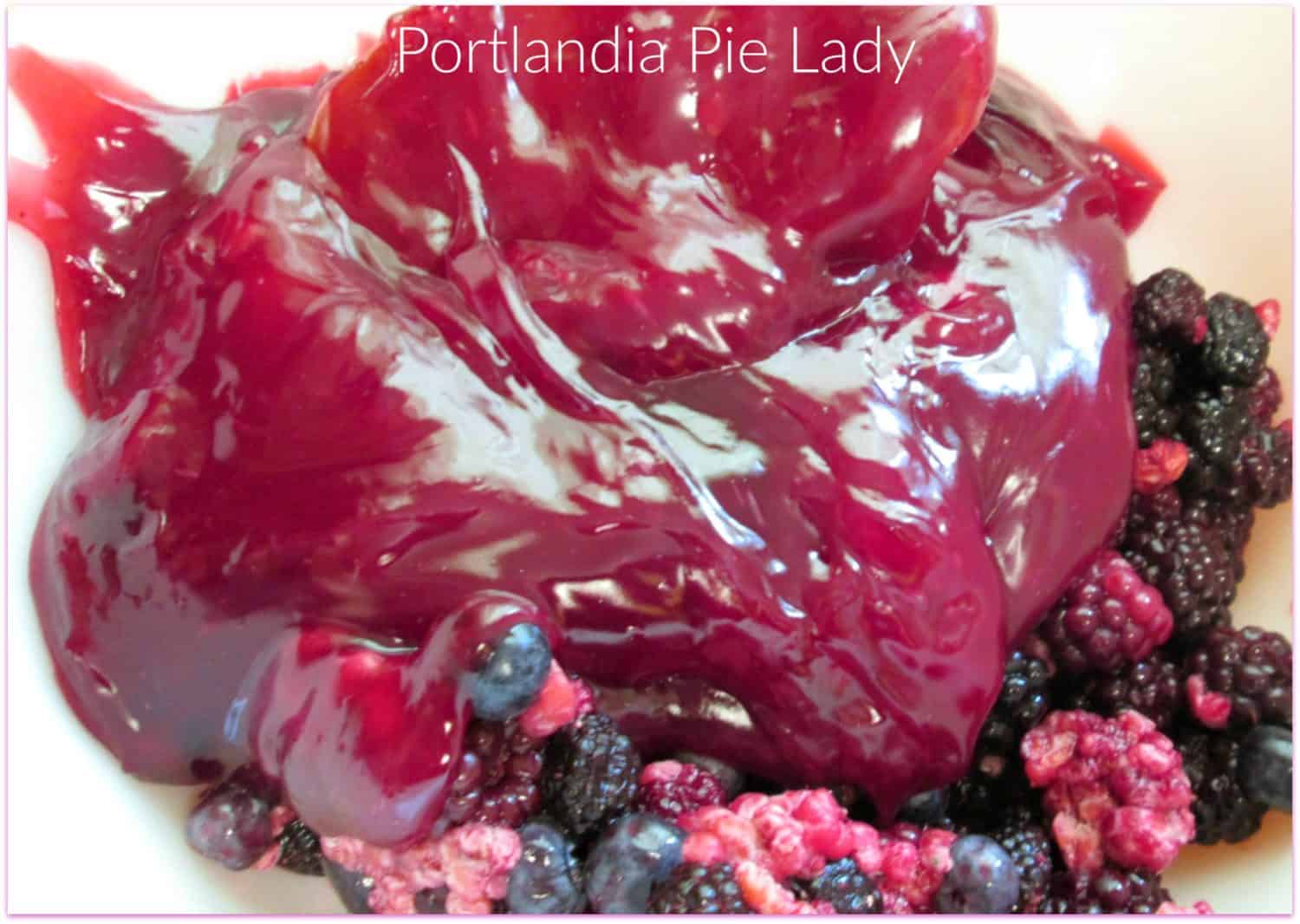 Okay, you've done your part, now it's time for those luscious berries to do their part; time to site back and relax while your pie bakes to perfection.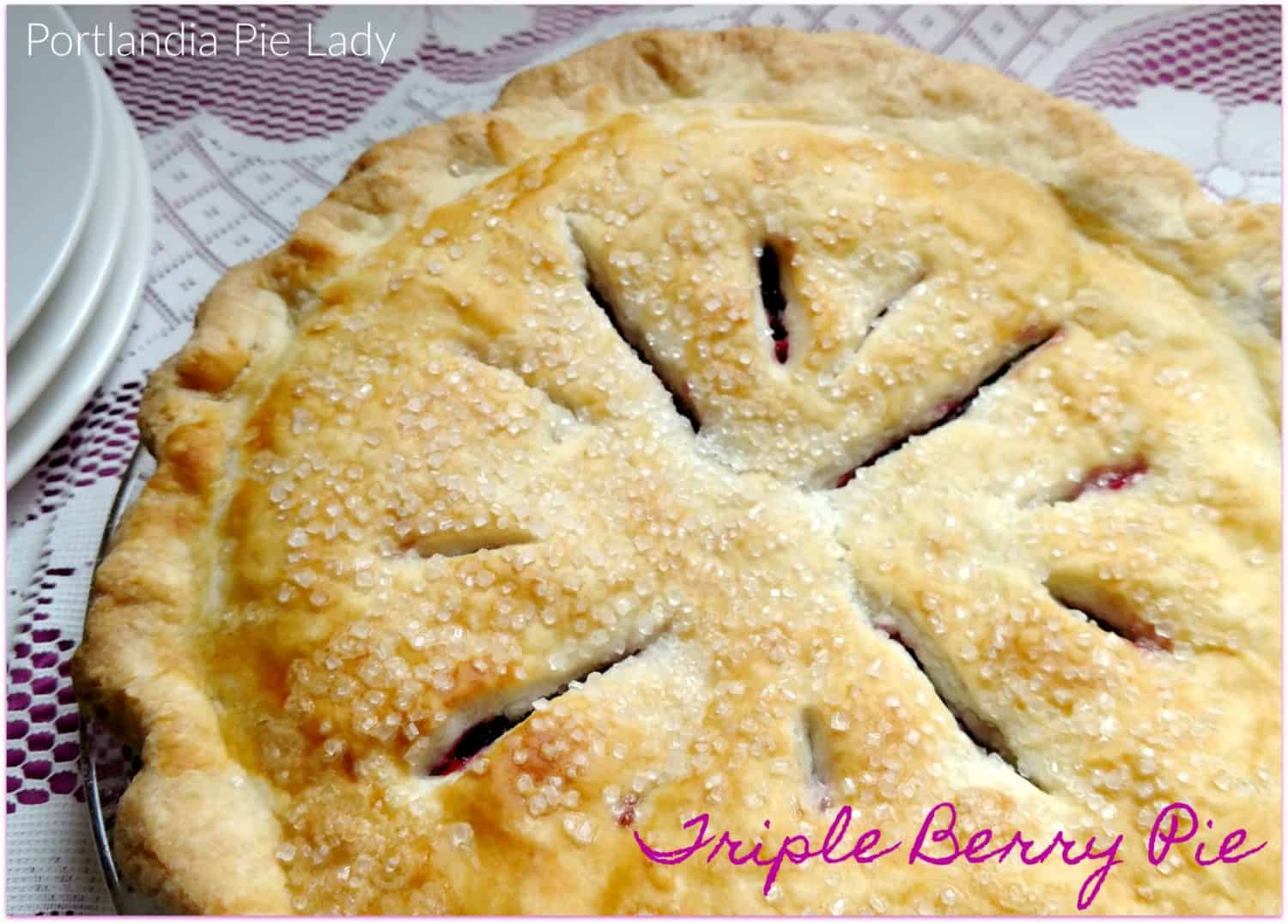 Triple Berry Pie
Triple Berry Pie captures that fresh-picked berry taste, perfectly baked filling in an ultra flaky crust; no watery runny berry pie ever again!
Author:
www.portlandiapielady.com
Ingredients
2-1/2 cups strawberries,thick cut
1 cup blueberries
1-1/2 cup raspberries or blackberries
Juice of one lemon (1-2 tablespoons)
Zest from one lemon
1 Tablespoon butter
1 cup granulated sugar
1/3 cup Clearjel food starch or tapioca starch
Couple of dashes of salt
Grandma's Pie Crust (makes 1 double crust)
2 Cups flour
1 teaspoon salt
1 Tablespoon sugar
1/8 teaspoon baking powder
3/4 to scant 1 cup shortening
1/3 to 1/2 cup cold water
Cut in all dry ingredients until crumbly. Add cold water all at once and mix just until forms a ball (do not kneed or over mix). Divide dough in half (this will be rather soft). Roll out one half on heavily floured counter top about 1 to 1-1/2 inches wider than pie plate. Unroll onto pie plate, add filling, wet edges with water, and place on top crust.
Instructions
About 2 to 3 hours (or overnight) before baking time, in a large bowl, combine berries, sugar, lemon juice and zest to draw out juices.
Filling:
Drain the juice into a sauce pan, add the Clearjel or tapioca starch, whisk until no lumps. Heat over medium to medium-high heat whisking constantly until thickened.
Fold the pie goo into the berries.
Assembly:
Preheat oven to 375 F.
Pour filling into prepared crust, dot with butter, and seal with top crust.
Brush top crust with milk or egg wash, sprinkle on sugar.
Bake 375 for 50 to 55 minutes.